Sports > Gonzaga basketball
Former Gonzaga forwards Johnathan Williams, Jeremy Jones team up in Nagoya
Jan. 31, 2023 Updated Tue., Jan. 31, 2023 at 6:34 p.m.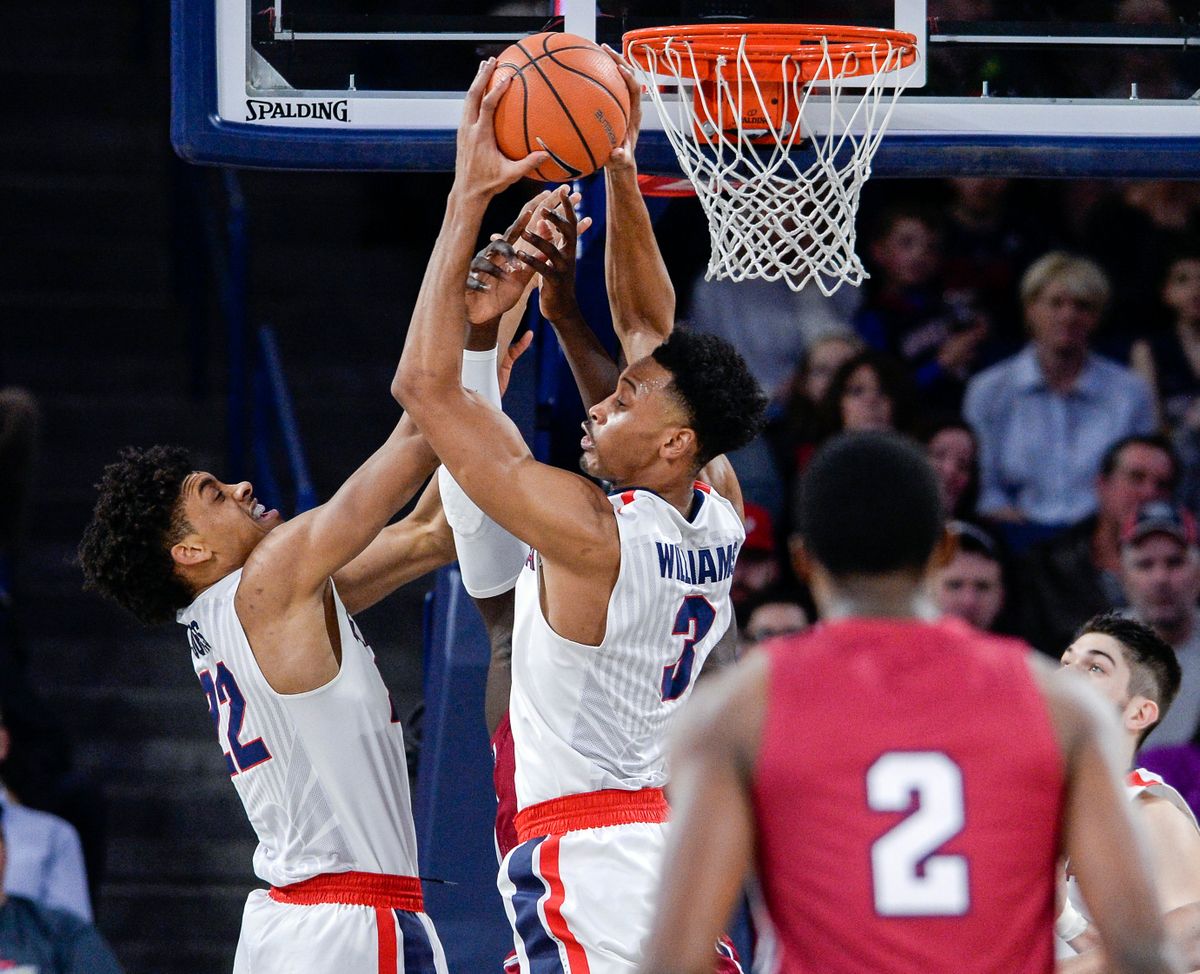 Gonzaga's Johnathan Williams (3) and Jeremy Jones (22) control the boards against Loyola Marymount in a Feb., 2018 home game. (Dan Pelle/The Spokesman-Review)
Former Gonzaga teammates Johnathan Williams and Jeremy Jones account for two-fifths of the Nagoya Fighting Eagles' starting lineup in Japan.
Both are putting up quality stats for the Fighting Eagles (18-16). Williams averages 12.4 points on 57.6% field-goal accuracy. He paces the team in rebounds (8.0) and blocks (0.8).
Williams recently posted three straight double-doubles, including his top two rebounding games of the season with 15 and 17, respectively. He has scored in double figures in 12 of the past 13 games.
Jones averages 13.4 points, 6.4 rebounds and 2.0 assists. He leads the team in minutes (31.6) and hits 52.9% of his shots, including 35.3% on 3-pointers.
He had one of his best all-around efforts of the season with 23 points, five 3-pointers, seven rebounds and four assists in a Jan. 11 game. Jones had 15 points, six boards and three assists in 39 minutes in Nagoya's last game.
Williams (Missouri) and Jones (Rice) transferred to GU and redshirted under NCAA rules in the 2016 season. Both were on the 2017 and 2018 teams. Jones finished his GU career in 2019.
Here's a roundup of former Zags playing overseas:
Geno Crandall and Mathis Monninghoff weren't teammates at Gonzaga, but they both suit up for BG Goettingen in Germany.
Crandall, who played one season at Gonzaga in 2019 after transferring from North Dakota, averages 11.3 points, 4.3 assists and 2.5 rebounds. He's made 62% on attempts inside the arc. He scored 35 points on 13-of-18 shooting with to go with six assists and five rebounds in Goettingen's last two games.
Monninghoff, a German native who played for GU in 2011-12, averages 3.4 points, 1.8 rebounds and 18.5 minutes.
Ira Brown contributes 9.6 points, 6.4 rebounds and 2.6 assists for Osaka (Japan) Evessa. He reached double figures in points in five of six games recently.
The 40-year-old Brown posted nine points, 10 rebounds, three assists, three blocks and two steals in a contest Saturday.
Kevin Pangos was off to a solid start for Milano in Italy before he was sidelined with a partial tear of the posterior cruciate ligament in his right knee. He hasn't played since Nov. 24. Pangos averaged 9.7 points and 3.3 assists prior to the injury. He made five 3s and scored 21 points in a loss to Real Madrid and handed out 11 assists in a victory over Bayern.
Nigel Williams-Goss is in his second season with Real Madrid in Spain. The point guard averaged 18.6 minutes, 4.8 points, 3.1 assists and 2.2 rebounds in nine Spanish Liga games.
Williams-Goss has played in 13 EuroLeague games and chips in 5.8 points, 2.0 rebounds and 1.9 assists in 13.4 minutes.
Eric McClellan averages in 10.7 points, 2.8 rebounds and 2.6 assists for Timisoara in Romania. In the Aple Adria Cup, he averaged 12.3 points, 4.0 assists, 3.0 boards and connected on 9 of 20 3-pointers as the team went 5-1.
Josh Perkins began the season with Hapoel Gilboa Galil in Israel and averaged 12.9 points, 4.1 assists and 2.9 rebounds. He had two games with double-digit assists.
Perkins is now with for Stal in Poland. He averaged 10.3 points, connects on 38.6% of his 3s, and dishes out 6.8 assists.
Admon Gilder leads Maccabi Haifa (Israel) in scoring (21.9) and minutes (33.8). He's shooting 55.1% from the field. He averages 4.9 rebounds and has scored at least 20 points in 13 of 15 games.
Kyle Wiltjer is having a productive first season in China with the Guangsha Lions. He's averaging 16.8 points, 6.9 rebounds and 3.4 assists per game. He's made 50.9% of his shots, including 40.8% on 3s, and 88.1% at the foul line.
Wiltjer's had two 28-point performances and also hit six 3s in one game.
Filip Petrusev has been consistent through 35 games with Crvena Zvezda in his native Serbia. He averaged 11.0 points, hit 68.2% on attempts inside the arc and 36.4% on 3s in 21 EuroLeague contests.
In 14 ABA League games, Petrusev averaged 10.4 points, 5.0 rebounds and made nearly 43% on 3-pointers.
Elias Harris has returned to his native Germany. In 11 games with Bayern in Germany's Basketball Bundesliga, Harris averaged 13.6 minutes, 7 points, 3.1 rebounds and made nearly 67% of his shots inside the arc.
In 15 EuroLeague contests, Harris averages 5.1 points and 1.8 rebounds in 14.5 minutes.
Martynas Arlauskas, who bypassed his senior season to play for Pieno Zvaigzdes in his native Lithuania, has connected on 57.1% of his field-goal attempts and averages 1.4 points in 8.1 minutes per game.
Silas Melson tore his Achilles tendon after playing in three October games for Petkim in Turkey. He averaged 16.0 points, 4.0 rebounds, 3.7 assists and shot 43.8% on 3s.
Micah Downs, 36, is putting up big numbers for Berreirense in Portugal. He leads the team in minutes (38.6), points (22.9), rebounds (9.3), assists (5.2) and steals (1.8).
He's played 40 minutes in half of the team's games and he's twice scored at least 30 points.
Jordan Matthews averages 11.7 points, 3.0 rebounds, 2.6 assists and ranks second with 35 made 3-pointers for Spojnia in Poland. He's scored in double digits in the past five games and drained at least two 3-pointers in seven straight.
Austin Daye has made a major impact in just five games with Kings in Taiwan. He averages 15.6 points and 9.2 rebounds. Daye had 16 points, three 3-pointers, 14 boards and four assists in a win Sunday.
Angel Nunez, who played for GU in 2014 and 2015 before finishing at South Florida, averages 8.0 points and 3.9 boards for Ionikos in Greece.
Pavel Zakharov, who saw limited time with Gonzaga in 2020 and 2021, is with CSKA Moscow's second team in his native Russia. He contributes 6.6 points and 5.1 rebounds in 17.2 minutes per game.
Mathis Keita averaged 25.1 minutes, 8.0 points, 6.1 assists and 2.7 rebounds for Chalons-Reims in his native France. Keita played limited minutes for GU in 2011 and 2012 before transferring to NCAA Division II Indiana University of Pennsylvania (IUP).
Local journalism is essential.
Give directly to The Spokesman-Review's Northwest Passages community forums series -- which helps to offset the costs of several reporter and editor positions at the newspaper -- by using the easy options below. Gifts processed in this system are not tax deductible, but are predominately used to help meet the local financial requirements needed to receive national matching-grant funds.
Follow along with the Zags
Subscribe to our Gonzaga Basketball newsletter to stay up with the latest news.
---