"Rubber Chicken": Lewis and Clark girls, Ferris boys emerge victorious in 40th anniversary of spirit game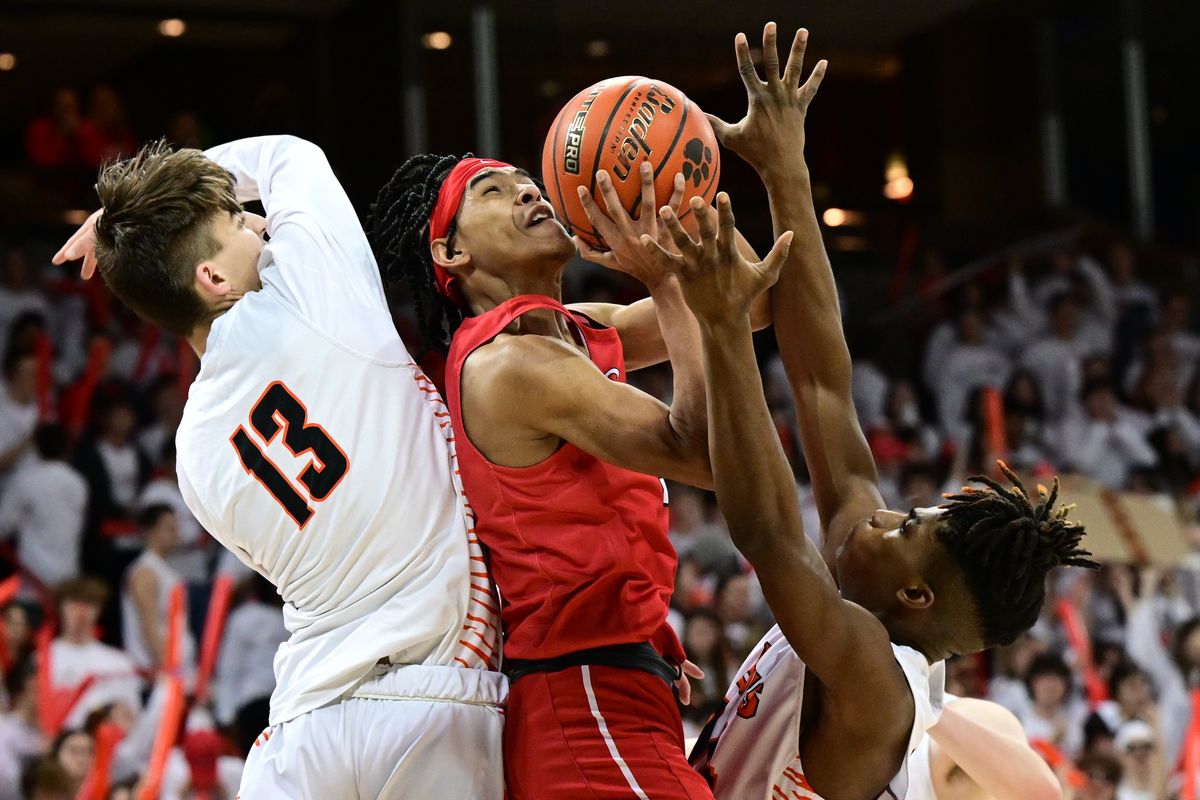 Tuesday night brought the oldest spirit game to the Spokane Arena as Ferris and Lewis and Clark met for the Rubber Chicken.
Started in 1983, it was the 40th year of the competition and the 39th time the schools have met to see where "Chuck" would reside for the next year – the 2021 spirit games were canceled due to the pandemic.
The girls took the floor first and it was a mismatch early between a pair of teams entering play 7-10. Things tightened in the middle quarters before LC pulled away late.
Olivia Baird scored 10 points and the Tigers topped the Saxons 47-32 in the nonleague rivalry game.
It's always special when the schools square off.
"I love competing against Ferris," LC senior Nyah Ankcorn said. "I usually have friends on the team, so it's always a really good rivalry match."
"These sure are a lot of fun," LC coach Gabe Medrano said. "It's just nice for those kids to have the opportunity. We tried to duplicate at practice with noise and messing with the lights and all that. But you know, there's nothing like being out here."
"I told them all week that this is an opportunity that most high school athletes never get to experience," Ferris coach Vince Grippi said. "It's an incredible opportunity for them, and they embrace that. They love the sound. They love the pressure. I think that really is what high school sports is all about."
"It was super, super fun," LC senior Vy Tran said. "I really enjoyed playing with a lot of people cheering and stuff like that."
Tran hit a layup and a corner 3 in the first 90 seconds and the Tigers raced out to a 7-0 lead. Post Brooklin Jenson hit a pair inside later and LC led 18-2 after one quarter.
"I love to start the energy for the team and just seeing them following the energy and play good basketball," Tran said.
"We talked about being in attack mode," Medrano said. "And man, they did a great job."
The script was flipped in the second quarter. Ferris started with an 8-4 run, with sophomore guard Kayla Jones dropping a couple of buckets. Jaylen Williams hit a 3 to trim the deficit to seven midway through and her runner in the lane made it 24-17 at halftime.
The Saxons held LC to one basket in the quarter, a layup by Cassidy Lage at the horn.
"We never quit," Grippi said. "That's what we're trying to do here right now is to get them to understand that adversity happens to everybody. And it's how you react to that adversity, which makes you who you are."
The offenses stalled in the third quarter, with both teams managing just four points by the media timeout.
A layup by Jones made it a five-point game, but LC guard Kayla Vue hit a 3-pointer to make it 31-23 with 2 minutes left in the frame.
Vue added a fastbreak layup and the Tigers led by seven entering the fourth quarter.
LC's Ruby Shaw hit a 3-pointer and a putback to start the fourth quarter and push the lead to 14. Shaw scored all of her seven points in the fourth.
"We like the energy she brings," Medrano said of Shaw. "She's like, 'Yeah, I love that. Whatever you guys need.' And her teammates love it."
Even though it was a nonleague game, Grippi said the games at the Arena mean a little more.
"We brought up a couple of freshmen and played them a little bit just so they could get the idea what this is like because this is special. And it's a Spokane thing – a part of what makes this community so great."
Boys
Ferris 45, Lewis and Clark 32: Dylan Skaife scored 21 points, eight in the fourth quarter, and the Saxons (14-3) pulled away from the Tigers (6-12) in the late game.
Skaife scored seven points early as Ferris got out to a 12-2 lead after one quarter. LC got going in the second quarter, using an 11-4 run to draw within three, but Jordan Taylor's contested layup put Ferris up 20-15 at halftime.
Brett Zimmerman drove the lane to cut the LC deficit to four late in the third quarter, then Parker Pincock hit a 3-pointer to make it 26-24.
Skaife responded with a jumper and the Saxons led 30-24 after three quarters. His floater in the lane with 2 1/2 minutes left pushed the Saxons' lead to double digits.
---