News > Education
Spirited away: High schools across Spokane region compete for 'school spirit'
Jan. 31, 2023 Updated Tue., Jan. 31, 2023 at 9:52 p.m.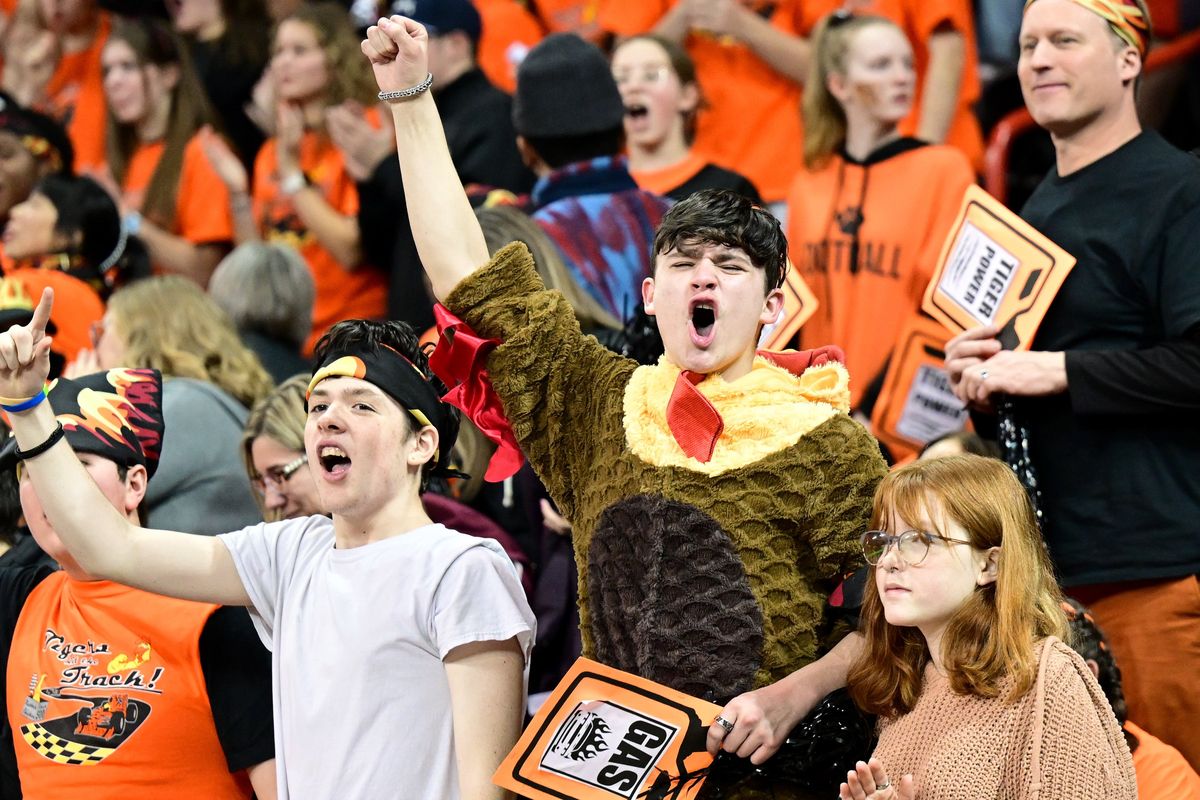 Lewis and Clark's Lucian Fumetti-Levine dresses up as a chicken and cheers for his team with friends, Landen Lamar, left, and Ginny Hebert, as the LC Tigers took to the floor to face the Ferris Saxons during the Rubber Chicken high school boys basketball game on Tuesday at the Spokane Arena. (Tyler Tjomsland/The Spokesman-Review)
It was the second annual Railroad Rumble and Cheney High School was eager to wrest the trophy, fashioned from a piece of railroad track, from their opponents at Rogers High School.
Rogers won the trophy during last year's "spirit week" in Spokane, but Cheney was determined to settle that score.
Both teams would use a combination of athletic skill, choreography, cheer and good old-fashioned school spirit to be named winner in the newest high school rivalry in the Greater Spokane League.
Both schools' student sections came to the game with corresponding themes: Rogers students filled out their side of the Spokane Arena dressed in the bright green and orange colors of Nickelodeon; their counterparts in Cheney filled their side of the arena with Disney characters.
Despite Cheney's 13-point lead at the end of the boys basketball game, a panel of judges named Rogers as the winner of the spirit competition for a second year in a row, based on their cheers and performances.
The Railroad Rumble is the newest of several high school spirit week rivalries that go back 40 years, well before Gonzaga's rise to national prominence, Hoopfest or Spokane's designation as Hooptown, USA.
"They're all unique, they're all special and they all have their own special twist to their communities, but what it does is it brings people out," said Scott Harmon, a coach and associated student body adviser at Shadle Park High School.
It all started with the Rubber Chicken in 1983.
"We're going to keep Chuck," Lewis and Clark student Gemma Cunningham, 16, confidently said at Tuesday night's game, referring to the nickname of the coveted rubber chicken trophy in LC's possession.
The Rubber Chicken, Chuck, has gone back and forth between LC and Ferris high schools over the years and represents the oldest such rivalry in Spokane.
Adley Batten, 15, said the rivalry is especially important for all students to attend.
"I think you'd miss out if you didn't go," she said.
Ferris student Keith Whitten, 17, said this year was going to be tough for his school.
"LC has too many people this year," he said. "We have the spirit, but they have the numbers."
Both Ferris and LC students spent part of Tuesday at school preparing for the chants and routines that they would later use at the game that night at the Arena to help bring home the Rubber Chicken.
There are five other similar rivalries in the Greater Spokane League throughout spirit week.
"It's good for everything, that's why the spirit games have lasted so long," Harmon said. "Investing in high-quality opportunities for students is the best thing."
Harmon, who judged a Rubber Chicken game in 1990, helped to bring the same spirit to the Shadle Park and North Central high schools in 1991 with Groovy Shoes. The Groovy Shoes takes place Wednesday night at the Arena.
"The one thing we try to stress is it's supposed to be fun," Harmon said. "The next day at school, whether you win the Groovy Shoes or not, you should be able to say, 'I had a really good time.' "
University and Central Valley high schools will compete for their trophy, the Stinky Sneaker, on Thursday at the Arena.
Mt. Spokane and Mead high schools also have rivalry games, although they are not played at the Arena. Pack the Palace and Catmania date back to 1998.
Similarly, East Valley and West Valley high schools also compete between their respective school districts for the Golden Throne, a golden toilet from 2003.
"I think just being able to play in the Spokane Arena is big deal for a lot of kids," said Jazmine Redmon, the current coach and former athlete of the University High School girls basketball. "That's a big stadium, and a lot of them will never get the opportunity to play in a stadium like that unless they go onto play after high school."
"Some of our students are only going to get to go to one game per year, and this is it," said Sean Mallon, boys basketball coach and former athlete at Ferris.
"It's cool to run out there for the first time, as a kid to be down there on the floor and look up and see all the fans, and everyone is dressed according to theme."
Local journalism is essential.
Give directly to The Spokesman-Review's Northwest Passages community forums series -- which helps to offset the costs of several reporter and editor positions at the newspaper -- by using the easy options below. Gifts processed in this system are not tax deductible, but are predominately used to help meet the local financial requirements needed to receive national matching-grant funds.
Subscribe now to get breaking news alerts in your email inbox
Get breaking news delivered to your inbox as it happens.
---