Summer carnival in Riverfront Park offers old-fashioned fun and food for the Fourth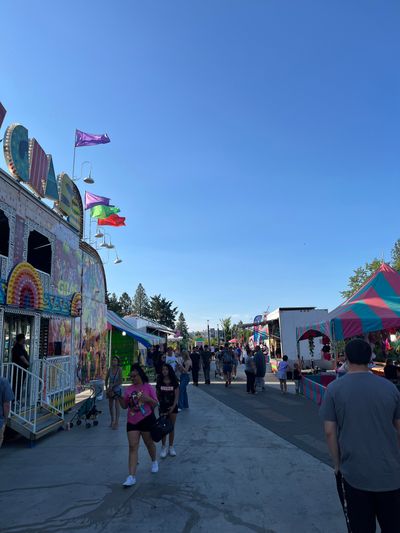 Just one week after dozens of thousands of tourists crowded Riverfront Park and the streets of downtown Spokane for Hoopfest, Fourth of July festivities have commenced at the Summer Carnival.
The carnival, which began Friday, is a five-day celebration with adult- and kid-friendly rides, games, kettle corn, cotton candy, and food and retail vendors.
The event is put together by Riverfront Spokane and sponsored by Idaho Central Credit Union.
"It's an exciting time of the year that brings lots of people and attractions," said Nathan Miller, assistant attractions and retail manager for the city.
For 17-year-old Emma Knight, the main attractions are the food vendors.
"I always have to get Mexican street corn," Knight said. "It's a necessity for me when I'm out at a carnival or the fair."
Many carnival participants found their way to vendor stands for some fun and games. With stuffed animals and more prizes to be won, families lined booths for games and contests on the Howard Street pier.
Screams from the west side of the Pavilion could be heard from the Rotary Fountain, as the Central Plaza contains the daunting Zipper and Starship rides.
Riverfront Park once again proved to be a convenient location for David Lancaster, a traveling businessman who noticed the carnival from his 12th-story hotel room window at the Davenport Grand.
"Every time I'm in the city, it seems like there's something cool going on in the park," Lancaster said. "I happened to be in Spokane last summer during Hoopfest. This venue is really an awesome place to enjoy some entertainment."
Carnival rides can be found at the Central Plaza and Promenade. Kiddie rides are available at the Red Wagon Meadow. Food and market vendors are spread between the Rotary Fountain and Clock Tower Meadow.
Carnival rides are operational Tuesday from noon to 11 p.m. Ride costs vary from two to five tickets, which are $1 each or $35 for 40. General admission is free.
Purchasing a $40 wristband awards participants with unlimited rides on any carnival ride during their designated session time. Tuesday's wristband sessions are from noon to 5p.m. and 5 p.m. to 10 p.m.
Once guests are done with the games, the Spokane Symphony will perform a 9 p.m. concert Tuesday at the Pavilion. Led by renowned musical director, James Lowe, all are invited to enjoy the Pavilion's lawn for the free concert right before the fireworks show begins at 10 p.m. Blankets and beach chairs are encouraged.
---