Fighting for her reputation: Legal battle with TikTok psychic continues for UI professor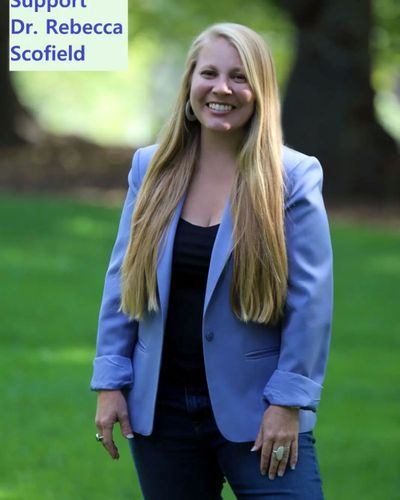 One morning, in the throes of grieving the tragic and brutal slayings of four students at the University of Idaho where she teaches, Rebecca Scofield awoke to find that a psychic on TikTok had accused her of orchestrating the killings.
Eight months later, Scofield appeared in federal court Friday morning as part of the ongoing legal battle for her reputation.
Scofield, a history professor, sued Ashley Guillard, the Texas psychic who randomly accused her of masterminding the homicides. Guillard filed multiple countersuits.
Weeks after Guillard's accusations, Bryan Kohberger, a Washington State University graduate student, was charged with the November killings of Madison Mogen, Kaylee Goncalves, Ethan Chapin and Xana Kernodle. He is awaiting trial.
On Friday, Scofield's attorney Wendy Olson argued that Guillard's counterclaims should be dismissed because of their "legal and factual frivolousness," according to court records.
Guillard has continued to say Scofield was involved in the students' deaths based on her psychic abilities. Guillard argued in court and to The Spokesman-Review on Friday that Scofield and her attorneys are discriminating against her spirituality.
"Guillard is free to practice any 'spirituality' that she likes, but that 'spirituality' does not excuse attacking another person's reputation or warrant using this Court as a platform to harass Professor Scofield, drive up litigation expenses and further Guillard's scheme to make 'millions of dollars'," Olson wrote in her motion in support of dismissing the counterclaims.
She went on to argue that it's "common sense to dismiss Guillard's counterclaims because they are fanciful, fantastic, delusional, and patently lacking in merit."
During a psychic reading, Guillard discovered a teacher had ordered the killing of the students, she told The Spokesman-Review in December. More readings led her to a specific subject area at the University of Idaho, which she Googled. Scofield's photo was the first she saw, Guillard said.
On Friday, Guillard again said in an interview that she believes Scofield orchestrated the killings.
"I have no reason not to," Guillard said of her continued belief that Scofield is involved. "For someone to make me go against my spiritual practice, I would need something major."
Kohberger's arrest or investigators clearing Scofield isn't enough to cause doubt, she said.
"I don't believe that police did any investigative work to clear Rebecca Scofield," Guillard said. "I think they just saw that I accused her based on a tarot reading and decided they didn't believe it."
Guillard is representing herself in court, something she said makes sense because Scofield will eventually be arrested.
"My reading explained that Rebecca Scofield was being arrested anyways, so it won't matter in the long run," she said.
Guillard said she filed the countersuit because Scofield and her attorneys discriminated against her spiritual practice and ruined her reputation and business.
Scofield's attorneys argued in their brief that Guillard is simply trying to avoid consequences for her claims.
"More than half a year after starting her relentless attacks on Professor Scofield on the internet, Guillard is getting closer to facing the consequences in real life," the brief states. "She has responded by yelling louder and grasping at increasingly thinner air. Guillard's latest antics – filing claims that are factually and legally frivolous as a vehicle to keep attacking Professor Scofield – do not warrant any further expense or delay in this litigation."
The legal battle has upended Scofield's life and finances, something her friends are trying to rectify with a fundraiser to help pay legal fees.
Stefanie Ramirez, an associate professor of economics at UI, met Scofield through the university and they quickly became friends.
"The whole town was just shocked, to say the least," Ramirez said of the homicides. "Getting word then that somebody was accusing Becca (Scofield) of being involved was an additional shock."
Scofield immediately reached out to Moscow police, who quickly confirmed she was not involved in the attack. She also reached out to the university, which she told The Spokesman-Review last year was extremely supportive.
"Even though this is an open-and-shut case … now in this civil arena of it all there's another fight," Ramirez said.
Ramirez and other friends immediately did everything they could to support Scofield and her family. As the timeline of the case became more clear, it also became clear that the lawsuit would be expensive.
The group created a GoFundMe to help cover legal fees, hoping to raise $100,000, with any money raised over that amount to be donated to scholarships in the victims' names.
As an academic, her credibility and reputation are a huge part of her work, Ramirez said.
"For something like this, even though it's not true, to even be stated and to be widespread, she will forever be associated with this case," Ramirez said. "It's about restoring and protecting her life's work that she has dedicated herself to."
But the lawsuit is about more than clearing Scofield's name, Ramirez said – it's about showing the community there are consequences for baseless speculation online.
"It's about fighting a fight against irresponsible language and irresponsible statements," Ramirez said.
"That before saying anything about anyone, somebody might think twice about who is behind those statements, because the consequences and the effects are real."
U.S. Magistrate Judge Raymond E. Patricco is expected to rule on the motion to dismiss the counterclaims later.
---