Coeur d'Alene resident transforms into TikTok's 'Handpan Man,' inspiring his followers with unique musical style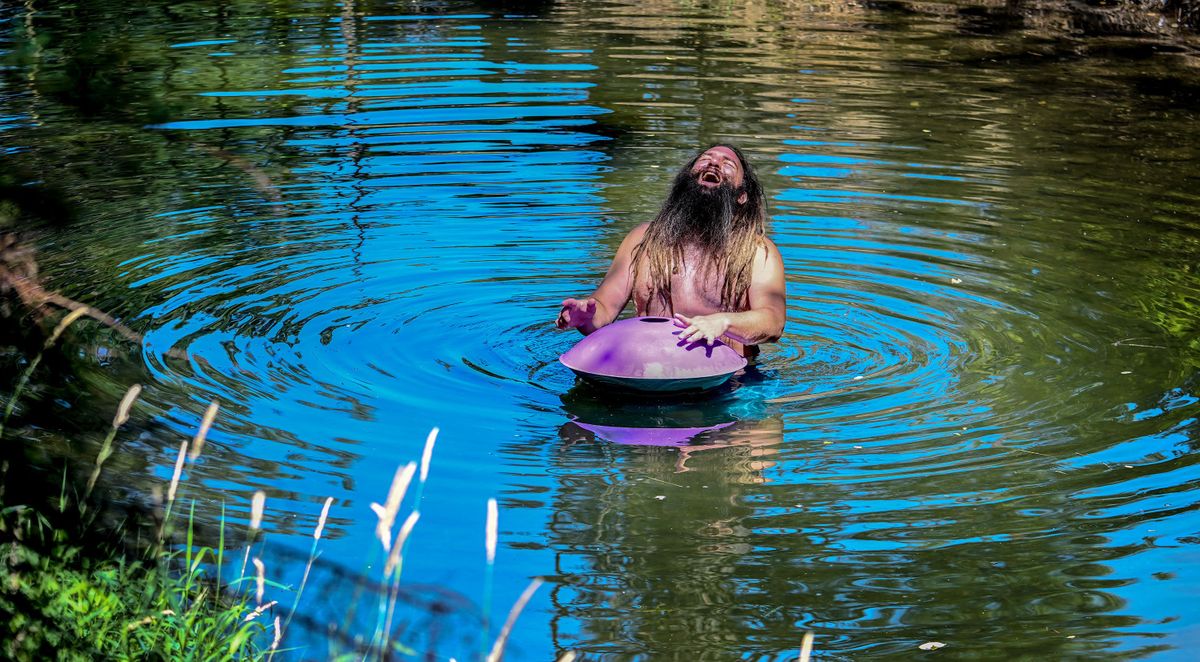 The face of an iconic social media figure in the area has a 10-year-old beard in front of an impressive array of nearly 8-year-old dreadlocks.
Adam Foote, 39, joined TikTok in 2020 and now has nearly 9 million followers between his two accounts.
"When I first decided I wanted to do this for a living, I asked myself, 'How can I stand out in the crowd?' When you think of Bob Marley, you think of dreadlocks," Foote said. "When you think of ZZ Top, you think of beards. I was like, 'I can put my hair in dreadlocks and grow a beard.' Those guys were my inspiration to look and be different and to be proud of it. It's good to set yourself apart from the crowd so people will remember you."
His musician name is Ethereal In E. However, his fans have given him the adopted nickname "The Handpan Man." As a result, his two TikTok handles are Ethereal.In.E and The Handpan Man.
A handpan is a percussion instrument that consists of two metal half-shells glued together.
The Handpan Man has established himself as a household name on TikTok, which has allowed him to earn a living by playing the handpan and singing while swimming in the Spokane River in Coeur d'Alene. His videos show him playing original music sometimes shirtless and other times wearing a hooded sweatshirt . He's also know for Happy Birthday videos, and his releases of new birthday renditions.
Foote was born and raised in Brooklyn Heights, just outside Cleveland, Ohio. He attended Taylor University, a Christian university in Indiana, where he met his now ex-wife.
After college, they married and bought an Astrovan, in which they briefly lived. The newlyweds planned to travel to Alaska, but once they made it to Post Falls in 2006, Foote and his wife discovered she was pregnant, so they settled down, found jobs and got a place to live. His only son, Logan, is now 16.
The Foote family lived with their friends in Post Falls before finding a place to live in Spokane Valley. They later bought a triplex in Spokane and became landlords. Two years later, they moved to Coeur d'Alene.
Shortly after the move, Foote and his wife divorced. Foote still lives in Coeur d'Alene and doesn't plan on leaving any time soon. He points to his love for nature in North Idaho.
"There was a point where I was very depressed, and I just started making changes and gravitating towards the things that make me happy," Foote said. "Now, I do something I love in a place that I love every single day."
Foote's career as a percussionist began as a young child, when he constantly tapped on things. His earliest memory is crawling up the steps from the basement of his childhood home and tapping on different sections of the stairs, noting that different areas made different tones. Foote played his first drum set at age 11.
He grew up playing the drums at his church. Being on stage in front of a crowd gave Foote that rock star feeling he craved.
" When I was a kid, I thought of how amazing it would be to be a drummer in a punk rock band. Later in life, following a dark point in my life and a divorce, I rekindled my passion for percussion," Foote said. "After my divorce, I was really lonely and sad and trying to figure out how to get out of the funk.
"I remember sitting at a drum set, getting lost in the rhythm and forgetting all my problems."
While performing at an open mic one night at the Iron Horse in downtown Coeur d'Alene, a singer approached Foote and asked him to join his band as the drummer.
Foote describes his time in the band as one of the most joy-filled experiences of his life and was disappointed when he was replaced a few months later, but he said he was determined to maintain the joy he received from drumming.
He was between jobs in 2013 when he discovered the handpan while lying in a plasma donation bed. He stumbled across a YouTube video of Daniel Waples playing a song on the obscure instrument. Foote thought it could be his ticket into being a professional musician. He searched for three years and finally got his first handpan.
After performing on the street in Coeur d'Alene, Foote used donations from the public to record his first album. The release led to live music gigs at several venues.
Foote worked as a counselor at Borah Elementary School from 2013 to 2018. As his musical career progressed, Foote became increasingly unhappy with his day job and more happy with his music. He said he quit his job after an argument with his boss, which inspired him to commit to music full time.
"The part of playing music I really enjoy is that my music will attract people to me," he said. "As an introvert, it's easier to interact with people who approach me rather than having to approach people."
Initially, Foote was heavily invested in self-promotion on Facebook. He connected online with another handpan player, Dan Byrne, and watched Byrne's rapid growth on TikTok under the account cymaticharmony. Foote decided to give the app a shot.
"My first few months on TikTok, I was trying to do the same things I was doing on Facebook, but I eventually realized TikTok is more about engagement," Foote said. "Maybe six months after joining the app, I hit 1 million followers.
"It sure hasn't been easy. At this point, I'm just trying to keep this going and eventually pay off my mortgage."
Social anxiety has been an obstacle for Foote in the past, but he makes an effort to be gracious to his fans.
"I really enjoy being recognized in public," Foote said. "I used to be terrified of it. I eventually realized that my online popularity may not always be here, and I'm now seeing things through a new lens.
"I have a lot more gratitude for my fans now. My music career is pretty much my life. I'm always trying to make people happy, and my favorite thing is just being loved."
While it did take some time for Foote's mother, Karen Bergen, to adjust to the new version of her son, she feels he changed for the better.
"Now, I can see he is so in his element and so creative. At first, it was difficult, but I finally understood why he felt like a square peg at his last job. He thinks about community and gives back to his people. I don't think he takes for granted what he's doing."
Foote's father died by suicide when Foote was 11. He has had his own mental health journey to endure. He was diagnosed with bipolar disorder in 2017.
"I'm very extreme at times. Online, I am very bold and out there, but in person, I am very shy and introverted," he said.
Foote said although he initially viewed bipolar as a deficit and felt ashamed of his diagnosis, he now thinks of it as a superpower.
He said the hyperfocus he receives from bipolar disorder helps him to keep his eyes on the positive.
"I would like to encourage anybody that's struggling with mental health issues that it's not something to be ashamed of. I was ashamed of it because I was working as a therapist at the time; it made me feel I had failed when I started experiencing my own mental health problems, which is not true," Foote said. "Medication has changed my life for the better. I have said many times in the past that everyone at some point in their life could benefit from mental health services."
In comments on Foote's posts, followers say they love him for the kind, unique person he is on- and offline.
"I guess I am a type of person that tries to squeeze the most out of every moment. Life is short, and we don't know when our last moment is going to be," Foote said. "Why spend that last moment worrying about something that might not ever happen?
"Are you living the life you want to live? Are you happy? If you're not, then it's time to make some changes."
---