Building a business in Spokane brick by Lego brick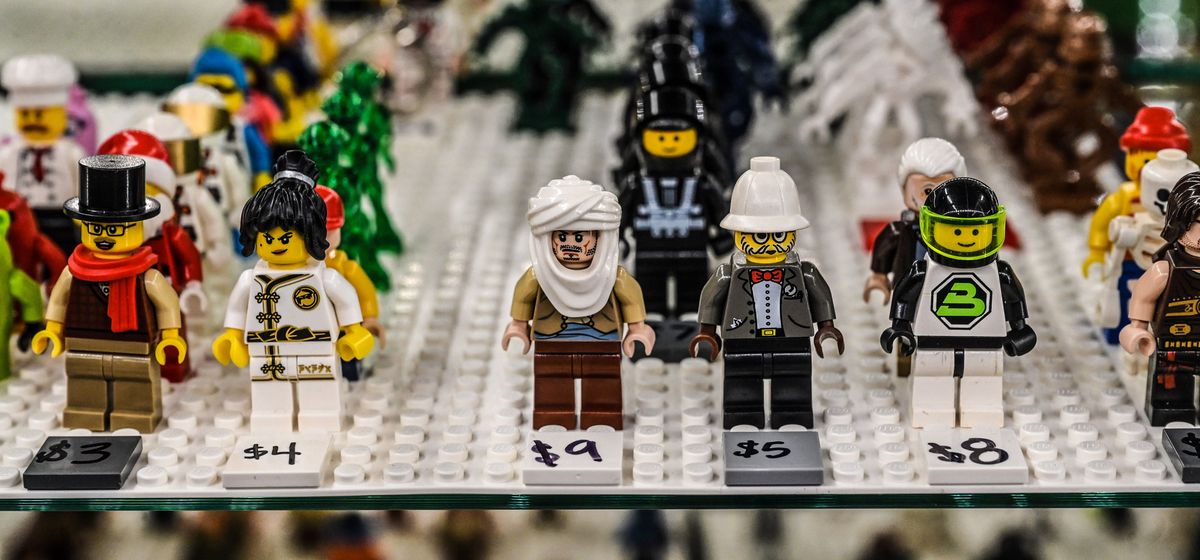 A lifelong love affair with Lego launched a new business in Spokane's Garland District.
On April 29, Bryce Colvin and Frankie Foote opened Brick Buy Brick across from the Garland Theater. They buy, sell and trade new and used Lego sets and pieces.
"I've always been a Lego guy," Colvin said.
He was working as a chef throughout the COVID-19 pandemic and jokingly mentioned his dream of opening a Lego store to his partner.
"She said, 'Let's do it!' " he recalled.
Less than a year after that conversation, Brick Buy Brick opened its doors.
"There's a franchise that does this, but we wanted to be a Spokane small business," Foote said. "We linked up with SCORE (a nonprofit that provides free business mentoring and workshops), and they were tremendously helpful."
Colvin had three criteria for the location; he wanted to be near a school, in a neighborhood and on a main street.
The spot on North Monroe fits the bill perfectly.
"I loved the big windows and that it's across from the Garland (theater)," he said. "Kids will want to come in before or after a movie."
But the store isn't just for the younger set. On Wednesday afternoon, mostly adults browsed the shelves.
The first thing customers see is a huge table filled with colorful plastic bricks.
Kids can sit on stools around the table and build their own creations, or shoppers can sift through the bricks and fill plastic bags with their finds. The bags come in three sizes and are priced accordingly.
Bins of bulk Legos line the floor beneath the shelves. If you have a tub of the plastic bricks sitting in a closet at home, Colvin will be happy to take them off your hands.
"We buy bulk for $6 a pound," he said.
Foote said bulk bricks and minifigures are the store's biggest sellers.
A glass display case contains tiny Darth Vaders next to a half-dozen Stormtroopers. Harry Potter, Mario and a host of other characters sit nearby.
"I can't stock minifigs fast enough," Foote said. "I'll fill this shelf, and by the end of the day, they're gone. I'm surprised by how big the Lego community is in Spokane."
The store features a room set aside for birthday parties, which have proven to be a big hit. They've hosted close to a dozen parties in the month since they opened.
"We already have one booked for September," Foote said.
On the selling floor, new sets mingle on shelves with gently used items. Brick Buy Brick has a consignment program that has generated a lot of merchandise.
Colvin pointed to his current favorite assembled in a display case with its original box behind it. The pirate ship with its red and white striped sails is not for sale.
"It's a 1989 retired Black Seas Barracuda," he said.
"Retired" means the sets have reached the end of production. Sets are typically available for a short period, and then Lego stops making them. Of course, this increases their value.
"Lego keeps its value better than gold," Colvin said.
He was referring to a recent study published by the Research in International Business and Finance journal that cited research done by economists at the Higher School of Economics (HSE) in Russia. They found that the market prices of retired Lego sets sold on secondary marketplaces grew by at least 11% annually. That's higher than the average return for gold.
Investment aside, Colvin said most people collect Lego for the enjoyment of the creative play it offers.
"Be ready to have fun when you come in," he said.
Since Lego is often a solitary pastime, he expressed delight at the warm reception Brick Buy Brick has received.
"The best thing is the feeling of belonging to a community," he said. "My customers have turned into friends."
---