Gonzaga gets screen time in recent basketball flicks "White Men Can't Jump" and "Air"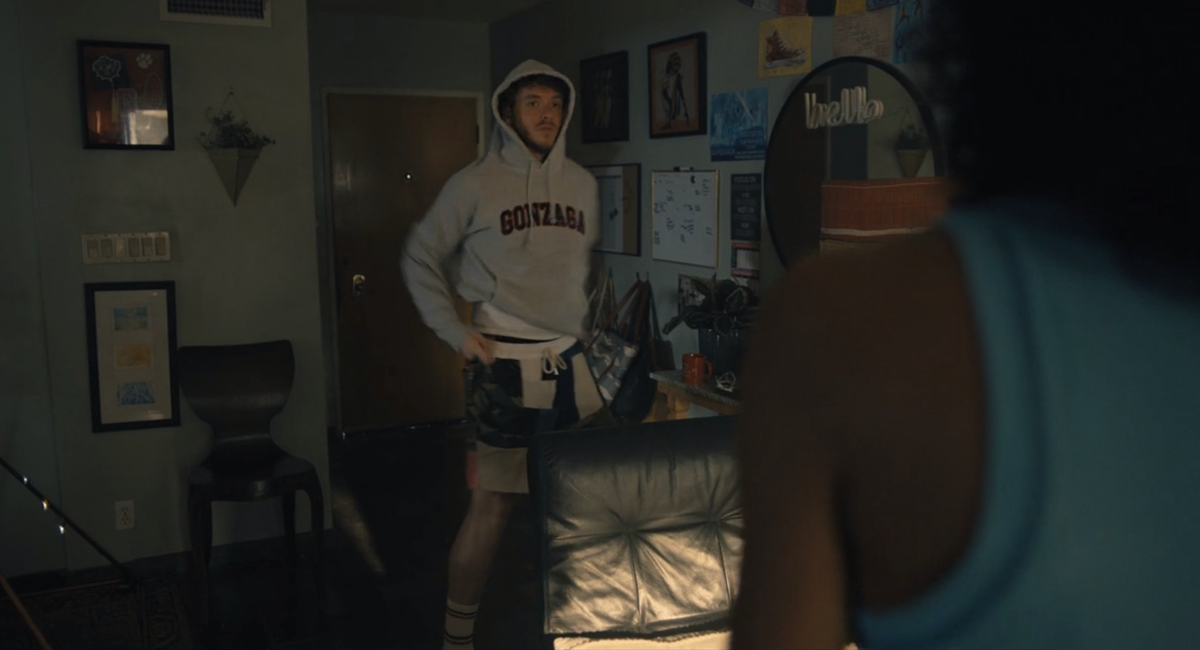 Gonzaga was still three years shy of the school's first NCAA Tournament berth when Wesley Snipes and Woody Harrelson teamed up in the popular 1992 basketball comedy "White Men Can't Jump."
Approximately 30 years later, a remake of the critically acclaimed film is more proof of Gonzaga's evolution, not only as an elite college basketball program but also a nationally recognizable brand.
In the "White Men Can't Jump" remake, released May 19 on streaming service Hulu, platinum-selling rap artist Jack Harlow is cast as "Jeremy," a former college basketball player who starred for the Zags before watching his career spiral as a result of knee injuries.
Gonzaga also grabs screen time in another spring basketball flick, "Air," which details Nike's pursuit of, and partnership with, Michael Jordan.
In the Ben Affleck-directed film, Gonzaga is mentioned on multiple occasions because of its affiliation with John Stockton – one of the college players Nike was considering before the sneaker giant signed Jordan to a landmark deal.
Still 15 years from making a splash at the NCAA Tournament, Gonzaga was relatively unknown in the summer of 1984, the year in which "Air" was based.
At one point early in the film, Nike executive Rob Strasser, played by Jason Bateman, reveals a board of top college players the company might sign to a shoe sponsorship.
One Nike employee singles out Stockton, prompting a response from Bateman.
"Gonzaga?" he asks. "What's that, a vocational school?"
In the following scene, Bateman's character is pictured conversing in a bathroom with Sonny Vaccaro, a Nike shoe salesman played by Matt Damon.
"I really like Stockton," Bateman says.
"Do you even know where Gonzaga is?" Damon responds, uttering a common mispronunciation of the Spokane-based school.
Vaccaro later visits a 7-Eleven convenience store, posing the same question to a store clerk while purchasing a Sports Illustrated magazine.
"Spokane, Washington," the employee says. "Stockton's too short, too."
Former Washington State basketball coach George Raveling, now a director of international basketball for Nike, also has brief a cameo in "Air" – played by popular actor/comedian Marlon Wayans. The film highlights Raveling's role as a key figure in helping former Nike consultant Sonny Vaccaro persuade Jordan to ink with the company.
Harlow's character in the "White Men Can't Jump" remake is an awkward, unassuming ex-Gonzaga basketball player trying to make ends meet after tearing both ACLs during college.
That leads him to a troubled former high school star Kamal Harris, played by Sinqua Wells. During their initial interaction, Harlow's character beats Wells' character in a 3-point-shooting competition.
Wells' character does background research on Harlow's character to learn he was an ex-college star for the Zags.
"You think you're slick, huh?" Harris said. "Just showing up to the courts … acting like you can't hoop. When really, you played at Gonzaga."
At one point in the film, Harlow looks down at a phone screensaver of him wearing a white No. 13 Gonzaga jersey. The player who wore No. 13 for the Bulldogs last season, senior guard Malachi Smith, reacted to the image on Instagram earlier this week.
"That 13 look good on you my boy @jackharlow," Smith commented.
Later in the movie, Harlow is seen slipping on a gray Gonzaga sweatshirt while leaving his house following a dispute with his girlfriend.
One of Harlow's platinum records, "What's Poppin'," is played during the film credits for "White Men Can't Jump." The song mentions Stockton, the former Gonzaga standout and Spokane native, in a lyric that's repeated throughout: "I got options, I could pass that … like Stockton."
In early April, many thought hip-hop mogul Drake was wearing a Gonzaga baseball jersey during a performance at J. Cole's Dreamville Festival, but others pointed out it was actually a salute to Cole's high school, Terry Sanford, which uses an identical Bulldogs logo.
---