It's time to B Radical at the Black Label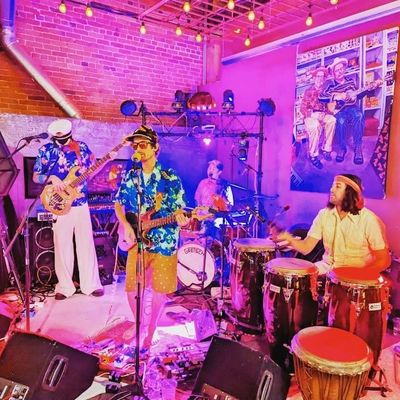 "Waking Up Human," the second album by Spokane's B Radicals is apt. Songs such as the funky and visceral "Peaceye" slap the listener in the face with its energy and positive message.
"The song is inspired by Mahatma Gandhi," percussionist-keyboardist David Egly said. "'Peaceye' is about the eye of peace."
The B Radicals, which will showcase "Waking Up Human" Saturday at its record release party at the Black Label Brewing Company, is about shaking it up courtesy of its bouncy existential avant rock-funk.
"We have a great time making eclectic music that's upbeat," drummer Josh Martin said.
That's quite a feat considering that "Waking Up Human" was recorded during the lockdown. "Making this album during the pandemic was our solace during a very difficult period," Egly said. "It was so good to sit in a room with all of these guys and safely make our music. We had our own bubble and it was a good thing. It was our silver lining during a very difficult time."
"Waking Up Human" is a spirited call to moving forward with optimism while coming out of a dark time. "Our response was that we have to literally wake up as a society," Martin said. "We have to move on from here."
The 15-year old band, which also includes bassist Konrad Van Deest and guitarist Bradford Little, delivers concerts that mirror their celebratory and unpredictable music.
"It's all about having fun when we play out," Egly said. "We are adept at keeping our listeners on their toes. We love to surprise them in terms of where we go sonically and what we do onstage."
The band goes deep, just like their moniker. "We literally are about being radical and radical love," Egly said.
B Radical has no problem slipping some choice covers into its set. During recent shows the group has rendered its funky take on Tom Petty's "You Don't Know How it Feels," Talking Heads' "Cities" and the Doobie Brothers' "Long Train Runnin."
"We play some cool songs from other artists that we admire and have a good time with that," Egly said.
The finest cover in the B Radical set is a version of the eccentric and underheralded Ween's quirky "Roses are Free."
"Songs from those recording artists and from our group hopefully keep the audience thinking and dancing," Egly said. "We try to tap into their emotion and we can't wait to bring it at Black Label."
Black Label is the B Radicals' home away from home. "I believe the hidden gem of Spokane is Black Label," Egly said. "The room sounds awesome. There is such a warm sound there, which is a benefit for our music. There's not a stage there like you have at the Lucky You or the Knitting Factory and we like that since we're so close to the fans. We love the tall ceilings and it's the perfect place for a record release party and that's why we're going to be back there."
---