Weathercatch: Two Junes - one scorching, one soggy. What happens now?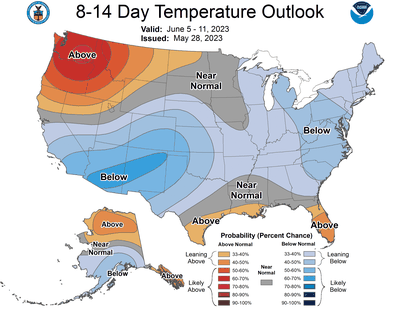 Since it's the first day of June , we thought it fitting to revisit the month's weather in the past two years. Both 2021 and 2022 were standouts in our region, for completely different reasons.
Typically, the Inland Northwest enters its dry season in June. But 2022 was remarkably rainy. Barely halfway through the month, the Spokane area received nearly twice as much rainfall as it normally does all month long.
The drenching began with a parade of storm systems that tracked through Eastern Washington and North Idaho in early June. On June 5, the National Weather Service Spokane issued five severe storm warnings and 10 flash flood warnings for locations that included Spokane, Pullman, Lewiston-Clarkston, Sandpoint and Wenatchee.
Heavier rain slammed the region June 10-13, when an atmospheric river, which is rare in June, pumped a plume of subtropical moisture from the Pacific Ocean into Oregon and Washington. Heavy downpours in the eastern half of Washington helped bring the month's rainfall total in Spokane to 2.46 inches, compared to the average amount of 1.18 inches. Pullman's total was 3.94 inches, making it the wettest June recorded there.
A year earlier, June 2021 went down in history for its extraordinary heat. Following a heatwave that consumed the Western United States at midmonth, a second, unprecedented one bore down on the Pacific Northwest and western Canada from June 26 to July 3.
Stunningly high temperatures in Washington, Oregon and Idaho broke records in numerous locations. Spokane experienced its hottest day on record when the mercury shot up to 109 degrees on June 28. Seattle hit 108 degrees and Portland 116. The Tri-Cities reached 118 degrees and Hanford climbed to 120 degrees – the hottest temperature recorded in Washington state. Meanwhile, Canada smashed its heat record when the town of Lytton, British Columbia, reached 121 degrees.
Several factors merged to create the freakish heat. Warm air from the desert Southwest had drifted northwest, further warming as it descended down the slopes of the Cascade Range.
At the same time, an unusually strong ridge of high pressure locked itself overhead, pushing warm, condensed air toward the ground. Furthermore, the sun was strong, as it always is in late June due to longer days and more concentrated heating.
What kind of weather awaits us this June? As of now, it appears unlikely that we'll encounter an excessively hot or remarkably rainy month this time around. Essentially, the region is looking to be hotter and drier than normal, but not extraordinarily so. The National Weather Service's Climate Prediction Center is favoring an above-average chance of elevated temperatures in the Pacific Northwest and below-average precipitation.
Although we're always hesitant to forecast conditions beyond a week or two, we concur that the month will get off to a warm, dry start, as depicted in the prediction center's temperature map that appears with today's column.
Happy June 1.
Nic Loyd is a meteorologist in Washington state. Linda Weiford is a writer in Moscow, Idaho, who's also a weather geek.
---