New coach, goalie changes — Vegas' run to Stanley Cup Final similar to Panthers' path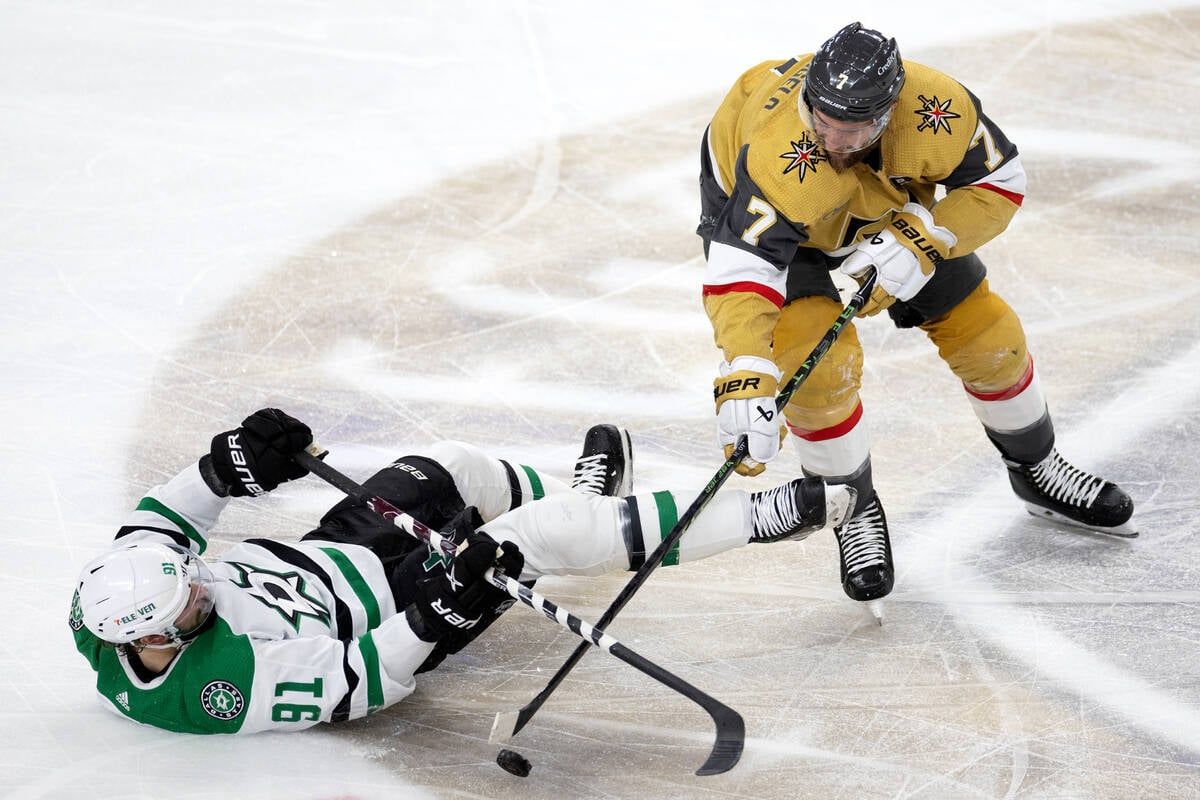 LAS VEGAS – They didn't have a coach at this time last June.
They weren't certain of their goalie.
They were coming off the kind of season that brought big change and made the hockey world wonder where they were headed.
It's not just the Florida Panthers who found some big answers all the way to the Stanley Cup Final. The Vegas Golden Knights were on a parallel track in some manner and now play host to Game 1 on Saturday night in their T-Mobile Arena.
To understand how Vegas arrived here is to look at the Panthers in some form. They each got a top star who wanted out of another organization. Vegas' top scorer these playoffs, Jack Eichel, was traded by Buffalo in 2021 after a contentious time over a neck injury. The Panthers' Matthew Tkachuk declined to sign a long-term deal with Calgary, in effect forcing a trade last summer.
They even shared some players, though Vegas got the better of that out of the expansion draft. The team's second-leading scorer in the playoffs is Jonathan Marchessault, who had a career breakout season with 30 goals for the Panthers before taken by Vegas in the expansion draft in 2017.
He was joined in Vegas by Panthers teammates Reilly Smith, who was traded that summer to Vegas. Marchessault and Smith have been prime contributors since the Knights' run to the Stanley Cup Final in their first season.
Also like the Panthers, this Vegas season began in disappointment last year. The Panthers won a series but general manager Bill Zito knew a too-cute system wouldn't work in the playoffs and changed coaches.
Vegas didn't make the playoffs for the first time in five years, and that brought change, too.
"We've overcome some adversity, but that's the nature of this team," said Vegas coach Bruce Cassidy, who was fired by Boston last season and hired in Vegas eight days before the Panthers hired coach Paul Maurice. "That's what I've seen from then since I came here."
Cassidy was considered too tough by Boston players. He seems to have found a home in the desert with his style of old-school hockey with big defensemen. They limit opponents chances (Vegas goalies faced the fifth-fewest goal-scoring chances this season, according to the analytic site Natural Stat Trick), and they lead the league in blocked shots.
That system has helped lighten the burden on a Vegas goaltending situation that has been a point of focus this year. Starter Robin Lehner underwent hip surgery last summer that kept him out all season. It wasn't detected until weeks after free agency started, meaning Vegas didn't get a top replacement.
Vegas started five goalies this season and the rotation didn't stop with the playoffs. Laurent Brossoit started the playoffs, but he was injured in Game 3 of the second round. In came Adin Hill, whose NHL career consisted of six years, three teams and 101 games as a backup. His playoff experience to that point was 20 minutes in mop-up duty the previous game.
Since then, he's played 10 games with a 2.07 goals-against average and .937 save percentage.
"He's been everything we could have hoped," Cassidy said.
Sound similar to how the Panthers have talked about goaltender Sergei Bobrovsky these playoffs?
Here's the final similarity for these team: This is each franchise's second trip to the finals. And one will win its first championship.
---