100 years ago in Spokane: A fateful tale unfolded to explain how a decades-old treaty document wound up in a Spokane gutter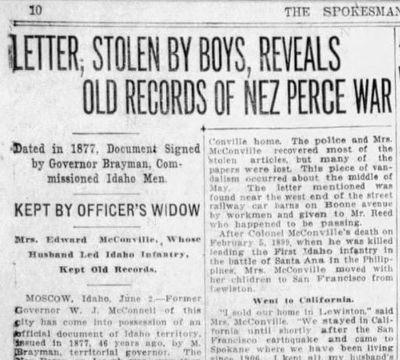 Spokane street cleaners found an official Idaho Territory government document, dating back 46 years, fluttering in the breeze near the streetcar barns.
The find proved to be highly valuable to some aging Army veterans. The document was a letter listing the members of an Idaho regiment who took part in the Nez Perce wars in 1877. Decades later, Congress passed a law granting pensions to veterans who could prove they had fought in such battles. This letter provided such proof to a few surviving veterans or their widows. Former Idaho governor W.J. McConnell was now looking into their cases.
How did this letter end up in a Spokane street gutter?
The letter had been saved by its recipient, Col. Edward McConville. He died in the Philippines in 1899, but his widow saved all of his papers and moved to Spokane in 1906.
She kept all of his records in the garage of her home on West Dean Avenue. Recently, some boys broke into the garage, "tore open the suitcases, and scattered the papers over a distance of many blocks away."
Police recovered some of the stolen articles, but not all of them.
Days later, the street workers found this letter, recognized that it might be significant, and turned it over to a passerby because he was wearing a Grand Army of the Republic button.
This proved to be a lucky choice. The passerby was Theodore Reed, a former Idaho resident who happened to know the former Idaho governor. He sent it along to McConnell, not because he recognized its historical significance, but because he thought the McConvilles might still be living in Lewiston.
---