Nikola Jokic, an elusive superstar, has a hold on Denver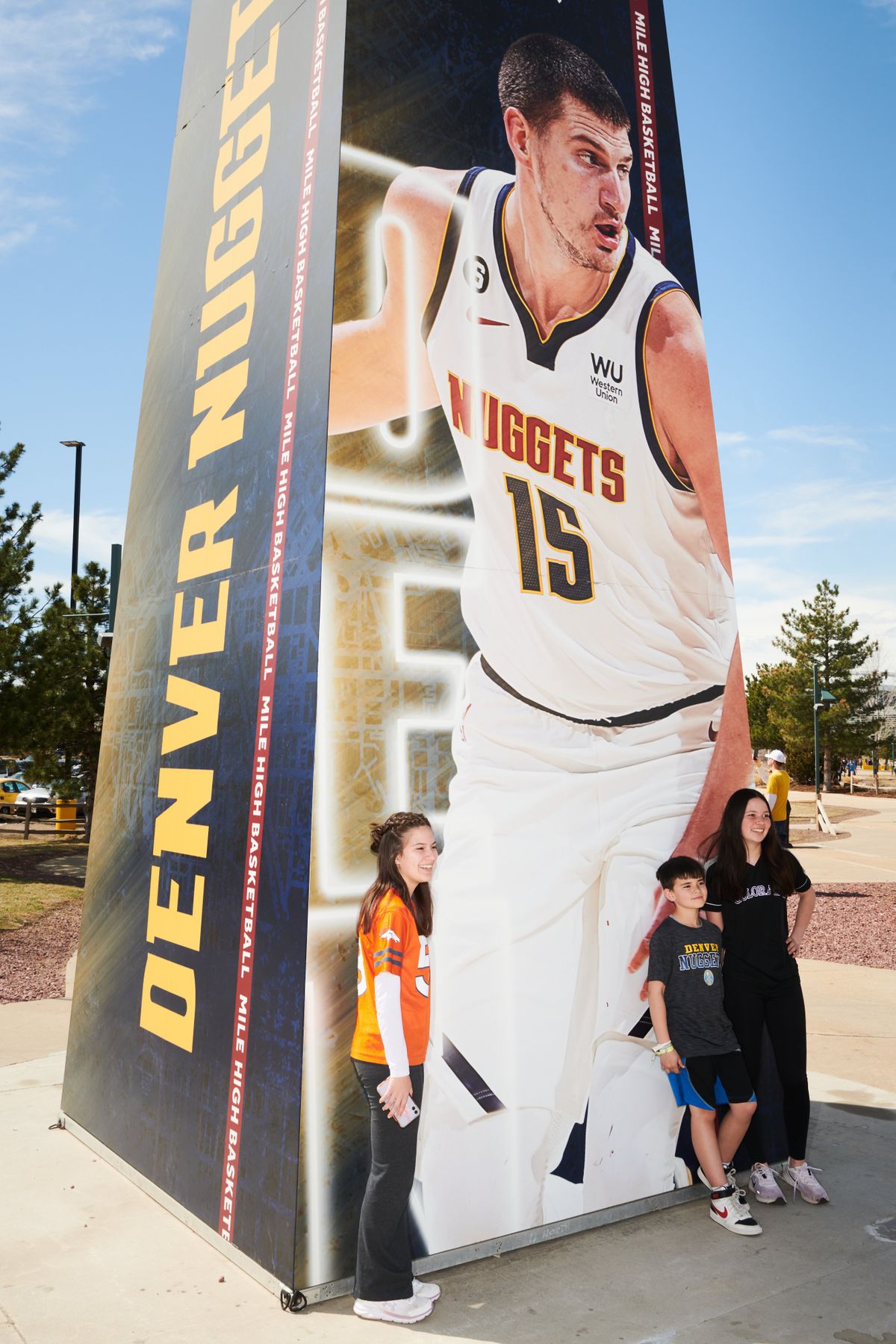 DENVER – About 2 miles from downtown Denver, the yellows, oranges and reds of a spray-painted mural fill the cracked, gray cement wall of a building that houses a temporary employment agency. The mural rises about 20 feet and depicts an expressionless Nikola Jokic next to a much more emotive Jamal Murray, his eyes narrowed and arms extended as if he is wielding a bow and arrow.
Thomas Evans, a 38-year-old artist, finished the mural of the two Denver Nuggets stars recently as the team prepared to begin the NBA Finals. On Thursday afternoon, hours before Game 1 of the championship series against the Miami Heat, Damien Lucero was blaring his song "It's Nuthin" while recording a rap music video in front of the mural. Lucero, 21, goes by Dame$, pronounced "Dames" (not to be confused with Dame D.O.L.L.A., the rap name of Portland Trail Blazers guard Damian Lillard). He said the mural inspired him and some collaborators to write the song as a tribute to Jokic.
He rattled off some of his favorite lines:
Clean sweep, yeah, it's all me.
Had to smoke him out like I puff trees.
Four mo' dubs then we pop rings.
Triple dub, ain't no joke, he the new king.
The old king – at least to those who want to describe him that way – is LeBron James, whose Los Angeles Lakers were swept by the Nuggets in the Western Conference finals. James is the biggest star in the NBA, with four championship rings, piles of endorsement deals, and a constant presence on social media and television. Jokic has none of that.
In the NBA, stars often take on their city's identity – or imbue the city with their own. Magic Johnson's love of luxury and glamour made him a perfect fit for Los Angeles; James' embrace of celebrity has made him the same. Patrick Ewing's physicality screamed New York City. Jokic, a 28-year-old Serbian who may be the best player in the NBA, is a bit of an enigma, similar to Tim Duncan when he was in San Antonio. And that suits Denver and Colorado just fine, according to those who live here.
"The kind of talent that he is, you know, a modest talent, not somebody who is searching out the spotlight, a team player, somebody who's down to earth," said U.S. Sen. Michael Bennet, D-Colo. "I think Denver and Colorado, we view ourselves as down to earth."
On Thursday, Bennet wore a Nuggets warm-up jersey in Washington, D.C., on his way to vote to raise the debt ceiling.
Stars such as Jokic, who has won two MVP awards, can be close to a one-man stimulus for a city. Denver Mayor Michael Hancock estimated that the Nuggets' playoff run alone this year could bring in a $25 million economic boost.
Even so, Jokic has almost no cultural footprint off the court as the Nuggets jockey for attention locally with the NHL's Colorado Avalanche and MLB's Colorado Rockies (all of which are overshadowed by the NFL's Denver Broncos).
But this obscurity is apparently by his own design. Talk of stardom appears to bore him. Asked whether he was the best player on the Nuggets, Jokic told reporters on Wednesday: "Sometimes I am, sometimes I'm not. I'm cool with that."
Jokic rarely does interviews outside of mandatory news conferences, where he gives mostly anodyne answers. He has a deal with Nike but does not have a signature shoe. He doesn't host a podcast, and his politics are a mystery. He has appeared in a handful of commercials in Serbia. Jokic said recently that basketball was "not the most important thing" in his life and probably never would be.
Colorado Gov. Jared Polis called Jokic "a rarity in the modern sports age." He said people in Colorado "admire him all the more for not being an off-court distraction like other so-called stars are, you know, too often in both basketball and other sports."
Jokic's approach to stardom creates a challenge for the NBA, which is constantly looking to expand its reach. But the league doesn't always help itself: The Nuggets, even with a two-time MVP, were not on national television during the regular season as much as some less-talented teams.
In Serbia, the NBA is popular. When Jokic is home for the offseason, he lives as he does in Denver: away from the public, according to Christopher Hill, U.S. ambassador to Serbia. But Jokic is someone "everyone is talking about right now," he said.
"The games tend to be at 2 o'clock in the morning," said Hill, who lived in Denver for a decade before leaving for his post in 2020. "People stay up for those. It's incredible. I'll be talking to somebody in the Serbian government and they'll start yawning – 'Sorry, I was watching Jokic last night.' "
Twenty years ago, the Nuggets drafted a player who was almost the polar opposite of Jokic: Carmelo Anthony. He was a more traditional franchise star, doing commercials, selling jerseys and putting out signature shoes. Starting when he was at Syracuse University, he made waves in popular culture with his style and confidence. He spent more than seven seasons in Denver, coincidentally wearing No. 15, which Jokic wears now.
Evans said he typically doesn't paint celebrities, but he found Jokic's growing relevance worth the art. He finished his first mural of Jokic in February in the Five Points neighborhood of Denver. He added Murray in his second, the one finished just before the NBA Finals.
Caroline Simonson, a 22-year-old Nuggets fan from nearby Boulder, said she paid $810 to attend Thursday's game, which the Nuggets won, and sit in the bleachers. She said Jokic's public persona "limits his connection to maybe NBA fans across the country but not to the city of Denver."
"We're prideful. We know what Colorado is," she said. "If other people don't know what it's worth, we know what we've got here. It's special to us. Sometimes we want to keep it to ourselves. We get to keep Jokic to ourselves."
---