100 years ago in Spokane: The first commercial flight to the city from St. Paul made a harrowing stop in Glacier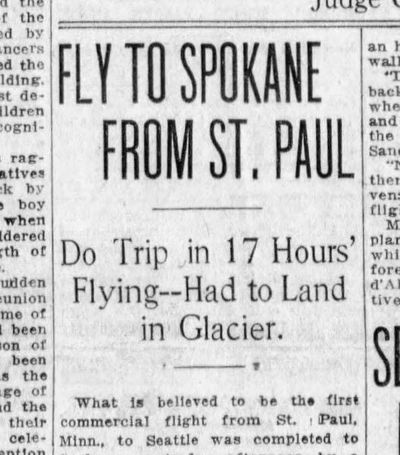 A new era in aviation began when a plane touched down in Spokane carrying two passengers – the first commercial flight from St. Paul, Minnesota, to Spokane.
You might also call it the first commercial flight from St. Paul to Seattle, since the plane was scheduled to continue to Seattle the next day.
The pilot was the well-known Spokane aviator Nick Hamer, and one of the passengers was Russel H. Phinney, a prominent St. Paul banker.
It was a bumpy and sometimes hair-raising flight. It took 17 hours of flight time to get from St. Paul to Spokane, and winds forced the plane to make several unscheduled overnight stops along the way – one of them in Glacier National Park.
"We climbed to a great height to cross the mountains in Montana, but encountered high gales and blinding snow," Phinney said. "The nearest landing fields were 30 miles west and 50 miles east. Always anticipating adventure, Nick had spotted a little pot hole as we passed over Nyack in Glacier National Park. Retracing our flight, we spotted the tiny flat after circling about the peaks. Although the meadow has an area of but two acres, the landing was made with the ease expected on a large field."
They were treated to a hot meal and comfortable beds by contractors building a highway at Nyack. They departed the next morning, but had to make another stop at Kalispell. Then they had to get over the Bitterroot Range, facing winds that were "like going against a wall."
"Defeated by the gale, we dropped back to Thompson Falls, Montana, where Hamer followed the canyons and passes, as indicated to him by the rivers and the railroad tracks, to Sandpoint, Idaho."
---