Mayor's race already nearing fundraising records as Spokane candidates report early money totals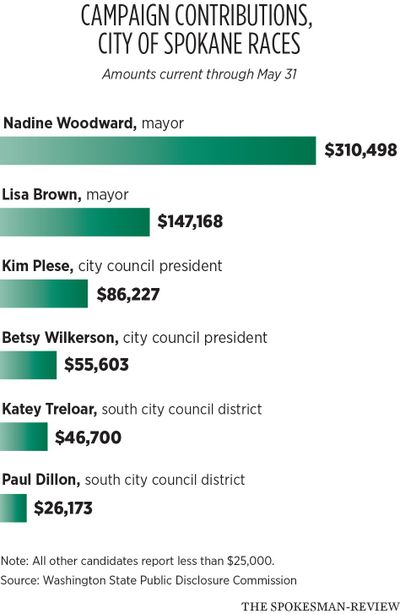 It's an election year in Spokane, and the money already is pouring in.
Mayor Nadine Woodward is sitting on the third-largest war chest in the city's history with five months left before the November election. Early contributions also have flowed into the race to lead the Spokane City Council, with nearly $150,000 total raised, and candidates for the three other City Council seats on the ballot this year also closing in on $150,000.
Woodward leads all candidates for Spokane city office with over $312,000 for her re-election campaign, more than either she or then-opponent Ben Stuckart did in the 2019 mayor race. Independent expenditures, made by those supporting or opposing a candidate with no connection to a campaign, haven't started.
If 2019 was any indication, there could be hundreds of thousands of dollars spent.
Only former Mayor David Condon has raised more, with $318,000 in 2011 and $395,000 in 2015.
Woodward's most prominent opponent, longtime Democratic politician and former state Department of Commerce Director Lisa Brown, has raised just shy of $154,000. That's still the eighth-largest campaign fund in the city's recent history, according to the state Public Disclosure Commission.
City employee Kelly Stevens and yurt-maker Patrick McKann, who are also running, did not report raising any funds, while former Spokane Firefighters Union president Tim Archer reported $150.
Woodward's campaign contributor list is packed with Realtors, developers, property managers, hospitality groups, security companies, as well as the owners of those companies. Both in her campaigns and in office, Woodward has positioned herself as a champion of business, development and public safety.
Scores of donors have contributed the maximum $1,200 to her campaign for either the primary or general elections, and more than a hundred have donated at least $1,000. Around 30 have maxed out the $2,400 allowable for both, less than half of which are Spokane residents or businesses.
These double-maxed donors include Alvin and Jeanie Wolff, as well as Alvin J. Wolff Inc., for a total of $7,200. Kevin Rudeen and both his development and property management companies also gave for a total of $7,200, and Lynn and Steven Nisco for a total of $4,800. The Spokane Home Builders Association has donated $2,200 thus far, just shy of the limit.
Woodward also has received around $6,600 from the families and businesses of Andy Rathbun and Kim Plese, two conservative candidates for City Council president. Spokane Police Chief Craig Meidl, whom Woodward has shielded from an independent investigation called for by members of the City Council's left-leaning supermajority, has donated $500 to her campaign.
On the other hand, Democratic state lawmakers, local left-leaning former council members and government employees make up a large portion of Brown's campaign contributions. This includes donations from state Reps. Timm Ormsby and Marcus Riccelli and former council members Phyllis Holmes and Candace Mumm.
Brown also has received significant donations from some real estate interests, such as $1,500 from John Stone of Coeur d'Alene-based Riverstone Development and $1,200 from Caroline Yu of Millennium Property Management.
Brown has only two donors who have given the maximum for both elections, including retired surgeon Jerry LeClaire and Leslie Hope, a retired information technology chief for U.S. Citizenship and Immigration Services. Both are Spokane residents. Around 60 contributors have donated $1,000 or more to her campaign, the majority of which live in Spokane.
Both Brown and Woodward have gotten some cash from former mayors, with John Powers donating to Brown and David Condon donating to Woodward.
Brown, progressive donors back liberal candidates
Brown hasn't gone so far as to endorse individuals in crowded City Council races, but she has begun donating to politically aligned candidates, including Wilkerson.
In the two-person District 1 race, she has only contributed to Lindsey Shaw, but in contests for District 2 and 3 she donated or plans to donate to two left-leaning candidates.
Both Paul Dillon and Cyndi Donahue in the four-way District 2 race have received Brown's support, while Herevia in District 3 has also received a modest sum. Brown said Thursday that she also planned to contribute to the campaign of Kitty Klitzke, one of six candidates running in District 3.
Donations from Sharon Smith and Don Barbieri, of the Smith-Barbieri Progressive Fund, also help easily identify liberal or progressive candidates for City Council. Unlike Brown, the political-minded philanthropists have gone all in on one candidate in each race: Brown for mayor, Wilkerson for city council president, Shaw to represent northeast Spokane, Dillon to represent south Spokane, and Klitzke to represent northwest Spokane. Their donations represent nearly two-thirds of Klitzke's total campaign funds, and nearly one-third of Shaw's.
Council president race not as expensive
The City Council president race isn't close to breaking any records.
Kim Plese, a former small business owner and an unsuccessful Republican candidate for Spokane County commissioner in 2022, reported nearly $90,000 in campaign contributions. Councilwoman Betsy Wilkerson, a member of the City Council's left-leaning majority who has received the endorsement of outgoing City Council President Breean Beggs, has raised a bit over $52,000.
Beggs raised $148,000 in his 2019 run for that seat. His opponent that year, Cindy Wendle, raised $260,000.
Plese has received more than $1,000 from more than 25 contributors and has received maxed out donations from around a dozen. Jeanie and Fritz Wolff, their Spokane investment property which is registered as a company and the business Alvin J. Wolff Inc. have contributed a total of $9,600. Other top donors include John Stockton, the former Gonzaga University and NBA basketball player, storage companies, and Realtors, developers and construction companies.
Wilkerson's top contributors include surgeon Jerry LeClaire, former insurance executive Kathy Greco, political fundraising firm Sterling Strategies, the United Association of Plumbers and Steamfitters Local #44, and Shell Energy settlements manager Shalena Armstrong.
Retired Air Force Lt. Col. Andy Rathbun, who is also running for council president, has not reported raising funds.
Conservative, liberal council candidates split on fundraising
Patterns also are beginning to emerge that can help reveal the candidates' political affiliations in nonpartisan races.
Conservative candidates have attracted large donations from real estate interests, hospitality executives, finance industry professionals, doctors and executives or owners of Zip's Drive-ins, including Amy and Phil Costello, and Barbara and Harold Fettig. Bouten Construction and CEO Bill Bouten have donated thousands backing conservatives in every race but Council District 3, representing northwest Spokane. Developer Larry Stone and employees of his companies have contributed to conservative candidates in every race in the city.
On the other hand, contributors to liberal candidates are slightly harder to predict. Their campaigns have tended to receive smaller sums from organized labor, educators, government employees and progressive political organizations or those affiliated with them, such as Don Barbieri and Sharon Smith of the Smith-Barbieri Progressive Fund.
In almost every case, conservative candidates have raised the most money in their races and have donors who have maxed out their contributions. There are also donors whose businesses made sizable donations.
Meanwhile, most of the donors to liberal candidates made contributions of $25 or less.
Esteban Herevia, running to represent northwest Spokane, is the only left-leaning candidate to have the most money in any specific race.
Northeast Spokane
Cathcart has dominated fundraising in the northeast council district thus far, with nearly $23,000 raised, though he may have to give some of it back.
Because he and former Logan neighborhood chair Lindsey Shaw are the only candidates in a nonpartisan race, they will not appear on the August primary ballot. Candidates in Washington are limited to $1,200 each for the primary and general, and Cathcart had received more than that from some entities prior to candidate filing.
In a brief interview, Cathcart said he was discussing appropriate next steps with the Public Disclosure Commission and would refund contributions if necessary, estimating no more than $3,000 would be affected.
His top donors include two Secure-IT Self Storage businesses, manufacturing and engineering firm Pyrotek, the Mead Works and Brownstone Homes developments in Liberty Lake, and Jonathan Ferraiuolo, CEO of management consultant Pacific Holdings Corp. of Washington, among others.
Shaw, who joined the race relatively late, has raised less than $6,700, of which $2,000 came from Smith and Barbieri. She has received $500 from attorney Scott Johnson and Mariah McKay, founder of the Spokane Independent Metro Business Alliance.
Northwest Spokane
Herevia, who until recently served as president and CEO of Spokane Pride, leads candidates for the seat in northwest Spokane with $9,700. His top contributors include Electric Photoland and Joseph Peterson Fohrm Studio.
Christopher Savage, board president for Meals on Wheels Spokane, has raised $5,100, more than half of which came from himself or relatives. The only major donor was Brett Ellis, a retiree from Winnsboro, Texas. Smaller donations came from former City Councilman Bob Apple and Poole's Public House.
Randy McGlenn, former chair of the state Libertarian Party, has raised $4,100. His top donors include Shawn Trissell, who works in information technology for the state of Washington; Kim Crumpacker, who works for a real estate firm owned by developer Larry Stone; and retiree Debra Ryan.
Kitty Klitzke, environmental advocate and former Army reserve medic, has raised $3,000. She's gotten $2,000, from Smith and Barbieri. The next largest donor, insurance agent Stephanie Smith, contributed $400.
South Spokane
Katey Treloar, who ran unsuccessfully in 2019 for a Spokane School Board seat, has raised nearly $47,000, with only a handful of donors who have given the maximum. Her top contributors include pension analyst Clay Randall, Spokane Hardware Supply, John Stockton and his wife, Nada, two pharmacies and various developers and realtors.
Paul Dillon, former vice president of public affairs for Planned Parenthood of Greater Washington and North Idaho, has raised nearly $26,000. His top contributors include LeClaire, Smith and Barbieri, and consultant John Culton. Only LeClaire has maxed his donation to Dillon.
U.S. Air Force honorary commander Cyndi Donahue has raised just shy of $16,000. Of that, over $5,000 comes from Donahue herself, members of her family, and her business, Vin & Yin. Other top contributors include real estate company Bornhoft Commercial and Tom Simpson, CEO of consulting company Ignite Northwest, where Donahue worked until recently.



Complaints
Conservative activist Glen Morgan has filed complaints with the Public Disclosure Commission, which regulates state campaign finance laws, against Brown, Wilkerson and Dillon. Dillon was issued a written warning for failing to properly disclose his wife's income, which he told the agency was a mistake caused by the PDC's computer system, and Brown was found to have accurately filed her disclosure documents.
The complaint against Wilkerson, which alleges she transferred surplus funds from 2019 without permission from prior donors, is ongoing.
"We take the complaint seriously, and we're working to collect any information the PDC needs," Wilkerson said. "I'm going to let the fact-finding process play out and we'll correct any of our filing processes if the PDC deems it necessary."
Morgan is a prolific filer of campaign disclosure complaints against left-leaning candidates. In some years, he has reportedly filed a majority of all complaints received by the agency, PubliCola reported in 2018.
---