Shawn Vestal: 'A big deal for our little town,' Athol opens its first sidewalk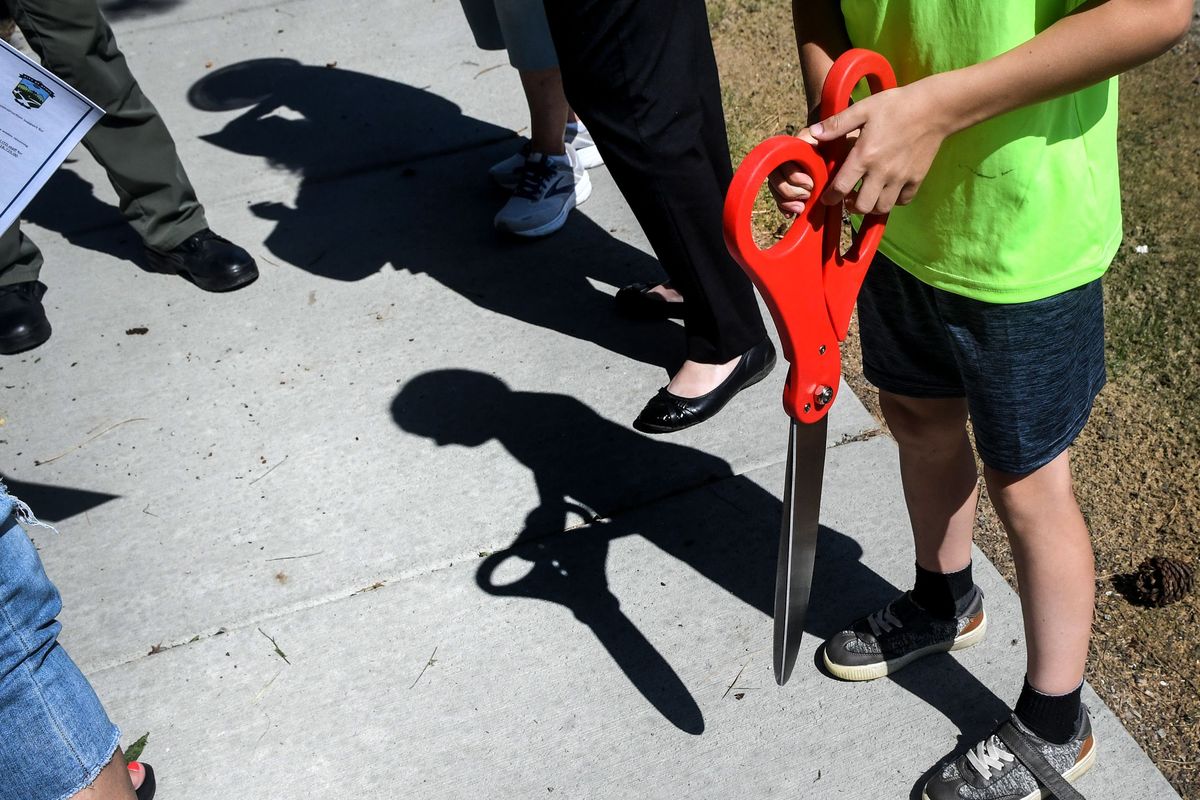 ATHOL – If you'd seen the big, ceremonial scissors biting into the thick band of red ribbon, you might not have guessed what all the hullabaloo was about.
After all, in a lot of places, 1,300 feet of new sidewalk might not merit any notice at all. But in this town of 738, flocked about by all the traffic and pressures of rapid growth, a three-block stretch of new walkway – the first sidewalk in Athol history – was cause for celebration.
"This is a big deal for our little town, I tell you that," said Kevin Foster, Athol's public works director. "It's been such a joy seeing the kids riding their bikes and rollerblading and walking to school."
Foster and a crowd of residents and public officials – and a few kids whose school day just ended – formally anointed the sidewalk Thursday with a ribbon-cutting and a walk. The project, funded by a $250,000 grant from the state's Children's Pedestrian Safety Program, also included two flashing beacons for crosswalks on nearby Highway 54, a busy roadway that is the site of bus stops for local schools.
It's part of a $26 million investment by the state of Idaho over the past five years to install new sidewalks and other pedestrian-safety infrastructure that would be too expensive for many small towns to provide on their own.
City officials said the sidewalk between Third and Sixth streets on Menser Avenue is a long-overdue improvement for the safety of walkers, especially children.
"I'm very proud of it," said Lori Yarbrough, the city clerk who did a lot of the work to secure the funding over the past five years. "I think it's great."
For Yarbrough and Foster – two of the city's three employees – the sidewalk is a simple improvement to public safety. But growth is a touchy subject in North Idaho, and some residents worried that a sidewalk would be a step toward Athol losing its small-town charm.
"A lot of local people are very protective of it – they like Athol for what it has been," Yarbrough said.
She's taken pains, while talking up the new sidewalk, to emphasize that it won't citify Athol.
"It's important to remember we're not using this project to grow and become this big city," she said, "but to be a better city and safer for kids."
Growing concerns
Pedestrian safety has become a focus far beyond Athol and Idaho, as the number of pedestrian deaths and injuries rises. Yarbrough said Athol didn't seek out the sidewalk grant as a result of any specific incidents, but said there have been near-misses with kids walking along the roadside.
Between 2016 and 2020, an average of 558 Idahoans per year were involved in crashes with cars while walking or biking, according to the nonprofit Idaho Walk Bike Alliance. About a fifth of those resulted in death or serious injury.
Pedestrian deaths and injuries have been increasing nationwide. In 2021, 7,388 pedestrians were killed, a rise of 13% percent over the previous year, according to the Governors Highway Safety Association. More than 60,000 people were injured.
Between 2010 and 2020, pedestrian deaths increased 54%, while all other traffic deaths rose 13%. A large proportion of those deaths involved children walking during daylight hours and speeding drivers, and an increasing percentage of the deaths involved circumstances where no sidewalk was reported, the governors association said.
The addition of sidewalks, along with other infrastructure improvements, is considered a major way of bringing down pedestrian deaths. Around a tenth of those deaths come when people are walking alongside the road, not crossing one; federal estimates say the presence of sidewalks could reduce 88% of those deaths.
But for small towns, the cost of putting in sidewalks can be prohibitive. Athol's total annual transportation budget is about $68,000, for example. Many small towns also lack engineers and other staffing required for such projects.
Starting five years ago, Idaho began directing funding toward communities to help pay for pedestrian safety infrastructure. Since then, around $26 million has gone to cities and towns to put in sidewalks and make other safety improvements for walkers.
As the state continually funds major projects for car travel, it's important that it also helps protect pedestrian safety and encourage walking and biking, advocates say.
"If we are to be healthy as adults, we need to be active," said Molly O'Reilly, a board member for Idaho Walk Bike Alliance from Sandpoint who attended the ribbon-cutting. "If parents don't let their kids walk or bike, they won't become healthy adults."
Walking home
The new Athol sidewalk runs between Athol Elementary and neighboring homes. Until recently, if kids were walking home after classes, they were held back until traffic cleared out around the school.
"I think this will encourage parents to allow their kids to walk and ride bikes more," Principal Kathy Thomas said. "It's just been a safety concern. We've had to adjust how we release kids."
Mayor Bill Hill was elected in 2019 in a campaign focused on growth issues in the town. During his campaign, he mentioned the importance of improving pedestrian safety due to traffic pressure from the population growth all around North Idaho.
"This was a situation where we didn't pursue a problem," he said at the time. "It pursued us, and I think that's the lesson here. We need to be more proactive with taking on issues that come our way."
On Thursday, Hill said the new sidewalk was a good addition to the city, but on the issue of pedestrian safety, "We're just partway there."
Athol's in a unique spot with regards to the pressures of growth. The population in the city limits has grown modestly – hovering in the 700 range for many years – but the growth around that has been enormous. Yarbrough said some 12,000 people live in the Athol ZIP code.
The opening of a new Super 1 several years ago, along with a forthcoming Tractor Supply Co. store, have generated concerns about rapid growth. Hill won election promising to take a cautious line on growth.
Last March, a proposed 30-home housing development was rejected by the City Council following widespread public opposition. One public hearing included about 150 people giving testimony – all in opposition.
A bit of that anti-growth spirit was targeted toward the sidewalk project, officials said.
Some residents thought the city was frivolously spending money; others thought it was an unnecessary addition that would change the town's character. Some were unhappy about losing a tree or a bit of lawn for the project.
"The main thing is, people don't like change," Foster said. "Everybody's on board with child safety, but people don't like change."
But as the sidewalk was completed and people began using it, Foster said even those who were wary of it are on board.
"Now they're saying, 'Oh this is great! We need more sidewalks to get the kids off the road,' " he said.
---