Dishman Hills High School: Perseverance key to Kevin Radasa's success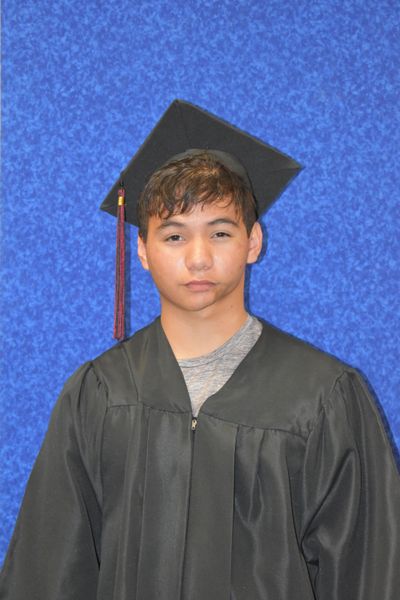 There is more than one way to measure scholastic success. For Dishman Hills senior Kevin Radasa, perseverance is the standard.
Almost four years ago, Radasa began a short-lived high-school experience at Central Valley, but that lasted only a couple weeks. There were personal issues that prevented him from enrolling there until November, and the stack of makeup work he got when he did start was discouraging .
"I didn't really want to go there anyway," he said. "I didn't have friends there, and I didn't want to push myself onto people. I felt like an oddball, and it was a totally awkward experience. A friend told me about Dishman Hills and how much he had liked it there.
"I liked it right away. I was still behind, but I had three hours of class every day and three hours to catch up, and all my teachers were very helpful in a way I hadn't experienced before. They make sure that you get the help that you need and they'll work with your schedule."
Radasa is a talented artist, and he "loves my pen and pencil." He frequently draws posters for his teachers at Dishman Hills, and enjoys realistic portrayals but also animated art.
He was briefly homeless several months ago, but is now living with a great-aunt and uncle and two younger brothers. He says that was a scary and intense experience because he feared he would be homeless for the rest of his life, but that his life has settled down since then.
He certainly has made a great impression on his Dishman Hills mentor teacher, Jake Fincher, who praises Radasa's "exceptional qualities."
"Kevin is a kind and compassionate individual who always shows empathy toward his peers," Fincher wrote. "He has a great ability to connect with people and creates a positive atmosphere wherever he goes.
"Kevin also has demonstrated an impressive level of perseverance in his academic pursuits. He is a dedicated student who never gives up, even when faced with difficult tasks."
That attitude is echoed in the way that Radasa describes himself: "I always try to help others before myself," he said. "I like to make people happy and give them what they want."
As the school year – and his high-school career – drew to a conclusion, Radasa reflected on his experience at Dishman Hills.
"School here has been great," he said. "School's not easy and there have been some difficult times. Things were hard at the beginning because I didn't really know that high school would be how high school is.
"But without Dishman Hills, I would have fallen further behind and wouldn't be graduating this spring. I was nervous at first because I was behind, but all the teachers have been very patient, and everyone here welcomes and accepts everyone else. I just didn't think that high school could be like this."
---