Lakeside High School: Vander Brown says basketball 'taught me how to be a good human being'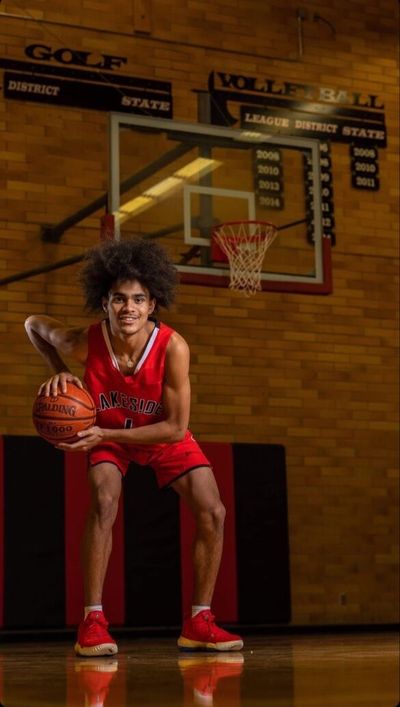 It would be easy to picture Lakeside (Idaho) High School senior Vander Brown in a "Basketball Is Life" T-shirt. He feels that most of the most important lessons he has learned in life so far have come from the game.
"Basketball has taught me how to be a good human being," he said. "It taught me respect, love, passion, and the value of working hard. It has taught me lessons that carry over from basketball to life outside basketball, especially that when you're on a team, you're never alone."
He has a terrific basketball résumé, having led Lakeside to a 2023 Idaho state championship in the 1A D1 division. He was at his best when the lights were brightest, with 29 points and nine rebounds in a title game victory over previously undefeated Lapwai. He averaged nearly 24 points a game as a senior and scored 50 against Wallace during his junior season.
"There were many times before that I was unmotivated, but my vision is clearer now. Basketball has taught me that anything is possible and opened my eyes to a bigger world. It gave structure to my life and slowed it down," he said. "I've learned to focus on one thing at a time, and I'm a better and smarter person because of basketball."
It wasn't always this way for Brown. He started getting in trouble as early as second grade, falling into what everybody else was doing.
"I wasn't one of the worst," he said, "but I was already heading in the wrong direction. Then my older cousin moved off the reservation for a better life. He played basketball, so after a while I started going with him to play. Before long, I always brought my ball and shoes, and I was on the court whenever I could be."
One day, when he was 11, he met AAU coach Freddie Miller.
"He walked up to me and told me he was looking for third-graders for his team, and I've played ever since. One summer I even stayed with him and his family," Brown said. "He treated me like a son."
Vander's basketball success didn't come without a cost, though. He said that many of his old friends abandoned him when he returned to the reservation after tournaments, believing that he thought he was better than them.
"It got to the point where I didn't care whether I was popular or not, but I also know that back then I was selfish as a player. Eventually I had to ask myself whether I wanted to win or to just earn individual accolades. I started reaching out to my friends, and instead of putting time into myself, I worked at getting my team locked in, for my teammates to trust me and for me to trust them."
Jaclynn Watson, Vander's counselor, describes him as a leader in school as well as on the basketball court.
"Lakeside staff often lean on him to motivate other students," she said, "and he is always one of the first students to step in and lead any activity. Vander is well-loved by his peers, community, and all those who have had the pleasure of teaching him."
---