Lewis and Clark High School: Ruby Lannigan swings away at her future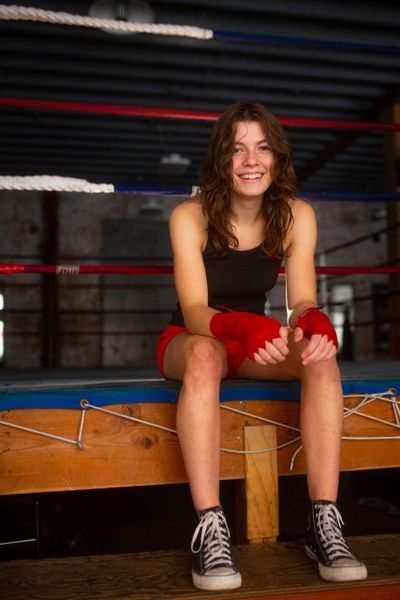 For Ruby Lannigan, boxing has a simple appeal.
"I like hitting people," said Lannigan, a senior at Lewis and Clark High School.
In fact, the attraction runs deeper.
Since joining the downtown Spokane Boxing gym two years ago, Lannigan has found a sense of community and self-motivation.
Not that she needed the latter. A self-motivator, Lannigan has been taking Running Start classes and dreams of becoming a firefighter. But first she plans to travel to Europe with her two older brothers.
Lannigan was a 15-year-old sophomore when she first walked into Rick Welliver's gym.
"My parents were a little hesitant when I first showed interest in fighting," Lannigan said. "People know it's a concussion sport, but now they're enthusiastic."
Owners of Neato Burrito restaurant, Lannigan's parents have even taken her to boxing tournaments as far away as Canada.
Lannigan sampled other sports, "but I quit or lost motivation," she said. "Boxing made we want to stick with it."
Lannigan has done that and more.
She trains six days a week and has competed in six bouts. The worst part, she says, is the nervous feeling before a fight.
Lannigan won her first three bouts before stepping up in class and losing the last two.
In her most recent fight, Lannigan said she "threw some good combos that landed" and then just stood there "instead of moving my feet."
Her opponent landed another couple of hard shots, "and I dropped," Lannigan said. After taking an standing eight-count, Lannigan was cleared by a doctor to continue, but the referee stopped the bout anyway.
"I was actually pretty happy afterwards," Lannigan said. "It was a tough fight and it helped me learn some stuff."
"I always love the excitement after the winner is announced," Lannigan said.
When the fight ends, the fighters embrace.
"The best hug ever," Lannigan said. "It's some girl I don't even know. When it's over, I'm just happy."
"Even when it isn't in my favor, it's just an overwhelming feeling of accomplishment."
For that, Lannigan credits Welliver and the other coaches, as well as the other fighters.
"It's such a good community of fighters," Lannigan said.
Among the boxers are local firefighters. They've stoked a desire in Lannigan to possibly pursue that profession.
For now, Lannigan is keeping her options open. She's already earned some college credits through Running Start, and after spending a month in Europe with two older brothers, Lannigan is considering taking a gap year.
College is still a possibility, but she's also interested in directly entering the work force.
"I've got about five different things I want to do right now," Lannigan said.
Whatever her choice, LC counselor Stacey Donahue is confident she'll succeed.
"Boxing just another added layer to her accomplishments," Donahue said. "She's a very personable kid, always with a smile and always very respectful."
---