'Pressure is a privilege': Former EWU quarterbacks Bo Levi Mitchell, Vernon Adams eager to return to starting roles in CFL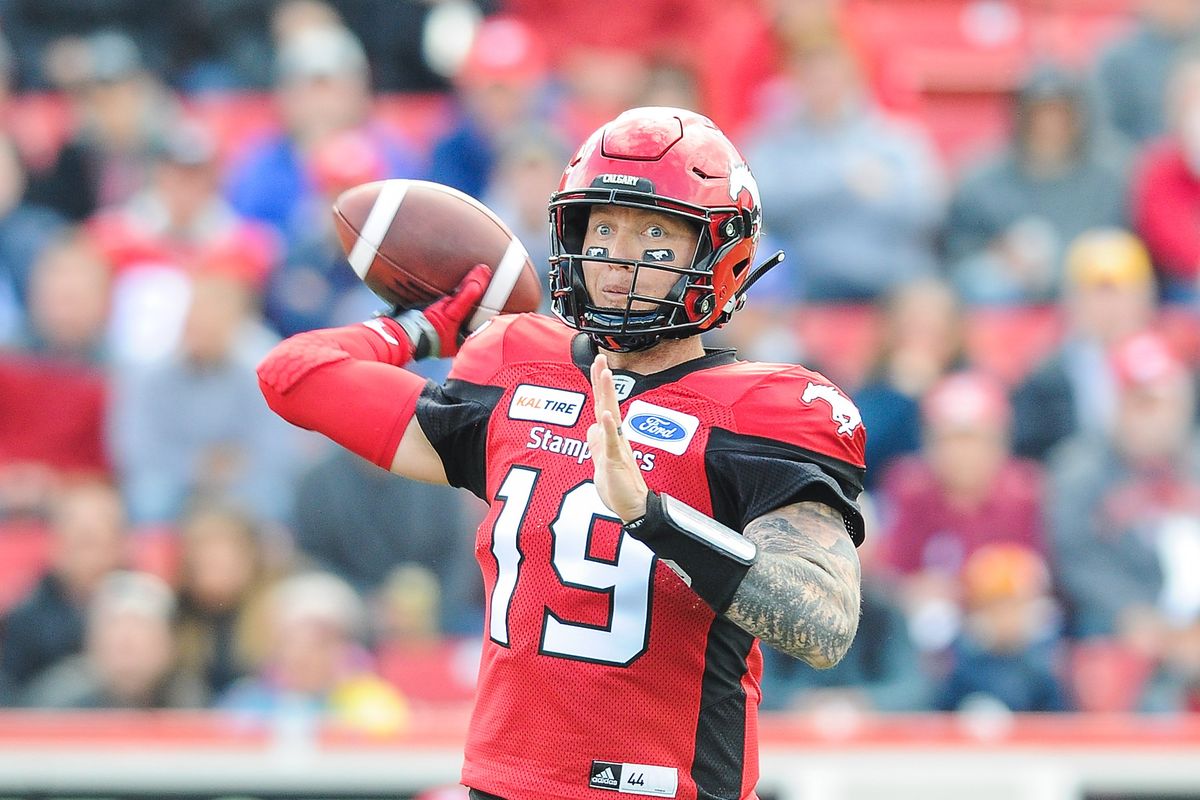 When they were collegiate quarterbacks, Bo Levi Mitchell and Vernon Adams Jr. both received new beginnings to show what they were capable of.
This spring, they are getting the same new opportunities up in the Great White North in the Canadian Football League.
The former All-America Eastern Washington University quarterbacks are among the seven players from EWU, Washington State and Idaho playing in the league. The nine-team CFL opens its regular season on Thursday, and concludes with the 110th Grey Cup on Nov. 19.
Last season, Mitchell and Adams found themselves coming off the bench in the playoffs – Mitchell for the Calgary Stampeders where he spent his entire career, and Adams with the British Columbia Lions after a midseason trade from Montreal.
But this year, they'll enter the season as starters. Mitchell will make his debut for the Hamilton Tiger-Cats when they play at CFL powerhouse Winnipeg on Friday.
Along with Adams, the BC Lions include former Eagle and CFL veteran defensive back T.J. Lee III and open play at Calgary on Thursday.
Mitchell and Adams say they are up to the challenge. And the pressure – just like they faced long ago for the tradition-rich Eagles.
"I'm here because I've put pressure on myself my entire life to hold myself to a certain standard," said Mitchell during a training camp media conference. "No matter what it takes for me to do, I want to make sure we go out there and win games.
"Coming to a new organization, the pressure I put on myself is knowing that I've done nothing yet," he adds. "I'm going to come out and prove myself every single play."
Pressure seems to be a common thread.
"Pressure is a privilege, right?" remarked Adams to media during training camp, a couple of weeks before he completed all 12 pass attempts with three touchdowns versus Calgary in his lone preseason appearance. "I'm glad to be here and I'm glad to take on that pressure. My job is to lock in and get these guys the ball. We're going to take on that pressure head-on and win games."
Mitchell started his career at SMU in Dallas, but was supplanted as the starter and then transferred to EWU in 2010. He helped the Eagles win the NCAA Division I Championship in his debut season, and the following year he won the Walter Payton Award for most outstanding player.
Mitchell spent the last 10 seasons with the Calgary Stampeders where he became the franchise leader with 32,541 passing yards. Mitchell has earned the CFL's Most Outstanding Player honor twice in his illustrious career. He also led Calgary to a pair of Grey Cup titles and was the game's MVP in both.
"When my rights were traded to Hamilton, I was already pretty ecstatic about it because they were a team that was kind of at the top of my list," he said back in January when he signed with the club. "Obviously there were considerations elsewhere, but once I was able to get into this building and meet these guys and see the facilities, I knew this is where I wanted to be."
The offseason for Mitchell was spent adjusting to a new playbook, new coaches and new teammates. Most importantly, he was able to get some throwing reps in with receivers.
"Chemistry has to be built in person," he said. "They have to see the ball come out of my hand. It's something I'll keep learning."
And as he's learned throughout his career, Mitchell knows that it takes all 11 players on offense to build that chemistry together.
"The chemistry between quarterback and receiver is monumental, but it starts with the quarterback-center, the five guys up front and our running back. It's a lot, and we've been blessed for me to be able to be able to throw to some of these guys in the offseason and start to build that chemistry and camaraderie. We have to find what makes the team more successful."
Adams was brought in by the Lions on Aug. 31, after starter Nathan Rourke was injured. Rourke subsequently signed a free agent contract with the Jacksonville Jaguars in the National Football League, paving the way for Adams to be named the starter.
"What the offensive coaching staff does here works for everybody," says Adams, who is known for his mobility and efficiency. "I needed a little bit more time to dive into the playbook, learn my reads and things like that. I feel a lot more comfortable coming into this year. You just take what they give you and have fun playing the game."
Building chemistry in the offseason was also a key for the Lions' offense, Adams said. Regardless of the position and amount of returning players, the goal is always the same heading into a new year.
"It's no different and the same mindset," he explains. "I want to get better each and every day. There will be ups and downs, but we had a great offseason. We bonded."
Being efficient and continuing to master pre-snap and post-snap reads is a priority for Adams. Roark was particularly well-versed at reading defenses, says Adams, and the ultimate goal is to get players the ball quickly.
"I just want to keep working hard," says Adams, who changed his number in the offseason from No. 8 to No. 3 to match what he wore in college. "I do feel more comfortable, but I don't want to get complacent. That's just not me."
Adams was an All-American for the Eagles in 2013 and 2014, and transferred to Oregon for his senior season. He won the starting job, beat Eastern in the season-opener for the Ducks in 2015, then was 7-3 as a 10-game starter.
Adams was hampered by injuries that season at Oregon, but was the Pac-12 Conference Newcomer of the Year, an honorable mention all-league selection and the Offensive MVP of the 2016 East-West Shrine Game. He led the NCAA Football Bowl Subdivision in passing efficiency after setting the career record at EWU.
Both Mitchell and Adams were on the bench on Nov. 6 when Calgary's season ended with a 30-16 loss to the Lions in the West Division semifinal. Lee was on the winning side of that game, as well as former Eagle and Lions standout Ryan Phillips, who is now the Lion's defensive coordinator.
The local ties make for a pair of interesting 2023 matchups between British Columbia and the Ticats. However, those teams don't play each other until week 12 on Aug. 24 in Vancouver, B.C., as well as Oct. 13 on the third-to-last weekend of the regular-season.
Perhaps more intriguing will be Mitchell's game against his former team. Hamilton plays Calgary on Sept. 30, but the two teams will not meet in Calgary this year. Hamilton will host the 110th Grey Cup on Nov. 19 at Tim Hortons Field, and Mitchell says it's no secret he'd like to be playing in it .
In Mitchell's lone preseason game against defending Grey Cup champion Toronto , he threw a touchdown pass to his former Calgary teammate Richie Sindani and completed 3-of-6 passes for 63 yards in limited action.
The Lions fell to Saskatchewan 30-27 in their preseason opener, but Adams and Lee rested and did not play. Both saw action in the first half on June 1 at home versus Calgary in the Lions' second and final preseason game, with Adams 12-of-12 for 213 yards and three touchdowns, along with another 26 yards rushing. Lee had four tackles in the 25-22 win for the Lions, who were up 21-0 after the third TD pass of the first half by Adams.
The rematch between the Lions and Stampeders will be June 8 to open the regular season, but the game will be on Calgary's home field. A year ago, British Columbia won five of their first six games, and went on for 12 regular -season victories.
"I do feel like I need to show the fans and everyone that we're still good," Adams said. "We have a lot of the same pieces, and as a quarterback your job is to score points and win games. I've done a pretty good job of that throughout my career. The last couple years I've had some injuries, but I'm ready to get back out there and do everything I can."
The Lions fell to Winnipeg 28-20 in the Western Division final, and the Blue Bombers lost 24-23 to Toronto in the Grey Cup.
"There are expectations, but that's the standard," said Adams of the Lions' success in 2022. "That's what we want to do. We've talked about holding each other accountable, and holding me accountable. I feel very prepared."
The CFL is split up into West and East divisions, and BC and Calgary are in the West. Hamilton, however, is located in the Eastern province of Ontario near Buffalo, New York, and it plays most of its games versus nearby Toronto, Ottawa and Montreal in East Division games.
Hamilton has won 13 Grey Cups , but hasn't won a title since 1999. In 2014, Mitchell was the MVP when Calgary beat the Ticats 20-16 for the title. Most recently, the Tiger-Cats lost to Winnipeg 33-25 for the 2021 championship, and prior to a canceled year because of theCOVID-19 pandemic, fell 33-12 to Winnipeg in 2019.
"There has been a standard in this city and this organization for a very long time – and that's winning," Mitchell said. "It's a brand new team and a lot of new faces, and we have to come out and set the standard too. You bring what you can and set the standard for yourself, your position and our team. It doesn't matter if you're a 12-year veteran or a brand-new rookie."
Calgary's loss in the 2019 Grey Cup was played on the Stampeders' home turf in Calgary, and Mitchell says he doesn't want that to happen again when Hamilton plays host for the game.
"I know what that feeling is like, and I don't want to ever be a part of it again. I want to be a reason the fans want to be there, and help drive season tickets up and get more fans in the stands. We want to fill this stadium with black and gold on that day to make it a special one, so if we do bring the Cup back home, it will be all the more merrier doing it at home."
Mitchell played in 165 regular -season games for Calgary, and completed 64% of his 3,866 career pass attempts for 32,541 yards, 188 touchdowns and 89 interceptions. Those totals don't include the 17 playoff games (9-8 record) the Stampeders have played in the past decade with Mitchell on the roster.
Adams started much of the remainder of the regular season in 2022 for BC, and closed the year 139-of-219 (63%) for 1,798 yards, seven touchdowns and three interceptions, plus another 162 yards and a TD rushing. In his career, he's played in 75 games and has completed 62% of his 1,000 pass attempts for 8,992 yards, 49 touchdowns and 27 interceptions.
Both Adams and Lee have spent eight seasons in the league, with Lee playing 109 games. Lee has current regular -season totals of 467 tackles, with 23 interceptions, eight forced fumbles and four sacks.
Of the other former local collegians, Idaho's Aaron Grymes has played 95 career games for a pair of teams, and has totals of 305 tackles, 13 interceptions, two forced fumbles and two touchdowns. He now plays for Edmonton.
Another former Vandal, defensive back Chris Edwards has played in 80 career games in five CFL seasons. He has 195 tackles, four sacks, nine interceptions, five forced fumbles and five touchdowns scored on returns. He is a teammate with Mitchell in Hamilton – the fourth team for which Edwards has played.
David Ungerer III, a receiver out of Idaho, is with Toronto after playing for Hamilton his first three seasons . He has played 38 games with career totals of 48 catches for 456 yards and two touchdowns, plus 15 punt returns (7.7 average) and four kickoff returns (19.8).
Former Washington State running back Jamal Morrow plays for Saskatchewan, and has played in 20 games in two seasons with 707 yards rushing and three touchdowns, and another 46 catches for 395 yards and a score. He's also returned 47 punts (10.1 average), 43 kickoffs (22.0) and six missed field goal returns (34.3).
---