Playoff Jimmy turning into Payoff Jimmy, as Butler's scoring lessens and Heat's winning increases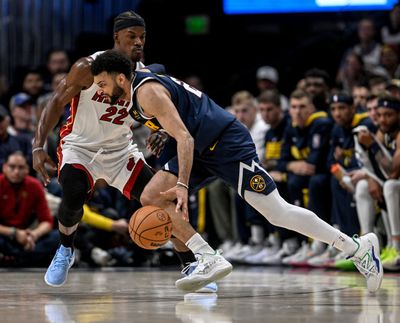 MIAMI – Over his first eight appearances this postseason, Jimmy Butler scored at least 25 points in each game. The legacy of Playoff Jimmy continued to grow amid the Miami Heat's playoff success.
Over Butler's last 11 games, there have been four games with fewer than 20, including 34 total points in the first two games of these NBA Finals against the Denver Nuggets, a total he previously had surpassed in four games this postseason.
So what's wrong with Playoff Jimmy or even Regular Jimmy?
Absolutely nothing, Butler said during his Tuesday media session, content to have grabbed homecourt advantage in this best-of-series that is tied 1-1 going into Wednesday's 8:30 p.m. game at Kaseya Center.
"I think I've done great," he said. "I think I've done what I've needed to do to get us to 1-1. I hope it was 2-0 in our favor; it is not. I don't pay attention to stats. Not going to lie, I've said that all along. As long as we win, everybody is playing great.
"If we lose, and I hope we don't do that too often, everybody can blame me for whatever reason. I'm not worried about it. But nobody can blame anybody for anything whenever we win. That's all that we focus on."
Butler said he scored at the start of the playoffs because the opportunity was there. Then defenses tightened, so he exacted his toll with his playmaking, with 16 assists in the series' first two games.
"I'm not a scorer," he said. "Just because I score a lot of points one game, that doesn't make you a scorer. I'm not a volume shooter. I don't do any of that. I don't press to score. I only press to win.
"If I pass the ball every possession, if we win, I don't care. If I shoot the ball every possession and we win, I don't care. This Playoff Jimmy narrative is not a thing. I just want to win along with everybody else. I don't worry about too much other things aside from winning."
To the Nuggets, the optimal approach is Butler without the ball.
"We know he's a great playmaker and great scorer," guard Kentavious Caldwell-Pope said. "Just got to be solid and give him different looks and be aggressive. Just get the ball out of his hands, whatever it takes."
Butler solely as a scorer or even as a potent playmaker are the least of coach Erik Spoelstra's concerns. Instead, Spoelstra spoke of Butler's two-way impact, including taking the defensive assignment in Game 2 against Nuggets guard Jamal Murray.
"He is a two-way basketball player," Spoelstra said, as tired of the Butler scoring narrative as Butler. "He does so many winning things that I think unfortunately when you view maybe a 56-point game (which Butler had in Game 4 of the opening round against the Milwaukee Bucks), everybody on the outside views that he has to do that every game to impact winning. He understands the levers that contribute to winning."
"He is doing it on both sides of the floor. He has an incredibly tough cover defensively; that matters. Then offensively I still just think we have a great place where everybody feels settled. If your role players can step in and start playing great, it's usually because they feel a confidence level from the best players."
Spoelstra preferred to analyze Butler through a defensive spectrum.
"Jimmy will shape shift," Spoelstra said. "He is going to be on a lot of different guys in this series."
After Murray scored 26 in Denver's series-opening win, Butler helped limit him to 18 in the Heat's Game 2 victory.
"I've seen a lot of defenders throughout my career. Jimmy is a good defender. Got great hands, anticipation," Murray said Tuesday. "Obviously, he is a little taller than me. I'm not going to tell you how to beat it, but I've got my ways."
Murray then smiled.
"Just got to keep him guessing and keep him working," he continued. "Just because he is on me doesn't mean I can't be a part of the play or not put pressure on the defense."
---