81 years after Pearl Harbor, a civilian-led effort to identify remains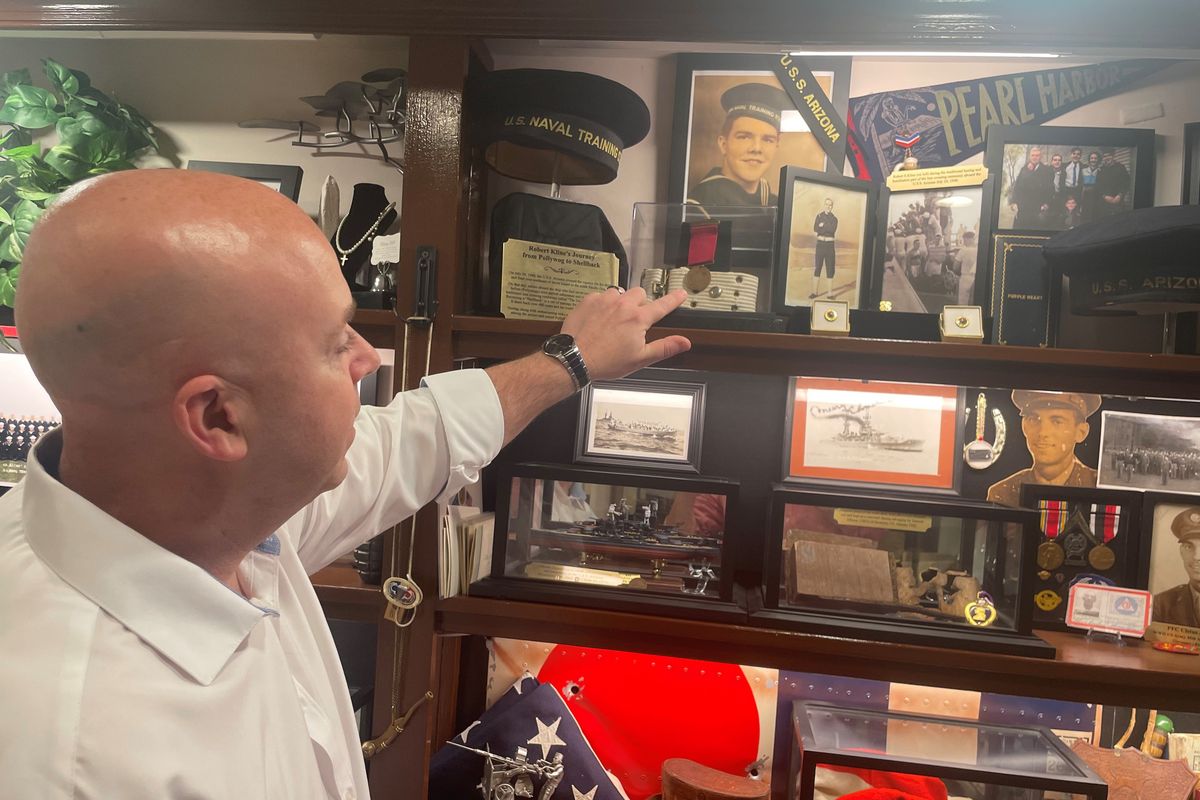 Kevin Kline grew up hearing stories about his great-uncle, Robert Kline, a 22-year-old sailor who perished aboard the USS Arizona when it was destroyed by Japan's attack on Pearl Harbor on Dec. 7, 1941. He collected photos of him in his Navy uniform and framed the Feb. 6, 1942, front page of the local newspaper in western New York that blared "Olean Boy Dies On Arizona" in a banner headline. He thought occasionally about his great-uncle's final terrifying moments.
So last year, fulfilling a longtime goal, Kline, 47, took his wife and two young daughters to Hawaii to visit the USS Arizona Memorial that straddles the sunken warship, a hallowed tomb for the sailors and Marines who went down with it. They had a U.S. flag raised in Robert Kline's honor and spent nearly an hour reading the names of other victims, learning more about their stories and peering into the watery grave.
But what Kline didn't find out until he was flying home from Hawaii was that not everyone who died on the Arizona remained entombed in it. A total of 1,177 sailors and Marines were killed aboard the ship. One hundred and five were identified, but the vast majority were never found. What Kline and many other relatives of the Arizona victims didn't know was that the remains of at least 85 crew members were recovered but not identified. They were buried as "Unknowns" a few miles away in Honolulu at the National Memorial Cemetery of the Pacific, also known as the Punchbowl.
"I grew up thinking that my uncle was in the ship under the memorial," Kline said. "Our family was never told, ever, that there were unknowns from the Arizona buried somewhere else."
Kline knew that in recent years the unidentified remains of other sailors killed in the Pearl Harbor attack and buried at the Punchbowl had been identified using DNA analysis that connected them to family members. The vast majority of several hundred previously unidentified sailors killed on the USS Oklahoma, for instance, were identified through a project begun in 2016 by the Defense POW/MIA Accounting Agency (DPAA). The agency identified the Oklahoma's victims by collecting DNA from their living relatives and using DNA testing as well as dental and anthropological analysis to make the match.
Kline wondered whether the same could be done with the unidentified remains of those from the Arizona.
What began as an idle thought turned into a mission, and Kline founded USS Arizona Operation 85 with the goal of collecting DNA samples from as many relatives of those killed on the Arizona as possible and working with the Navy and Marines to identify the remains of the Unknowns at the Punchbowl cemetery. Kline said that the project is focused only on the remains at the cemetery and there is no intention of disturbing the sunken Arizona.
When Kline first approached the Navy about the project, he says, Navy officials were supportive and told him to look at how the USS Oklahoma project was conducted by the DPAA. Kline assumed that the DPAA would be eager to take the lead on the Arizona project. But, he says, the agency has mostly left him to his own devices. It provided him with a 2022 feasibility study that estimated it would cost $3 million and 12,500 human hours just to locate the families. When he tried to make additional contacts or arrange meetings, the agency declined, he said.
But Kline, who owns a real estate company with his wife in Northern Virginia, was not deterred and began reaching out to families of the Arizona casualties. Six months later, he has engaged 182 family members in his effort and 44 have sent DNA samples to the Navy and Marines for their database. Many others are in the process, Kline said, and will soon add to the growing total.
Teri Mann-Whyatt, 52, was one of the first people Kline contacted, and she signed on with enthusiasm. Mann-Whyatt's uncle, William Mann, of Elma, Washington, was a 21-year-old gunner's mate third class on the Arizona. The eldest of 13 children, his death in the attack resonated with the family for decades, said Mann-Whyatt, whose father was the youngest child in the family.
"I know that a lot of people think that it's been over 80 years and nobody knew them and nobody cares. But it's really not true," she said as she began to cry. "We were a really poor family, but my grandmother was the proudest Gold Star mother. Growing up, through my grandma's stories, we just had honor in knowing my uncle had sacrificed his life for the nation and was on the mighty Arizona."
Being able to identify the remains of any of the Arizona victims, even if not her uncle's, would be something her grandmother would support, Mann-Whyatt said. "She would have stood side by side, arm in arm with any mother to bring their child home. And so I feel like I'm doing this for her."
Kline acknowledges that getting to the point where the remains at Punchbowl could be disinterred and the identification process begun could take a while. The DPAA has told him he would need to have DNA samples from family members of 60 percent of the 1,072 unrecovered servicemen from the Arizona. So far they have collected just 7 percent.
Working out of an office in his home, Kline says he spends almost all of his free time on the project, which he has funded with his own money. He launched a robust website in January that has a running tally of families that have been contacted and have provided DNA. And the site has photographs and a brief history of the men who died on the Arizona.
Kline says he's driven by his great-uncle's memory and by a sense of patriotism. But he wouldn't mind if the DPAA and Navy took over the work.
"You know, the question is, should I really be doing this? I'm a citizen. I'm a civilian," Kline said. "When you have a government agency that's supposed to do this, when you have Congress trying to give them money to do it, why aren't they doing it?"
Kline said DPAA officials did not respond to him for several months, but he finally met last month with DPAA Director Kelly K. McKeague. McKeague was supportive, Kline said, but didn't indicate that the agency was particularly interested in pursuing the project on its own.
In a statement, the DPAA said, "At Mr. Kline's request, the DPAA Director and DPAA and other (Department of Defense) subject matter experts met with Mr. Kline to discuss his organization's efforts and explain the challenges with attempting to disinter and identify the 85 Unknowns associated with the USS Arizona buried at the Punchbowl. DPAA, like many organizations, has limited resources and must prioritize the use of its resources in an efficient and effective manner to provide answers to as many families as possible. That said, if the Department obtains the necessary DNA family reference samples, we will request to disinter and pursue these cases as resources allow."
Kline said the DPAA's reluctance to take on the identification work means that it will be left to him and other civilians.
Sheri Clayton Spomer, of Chandler, Arizona, said she was happy to hear about Kline's efforts to identify the remains from the Arizona and eager to take part. She lost two relatives in the Pearl Harbor attacks, Robert Clayton on the USS Arizona and Gerald Clayton on the USS Oklahoma. Gerald Clayton was her grandfather's brother and Robert was their cousin. Clayton Spomer said her family provided DNA samples for the Oklahoma project that led to them being able to identify the remains of Gerald Clayton in 2018.
"We buried him in our hometown cemetery in Central City, Neb., on July 5 of 2019," she said.
Clayton Spomer, 51, said she wants the men who served on the Arizona to get the same treatment as those on the Oklahoma and other ships at Pearl Harbor.
"Their sacrifice to their country should be honored in a better way than just being buried together as 'unknowns' in a national cemetery," she said.
---