Ridgeline High School: Owen Rich a part of first ever graduating class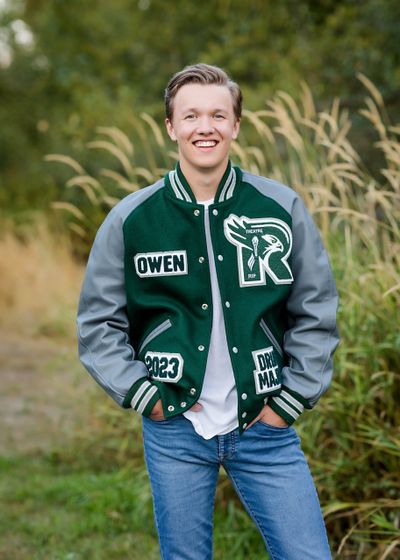 When students could return to school in-person after a period of online learning due to the COVID-19 pandemic, Owen Rich did so at a new school – literally.
Ridgeline High School, Spokane County's first new high school in more than two decades, opened in fall 2021 with approximately 950 students, including Rich.
Upon opening, the Liberty Lake high school did not have a senior class, making Rich, 18, and his fellow juniors the ranking upperclassmen and Ridgeline's first graduates.
"It's not every day you get to be the first set of kids to graduate from a high school," Rich said.
Born in Omaha, Nebraska, Rich was raised in Greenacres. He attended Central Valley High School as a freshman at the height of the COVID-19 pandemic. He, like others, then spent most of his freshman and sophomore years learning online.
Before Ridgeline opened, juniors like Rich had the opportunity to choose becoming a Falcon over the other two high schools in the Central Valley School District, Central Valley and University.
Rich said he preferred to attend Ridgeline to follow his band director since freshman year, Eric Parker.
"I think he really has been a blessed kid these past two years at Ridgeline," said Holly Rich, his mother. "In his youth, Owen was taught by the adults in his life to be respectful, helpful, responsible and kind.
"He works hard toward goals, but has also made time for humor to get him through the stresses from high school."
Owen Rich is the drum major for the Ridgeline Regiment, the school's marching band, and president of Ridgeline's Associated Student Body.
He also does the morning announcements and has been involved in the school's drama program since last year. He played the role of the Wizard in this month's production of "The Wizard of Oz."
"It was a little bit of peer pressure, for sure. I never really thought I'd be a theater kid. I've been hooked ever since," he said. "As for the drum majoring and presidency, I just wanted to start some traditions at Ridgeline."
Principal Jesse Hardt said Owen Rich embodies Ridgeline's "B.I.G." motto: Belong. Inspire. Grow.
"He knows that we have to set the bar for the school," Hardt said, "and if we're going to grow as a school, with a brand-new school community and culture, it takes a leader that's going to step up and do that."
As a senior, Rich had to step up into the role of student body president, having been initially elected vice president prior to his senior year.
He is also a member of the high school's Link Crew – a mentorship program in which upperclassmen "link" with incoming freshmen – and was Ridgeline's first-ever homecoming king.
"He just decided to jump in and be a part of as much as he could," Holly Rich said. "Even when we questioned his ability to handle the stress that comes with maintaining so many activities, he was confident in his involvement and proved himself able."
Hardt said Rich "is the kid that I can count on and have depended on" when Ridgeline is working on something as a school community –something that's been especially invaluable given Ridgeline's nascence.
"Every spirit week, he's always leading the spirit and culture of our school," he said. "As a principal, he's an extension of the principal's office because he does in the school what I like to do in the school, which is to be visible, be present, be involved.
"He's embraced that at a level that I've been so proud of and impressed by. He shows up."
Rich reciprocated.
"We have a super awesome (administration), which, sadly, not everybody gets," Rich said. "We've been able to have a ton of fun coming up with a ton of ideas and them saying yes."
Rich's current plans are to attend college for a semester or so before taking up a two-year mission for the Church of Jesus Christ of Latter-day Saints.
"Hopefully, I can figure out what I want to do in that amount of time and then come back and get to it," he said. "I definitely would say I'm very proud to be a Ridgeline High School student."
---