The best air quality index apps to check wildfire smoke near you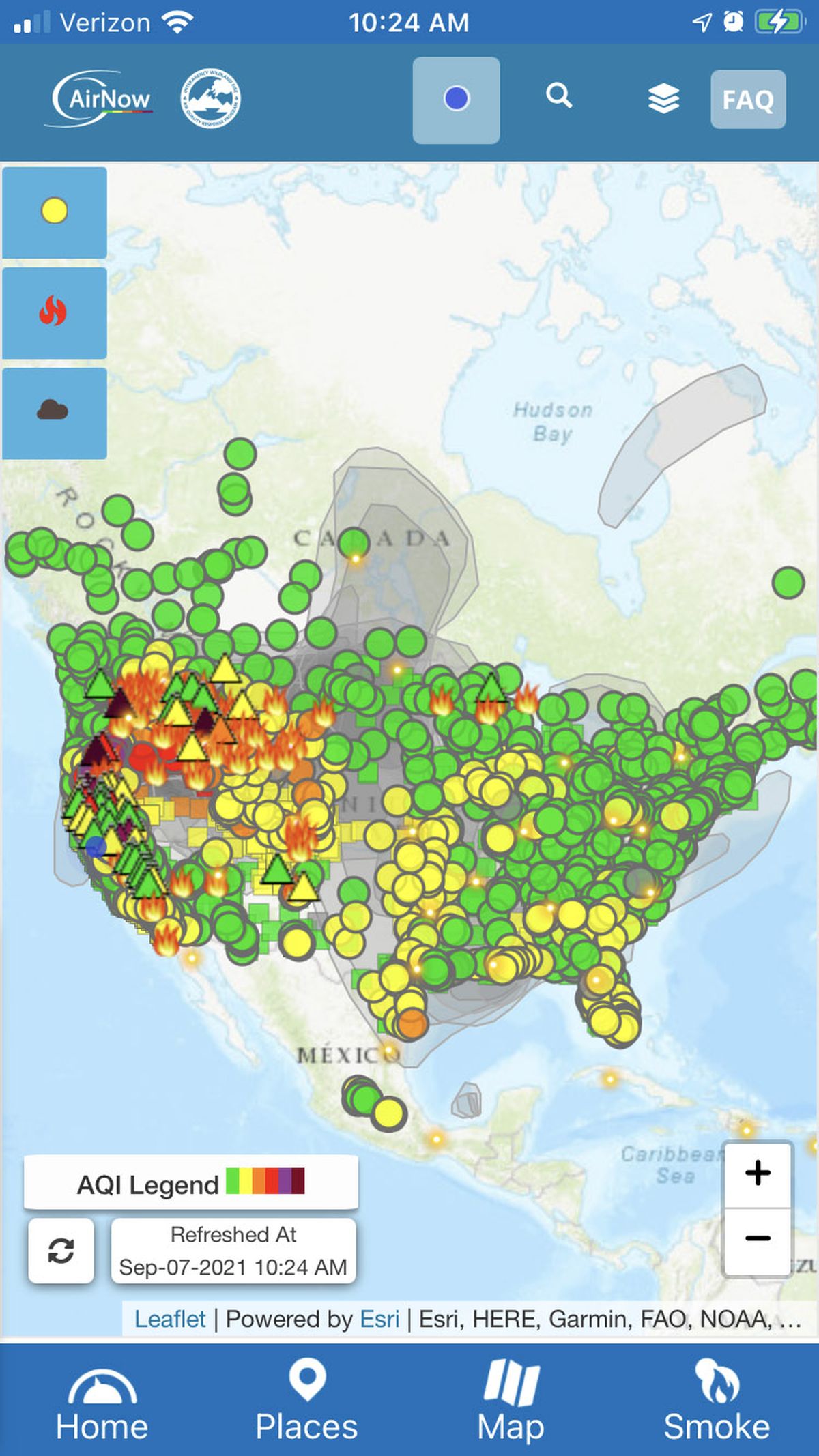 Residents of the eastern U.S. who aren't used to the effects of wildfires are getting firsthand exposure this week, as smoke and air pollution from fires in Canada make their way across the Midwest, Ohio Valley, Northeast and Mid-Atlantic.
Destructive fires in western states have sent smoke sailing east before. But this week's Canadian fires brought the worst air quality on record for some U.S. cities, with air quality scores in New York City and Toronto among the worst in the world. Experts have urged extra caution: The smoke from large fires fills the air with tiny particles, and when those particles settle low enough, they can be harmful for humans to breathe. Millions of people are currently under air quality advisories, and the threat of more fires looms in Michigan, Pennsylvania and New Jersey.
The full health effects of breathing polluted air are still unknown. But studies have shown that exposure to fine particles in the air is linked with heart attacks, heart failure and strokes, the Environmental Protection Agency reports. Children, the elderly and people with diabetes, heart disease or respiratory disease are particularly vulnerable to adverse effects from dirty air. Those with asthma or other respiratory illnesses may notice the impact of polluted air right away, and Harvard University researchers published a study showing higher numbers of coronavirus covid-19 cases and deaths among people exposed to wildfire smoke.
The good news: Government agencies have air-quality monitors spread out across the country, and they share the data they collect with the EPA. Combine that with air-quality measurements from at-home sensors like PurpleAir, and you've got a pretty good picture of air quality in a given area. Just pick up your phone and apps like the EPA's AirNow, and they will report local air quality and let you know whether it's safe to spend time outside.
These apps measure air quality using a 500-point scale called the U.S. Air Quality Index, or AQI. Numbers zero to 50 are considered "good" and 51 to 100 "moderate." Any number over 100 is considered "unhealthy for sensitive groups," like children, the elderly and people with heart or lung disease, according to the EPA. With any number above 200, the AirNow app recommends members of sensitive groups stay indoors.
If you want to add an air-quality check to your morning routine, here are four apps that make it easy.
- - -
Best all around
For NBC meteorologist Rob Mayeda, the EPA's AirNow app is his tool of choice. It's also the most thorough.
Use the home tab on the bottom menu to check the day's air quality at a glance, and tap "details" under the AQI reading to view recommendations like "limit outdoor activities" or "stay indoors." If you travel frequently, you can add additional locations on the "places" tab and swipe right and left on the home screen to toggle between locations.
The "smoke" tab is your best destination for quick information on wildfires. Pinch your fingers together to zoom out, and you can watch smoke clouds as they travel. The map also shows fire incidents. The tiny, colored shapes represent air-quality readings from the EPA and U.S. Forest Service monitors, as well as the more accessible (but less accurate) PurpleAir sensors people can buy for themselves. The legend shows what the colors mean, with green being the best air quality and purple the worst. Taken together, these readings give you a good snapshot of what's going on in the areas, both at the moment and over the past few hours, Mayeda said.
PurpleAir sensors are great for hyperlocal information and minute-by-minute updates, but EPA researchers found that the sensors tend to overestimate AQI numbers, making air appear worse than it is. AirNow uses high-end, regulatory-grade monitor readings to tweak the PurpleAir data, leading to more accurate measurements, according to the EPA.
If you'd like to contribute to PurpleAir's network of air-quality data, you can buy a PurpleAir sensor for your home or yard for about $200.
- - -
Best for allergies
The BreezoMeter app rates the amount of pollen from three sources - trees, weeds and grass - on a 1-to-5 scale. Tap the flower icon on the menu at the bottom and view three-day pollen forecasts for your area. BreezoMeter's allergy model is based on the type and number of plants in your area, as well as weather patterns that affect pollen emission, according to its website.
- - -
Best widget
The best air-quality widget - those little information windows that float on your device's home screen - depends on what information you're looking for.
Air quality can vary significantly even within a small area. If you want to glance at readings from a variety of sensors, go with Air Quality Reader, a simple app built by former Salesforce president and chief operating officer Bret Taylor. The widget shows a cluster of AQI measurements from your area, adjusted using the EPA's algorithm.
If you find those tiny numbers difficult to read, the app Paku may be a better option. It shows a single reading from a nearby PurpleAir sensor. For a more accurate reading, open the app, tap the circle with two lines in the right-hand menu, and select the "U.S. EPA" conversion.
To add a widget to your iPhone's home screen, find a blank spot and hold down your finger. Your apps should start jiggling, and a tiny plus sign will appear in the top corner. Tap on it and you'll see available widgets. Choose the one you want, select how you'd like it to display, and tap "add widget." Then you can place it where you want by dragging it around like any other app.
You'll notice all these air-quality apps ask for access to your location. The widgets require it, but if you don't want to share, the apps themselves all function without location services turned on - just input your location manually.
- - -
Best for kids
The app AirCare offers a "child mode" complete with a simplified interface and cute mascot, but if you're encouraging your kids to check on the air quality before heading outdoors, their smartphone's built-in weather app is your best bet.
BreezoMeter readings are built right into the Weather app on iPhones running iOS 14.3 or later - just scroll down past the weather forecasts. Recent Samsung smartphones list AQI in their pre-installed Weather apps as well.
---