The Oaks Classical Christian Academy: Malia Clancy 'always seems to have a smile on her face'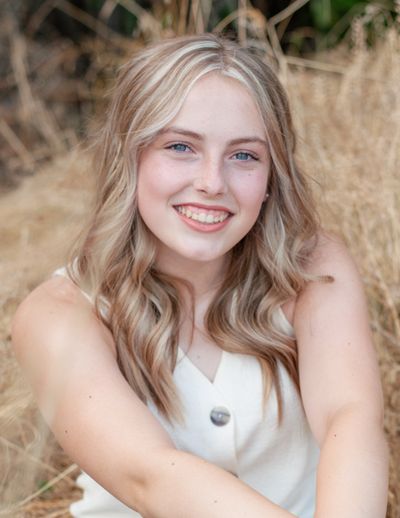 You might say Malia Clancy grew up at the Oaks Classical Christian Academy. She's attended the school for all of her academic life.
"She's worn a uniform for 13 years," said adviser Lynn Gibson. "I wonder what she'll do next year."
What Gibson doesn't wonder about is the character and community commitment of this student.
"Malia is a young woman of quiet compassion, respected by classmates and faculty," said Gibson. "She's a stalwart scholar and steadfast friend. In many ways, she's the glue that holds her class together. Whatever activity or team she's involved in – she's the glue."
Clancy thrived in the family atmosphere of the small K-12 school.
"I enjoyed that the seniors know the kindergartners – that community feeling of being able to know everyone," she said.
Gibson said Clancy's quiet demeanor belies her feisty competitive spirit.
"She's fiercely competitive on the court, whether in basketball or volleyball."
In fact, her natural reticence vanishes during two activities: sports and theater.
"I've been active in drama since fifth grade," Clancy said. "I mostly do the musicals. I really enjoyed 'Cinderella.' I wore a giant ball dress."
Gibson marveled at how naturally this student took to the stage.
"She's an actress – she leaves her shyness at the door," she said. "She's a quiet person who doesn't seek the limelight and serves in the background. The flip side is the spirited actress and athlete."
Clancy has played on both the volleyball and basketball teams. She laughed when asked about her tenacity on the court.
"If I'm doing volleyball, I'm 100% committed – the same with basketball," she said. "They're both really fun. I had good coaches who pushed me to be a better athlete and a better Christian."
Academically, she tackled reading assignments with gusto.
"Some of the books we read really opened my eyes," she said. "I especially liked 'Fahrenheit 451' and '1984,' they both helped me see different things."
When not in the classroom, on the court, or on the stage, Clancy can be found with a coffee mug in her hands.
"I really like good coffee," she said. "Especially with dark chocolate and almond milk."
She's hoping to parlay her knowledge of the brew into a summer job and plans to take a gap year after graduation. She said she's interested in attending cosmetology school.
Clancy values both the academic and life lessons she's learned at the Oaks and said attending a school with rigorous academic standards taught her more than just facts and figures.
"It taught me to push through difficulties and have joy in hard times."
That joy has been evident at the school.
"She always seems to have a smile on her face," Gibson said. "We're going to miss that."
---