Amanda Shires is part of a historic weekend at the Gorge with the Highwomen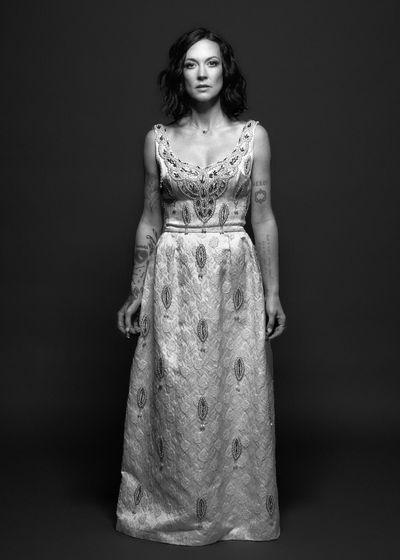 Not long after processing the sad news that pianist/vocalist Bobbie Nelson died in March at 91, Amanda Shires embraced a silver lining.
"Whoever dies happiest wins," Shires said while calling from a Nashville studio. "What brings people happiness, wealth, stability or the ability to make a living playing music, is different. I know Bobbie was happy as a lifelong musician."
Shires, 41, crafted "Loving You," an album with Nelson, which features a collection of some of the finest love songs ever penned, such as Fabian Andre and Wilbur Schwandt's "Dream a Little Dream of Me," a hit for the Mamas & the Papas, Merle Haggard's "Old Fashioned Love" and Sebastian Iradier's "La Paloma."
The combination of Shires' angelic voice with her trademark vibrato and the virtuoistic play by Nelson makes for a wonderful interpretation of "You're Always on My Mind," which was expertly covered by Nelson's brother Willie Nelson.
The duo created elegant and moving versions of the familiar for "Loving You," which will be released June 23.
It's a posthumous project for Nelson, which bums out Shires but at least the pair had the chance to make the sonic document.
"I wish she was still here for the album's release but we had such a blast making this record," Shires said. "We had much in common."
The most obvious common denominator between the Texas natives is both excelled as complementary musicians. "Bobbie was the first side player I ever saw," Shires said. "And I've been a side player and still am. We had that connection."
Nelson played with Bob Wills, who popularized Western swing during the '40s. Shires joined Wills' band, the Texas Playboys, when she was 15.
"Bobbie and I had a wonderful time together," Shires said. "I'm just glad we met."
After cutting the initial track,"You're Always on my Mind," it was obvious what was next for Shires and Nelson. "We had to start a band together after that," Shires said. "We couldn't stop after just one song."
It hasn't been easy for Shires when trying to figure out how to showcase the album. "I've had a very hard time wrapping my head around all of this," Shires said. "I have to get the album out so people can hear what Bobbie did. But it's such a big loss."
Shires will support the album with the help of fellow Texan, Ray Benson, who is on board to perform some release shows. The towering leader of Asleep at the Wheel is excited about playing some dates with Shires. "Ray is one of the nicest musicians you'll ever meet," Shires said. "He's so up for this. It's great to have that kind of support."
If the schedule permits, it wouldn't be surprising to see Shires' husband, Jason Isbell, flanking her. Isbell, who is on the road supporting his latest album, "Weathervanes," would be returning the favor since Shires has backed him as part of the 400 Unit since 2009. Isbell and the 400 Unit will perform July 6 at the Fox.
"I'm going to support 'Loving You,' " Shires said. "I have to do that for Bobbie."
In the interim, Shires is rehearsing for a special weekend with the supergroup, the Highwomen, which will perform Sunday at the Gorge.
The Highwomen includes her pals, singer-songwriters Maren Morris, Natalie Hemby and Brandi Carlile.
The latter is capping a massive weekend as a Highwomen. Carlile will host her annual Echoes Through the Canyon event. Carlile will headline Friday at the Gorge. The following evening is "The Joni Jam," the first scheduled Joni Mitchell concert since June 2000. Mitchell and Carlile will perform and a number of special surprise guests will appear.
The Highwomen will mark the end of a historic weekend. "We're so excited to play the Gorge," Shires said. "We just got out of rehearsals and we're just counting down to show time. We'll have a few surprises up our sleeve."
Shires formed the Highwomen in 2018, an answer to The Highwaymen, an '80s country collective featuring Willie Nelson, Johnny Cash, Waylon Jennings and Kris Kristofferson. Acclaimed producer Dave Cobb suggested Shires contact Carlile. Morris and Hemby joined the band shortly after Carlile. Their 2019 eponymous album, which Cobb produced, is filled with passionate and moving songs, proving that women have the power.
"I'm so happy having the opportunity to make albums like that and be able to be a musician when I'm so bad at everything else," Shires cracked.
Shires sincerely appreciates her ability to pay the bills as a working musician. Unlike some entertainers she's not opposed to her toddler daughter, Mercy, following in her parent's footsteps. "Life is too short to not do what you love," Shires said. "None of us are promised tomorrow. If Mercy is going to be happy playing music for the next 50 years and can make money doing it, go for it. She might have to be content to drive something like a Ford Tempo, which I drove for years. But what you drive doesn't matter as much as you're doing what you love."
---