'Crush the heck out of one': Lind prepares for its quirky annual rite – crashing old farm equipment at the Combine Derby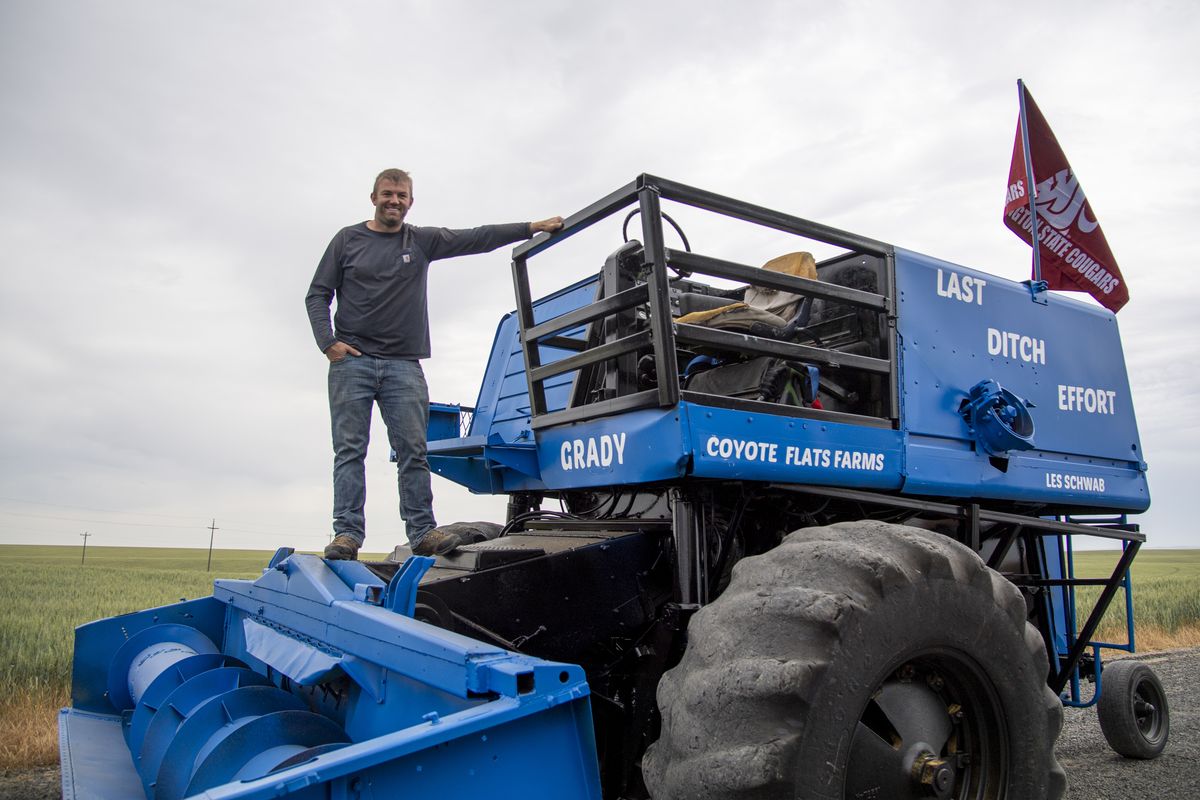 LIND, Wash. – When he was in high school, Grady Gfeller had a dream: to compete in his town's combine demolition derby, a Mad Max-style jamboree of smashing farm equipment together for the fun of it.
He and a friend spent the winter of his senior year fixing up an old combine harvester his friend's dad gave them.
He drove it the weekend he graduated high school.
Gfeller, now 31, is gearing up to compete again Saturday.
"You get tossed around quite a bit," Gfeller said. "It's pretty violent. You are sore the next day."
The curious tradition began in 1988 when Lind was celebrating its centennial. The derby was held during an intermission for the rodeo.
"Local farmers had these old combines sitting around destined for the scrap yard," said Lane Hannas, president of the Lind Lions Club. "So, they beefed them up and had a derby."
It was such a hit, they decided to continue every year, Hannas said.
The Lind Lions Club hosts the event as fundraiser, which has turned into a weekend affair, with pickup truck races the night before, a parade of the combines through town and a barbecue.
Grady's Gfeller's father, Garry Gfeller, competed that first year. He repaired a John Deere 95 with his father and a neighbor.
"We didn't last long," Garry Gfeller said. "We didn't know what we needed to reinforce it."
Garry Gfeller is surprised the event is still happening.
"We figured it would burn itself out after 10 years," he said.
The event is expected to draw 4,000 spectators this weekend.
Grady Gfeller comes from several generations of dryland wheat farmers near Lind. He remembers learning to drive a combine sitting on his father's lap when he was about 12.
Unsure what he wanted to do after high school, he drove combines for a harvesting company for a few years.
"The frustrations of combines breaking down, that gives you another incentive to crush the heck out of one," he said.
Grady Gfeller left the farming industry and works for Avista.
He found his current combine four years ago in a farmer's junk yard near Pullman. He bought it for a case of beer, managed to get it running, then drove it 6½ hours to Lind.
It's a 1979 John Deere 6602, the last year for that model.
Grady Gfeller painted it blue and named it "The Last Ditch Effort," a joke among his friends, since it has taken four years to get it ready for the derby.
"It's a lot of work," he said, "so I understand why there are not as many competitors anymore, but gosh, it's fun."
The combine's wheat header is fixed in place and functions as a hammer to ram the others. If the header falls off, the combine is disqualified.
Restoring the machine is a group effort, with friends and family helping out, and sponsorships from local businesses paying for supplies and extra equipment.
For those not prepared to put all the work in, the Lind Lions Club sells raffle tickets for the chance to drive a special Lions Club combine in the final round.
Used combines are getting harder to find with the rising price of scrap metal. Lately, the Lions Club is buying them to reserve for potential drivers, Lions Club board chair Josh Knodel said.
The club is starting to collect smashed-up combines from former derbies in an open-air museum along the highway leading to the arena.
Combines must be at least 25 years old to qualify.
With the efficiencies of technology, these combines are obsolete anyway, Grady Gfeller said. A modern combine could do the work of about 30 of his in the field.
That's why they're perfect for a demolition derby.
Grady Gfeller said he feels a little nervous throttling up at the beginning of the first heat, until he gets hit a few times and the adrenaline kicks in.
"After the second hit, you're not worried about anything, you're just having a great time," he said. "Indescribable feeling."
---