Hoopfest in search of court monitor volunteers as team registrations surge in 2023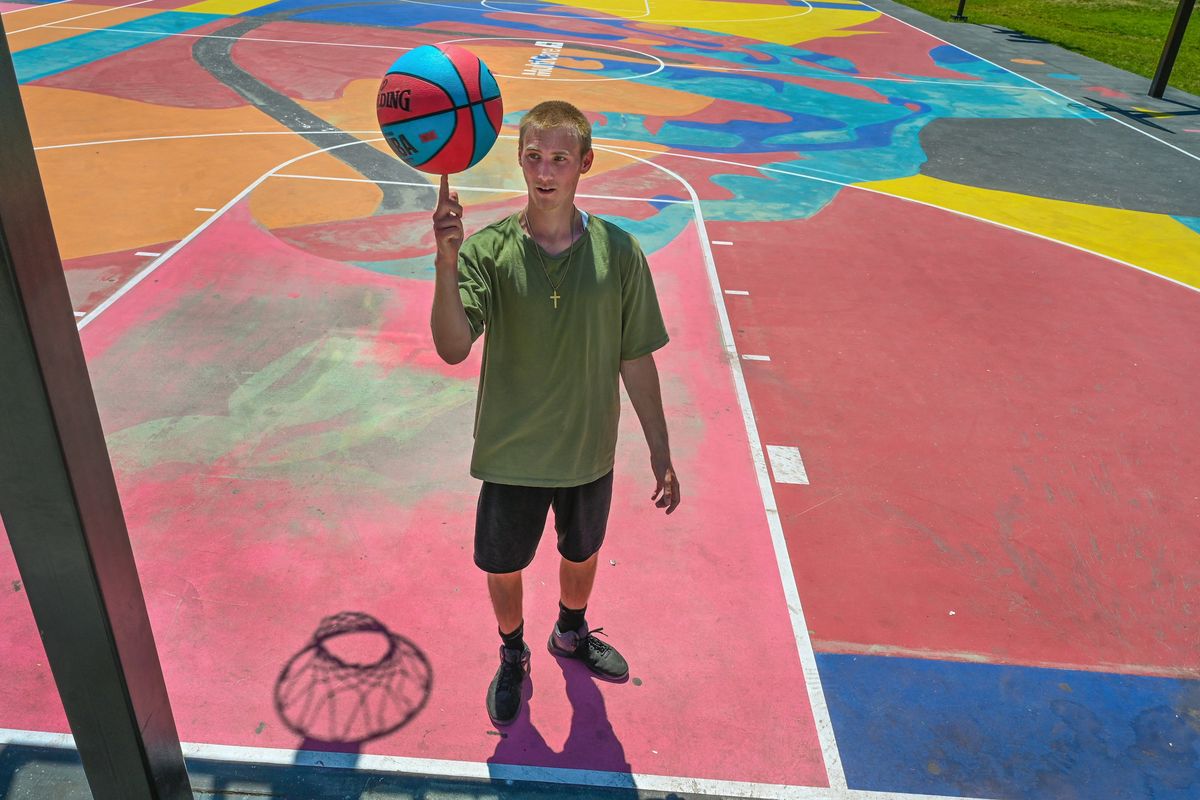 Longtime Hoopfest volunteer Steve Eglet will tell you that being a court monitor during the 3-on-3 basketball tournament takes commitment.
In 2011, the pancreatic cancer survivor took that to heart.
"I got out of the hospital June 1, and three weeks later, I said, 'Chad, I'm here to help you,' " Eglet, who played in the first Hoopfest 33 years ago, said, referring to the tournament's director of volunteers and staffing, Chad Smith.
So Eglet found himself calling fouls, watching the clock and keeping score on the streets of Spokane just a few weeks after recovering from surgery and a post-operation infection. Eglet will be back on the court this summer, and Smith hopes it's with another several dozen yet-to-declare volunteers, as the tournament is seeking workers to support its surge in post-pandemic registrations.
"When we started actual registration of teams, I could see immediately out of the gate that we were behind pace," said Smith, who's been with the Hoopfest organization for more than two decades. "I knew that we would need to pick up the pace to match that."
Smith anticipates he'll need between 50 and 75 more volunteers to monitor the courts for Hoopfest, which will take over the streets of downtown on June 24 and 25. That's because the tournament's registration has grown by about 800 teams this year, to more than 4,200 teams. It's still below levels seen before the COVID-19 pandemic canceled the event in 2020 and 2021, though.
The encouraging sign is that youth participation is up, with younger players being admitted into the tournament this year, said Riley Stockton, the event's executive director.
"We saw so much success with our new youth league," Stockton said, referring to the new mentorship and accessibility program for children beginning in kindergarten that launched last year. "Our youth numbers are, generally, way, way up."
The monitors for those courts with younger players will be calling fouls and infractions, while those players beginning in 10th grade and older are generally responsible for policing their own game. Eglet, who helps coach football and basketball at Lewis and Clark High School, said he prefers to monitor players who are right on the cusp of having to call their own fouls.
"I try to set the tone for the rhythm of the game, knowing what it looks like next year when you have to start calling your own fouls," he said. "It's kind of a teaching thing. I try to teach them a little respect."
It can be difficult as the tournament progresses, Eglet acknowledges, and the stakes get higher as teams get closer to winning a bracket.
Jacob Hennard was practicing his jump shots, free throws and layups Wednesday afternoon at the Hoopfest courts in downtown Riverfront Park. He's playing his second Hoopfest this year with a team representing the Union Gospel Mission, and said he didn't really notice the court monitors last year.
"It's physical in the game, but no one got close to fighting," said Hennard, 22. Still, he said it's good to have the monitors there, just in case.
That's the idea behind the volunteers, especially at higher age levels, Smith said.
"We'd rather have eyes and ears on every court," he said.
Prospective court monitors can sign up on the Hoopfest website, spokanehoopfest.net. The applications asks a few questions, including the level of experience with basketball a monitor has and what ages and gender a monitor prefers to oversee.
"We will honor every request," Smith said. "Really, ideally, we basically want people that like to be around other people, and like to work outside."
You don't need to have basketball experience, either. Smith said this weekend he received applications from a mother and her daughter, with the daughter hoping to volunteer to satisfy a service learning requirement for school.
Volunteers receive a free T-shirt, hat, shorts and shoes for their time. Eglet said the gear usually attracts volunteers, but they should be ready for long days on the court, especially Saturday.
"A good court monitor's going to need to know that they're going to have to put in some hours," he said. Sunblock, and a plan for food and drink throughout the day, are vital.
Court martials, which roam several courts, are also there to help monitors who may have a disagreement they can't handle. Hoopfest also will prepare monitors with orientations that are held until the day of the event. Smith said he'd prefer to have court monitors signed up and ready for an orientation June 20, the Tuesday before the event kicks off.
Eglet said in his decade-plus monitoring a Hoopfest court, the level of play and tempers have remained relatively stable. Every year, he has return players and fans asking which court he's going to be handling for the weekend.
"I think I'm doing a pretty good job," he said.
---