100 years ago in Eastern Washington: Soldiers departed on foot from Fort George Wright for Camp Lewis, some 380 miles away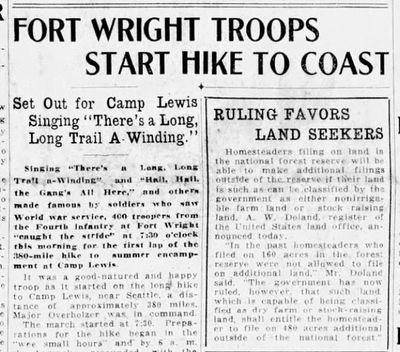 About 400 troopers from the Fourth infantry departed from Fort George Wright, singing, "There's a Long, Long, Trail a'Winding."
A long trail indeed.
The soldiers were making the 380-mile march to Camp Lewis near Tacoma for their summer encampment.
The trek was expected to take about 30 days. Their plan was to make their first camp at Deep Creek. From there, they would roughly follow the Sunset Highway route (today's U.S. 2) and then veer over to Snoqualmie Pass.
"It was a good-natured and happy troop as it started on the long hike," the Spokane Daily Chronicle reported. "… Wives and daughters and sweethearts of the officers, numbering more than a score, said farewell to the troopers. One old man, the father of one of the boys in the line, stood on the curbing … and called out, 'Goodbye, Jim, take good keer of yourself.' "
From the traffic beat: A motorcycle cop saw a car "bowling merrily along the Coeur d'Alene highway" at excessive speed.
He had trouble convincing the driver that his "stop" command was in earnest – until he drew his gun and brandished it.
When the car finally pulled over, the motorcycle cop was in for a big surprise.
The driver of the car was Idaho Land Commissioner J.H. Nash. His passenger was Idaho Governor C.C. Moore.
The cop gave them a ticket, and Nash paid a $10 fine.
The governor said, "We were late (for a meeting) and I expect Nash may have stepped a bit over the 30-mile speed limit."
---