Nuggets stymie Heat in fourth quarter to take commanding 3-1 lead in NBA Finals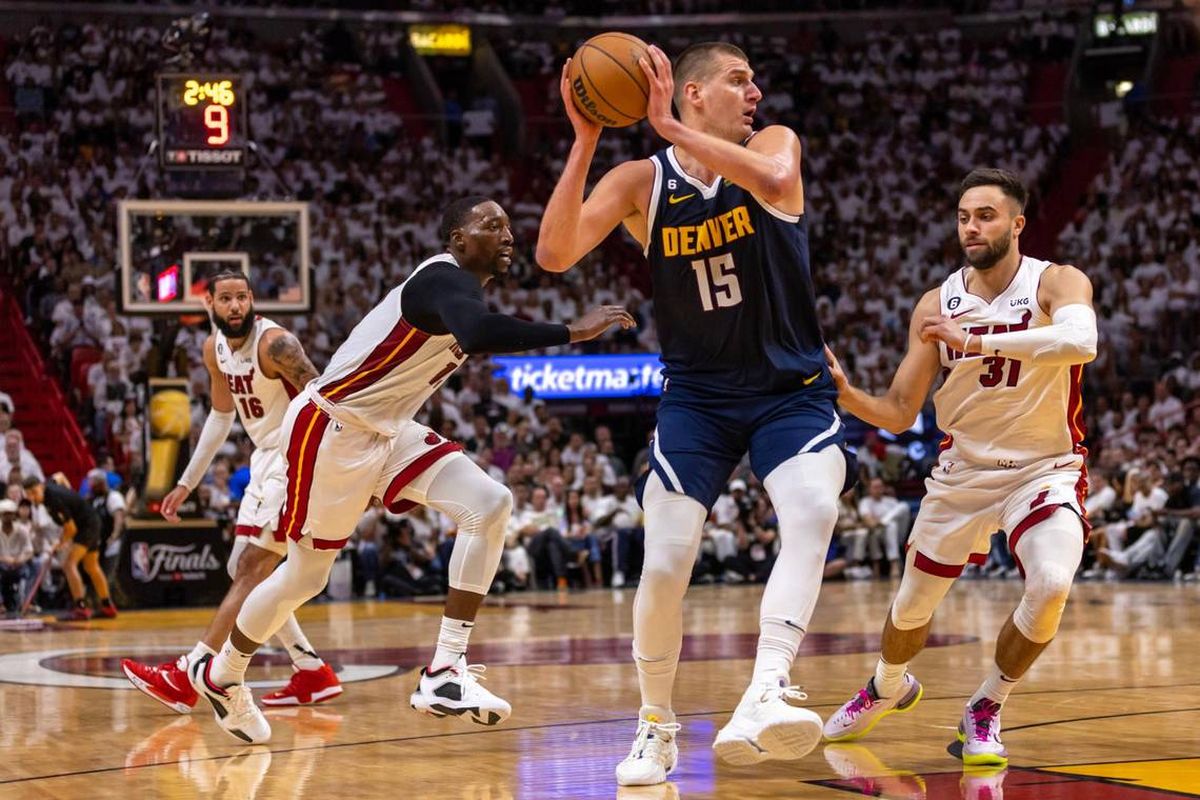 MIAMI – Denver pulled away from Miami late in Game 4 Friday to seize a 3-1 series lead in the NBA Finals with a resounding 108-95 win.
"We're not celebrating like we've done anything yet," Nuggets coach Michael Malone said.
Nikola Jokic picked up his fifth foul three minutes into the fourth quarter, which pre-empted the defining sequence of the night. As their MVP was relegated to the bench, the rest of Denver's resilient group kept the Heat at bay.
Jamal Murray hit a 3-pointer. Reserve Jeff Green knocked one down, too. Together, as a unit, they limited Jimmy Butler and Bam Adebayo and took control of the Finals.
Bruce Brown, who finished with 21 points, attacked the hoop to keep pressure on Miami's interior defense.
"I knew coming into the league what I could do," Brown said.
"He's not afraid," Malone said.
Jokic finished with 23 points and 12 rebounds, along with three steals and two blocks. Aaron Gordon had a team-high 27 points and made three of Denver's 14 3-pointers.
Murray added 15 points and 12 assists, and fans finally headed for the exits after Kentavious Caldwell-Pope hit a 3-pointer with 1 minute, 49 seconds left.
"Our guys are locked in, man," Malone said, crediting his entire team for their effort.
Denver spent the first two quarters connecting on 3-pointers. By the third quarter, the Nuggets started driving to the basket. Michael Porter Jr. scored on two quick baskets inside, and Jokic and Murray started attacking just like in Game 3. Jokic hit a shot from the midrange and stepped out and hit another deep 3-pointer.
After Adebayo was called for basket interference with 2:07 left in the third quarter, officials felt the basket needed to be leveled. Jokic tried hanging on the rim twice to fix it himself, as curious Heat fans didn't know whether to applaud or cheer. The seven-minute delay afforded Jokic even more rest.
Once play resumed, Gordon continued dominating. He ended the quarter with a corner 3-pointer in front of Miami's bench that left Heat fans silent.
A 2-1 series lead didn't mean much to Malone. Not at this stage and not with these stakes.
"This is a must-win for us," he said prior to Friday's tip-off. "This is the Finals. This can't be human nature, 'We came down, got one game, we can relax.' Each game, each possession, each quarter are way too important. As I told our players, when we got on that plane to come down here, it wasn't just to get one win. Our mindset is to go out there and take it tonight."
Malone also didn't want to hear anything about benching Porter, who'd struggled mightily throughout the first three games of the series.
"Zero discussion about making any changes," Malone said. "Again, Michael Porter is a big part of our team. We would not be in this position if it wasn't for him. … As far as him kind of getting back into his groove, I talked to him today about understanding that we wouldn't be here if it wasn't for all the contributions and growth that you've shown us throughout this year being healthy. Go out there and play, be aggressive, shoot the ball with confidence and, remember, you're not a specialist. We don't bring in specialists."
Gordon and Jokic scored 16 points each to pace Denver's first-half attack.
Gordon's family sat some 20 rows up from Denver's bench. After each basket, they celebrated in unison, a few jubilant fans among a sea of white.
---