Trump valet Walt Nauta charged in Mar-a-Lago classified documents case, Trump says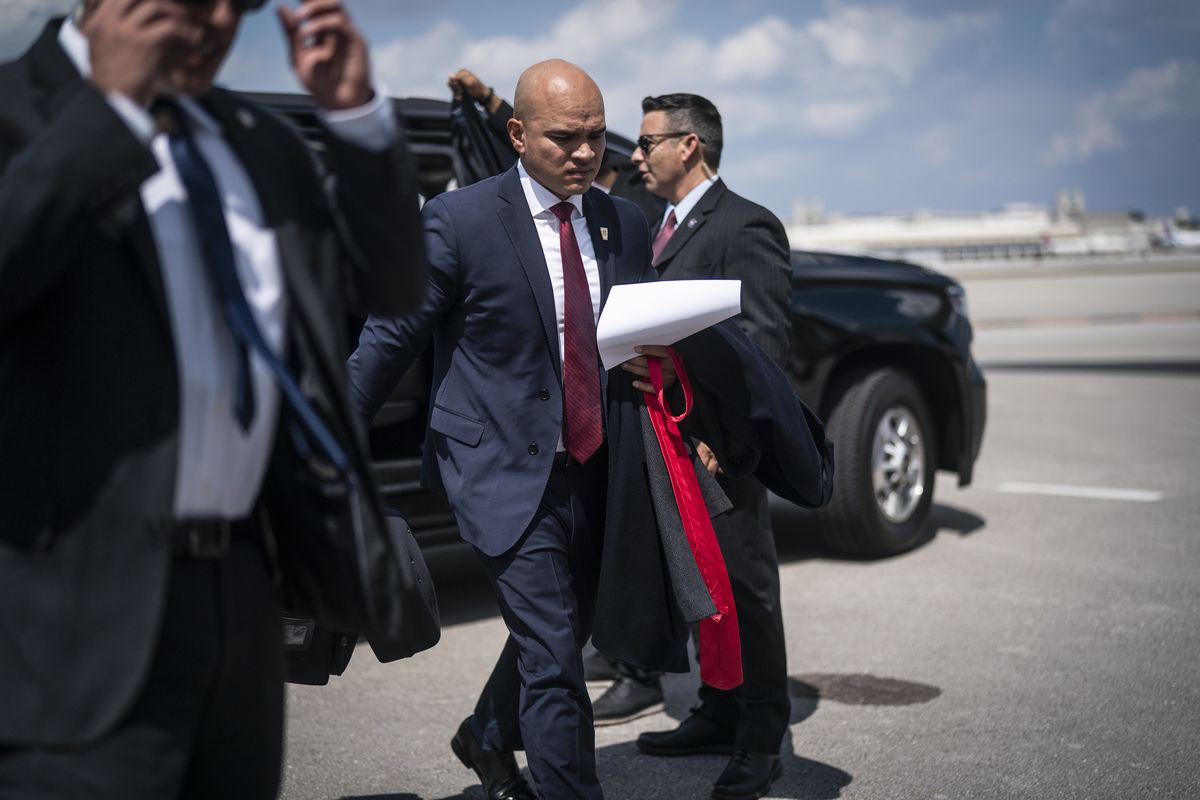 Federal authorities have charged a longtime aide to Donald Trump whose responsibilities included moving and carrying cardboard boxes in which the former president likes to keep mementos and papers, the former president announced on social media Friday.
Prosecutors have viewed Walt Nauta - a military valet in the Trump White House and now a personal aide to the former president - as a critical witness in the investigation into possible mishandling of classified government materials at Mar-a-Lago, Trump's Florida residence and private club.
The indictment is under seal, and the charges filed against Nauta are not yet publicly known. The charges came as Trump was also indicted under seal, on seven counts including conspiring to obstruct justice, willful retention of national security information and false statements. The conspiracy count often means at least two people have been charged with acting in concert.
"I have just learned that the "Thugs" from the Department of Injustice will be Indicting a wonderful man, Walt Nauta, a member of the U.S. Navy, who served proudly with me in the White House, retired as Senior Chief, and then transitioned into private life as a personal aide," Trump wrote on Truth Social.
Trump advisers also said Nauta had been charged. Nauta was with the former president in New Jersey on Friday morning as the news broke, said a person who was also with the two at Trump's Bedminster club.
A lawyer for Nauta declined to comment.
When first questioned by FBI agents in the spring of 2022, Nauta denied any knowledge that sensitive documents were being stored at Trump's club, The Washington Post has reported.
But when questioned a second time, he told investigators that he had moved boxes at Trump's direction after prosecutors sent a subpoena seeking the return of all documents marked classified and kept at Mar-a-Lago.
Video footage seized from the club by FBI agents and prosecutors corroborates Nauta's account of moving boxes after the subpoena landed, people familiar with the matter have said.
Nauta, whose full first name is Waltine, continued to work and travel with Trump throughout the long-running investigation.
Nauta was known in the White House for his quiet on-the-job demeanor and ability to stay out of messy internal and partisan squabbling, several colleagues told The Post earlier this year. He frequently traveled with Trump to his homes at Mar-a-Lago and in Bedminster, N.J., learning his boss's rhythms and catering to his daily needs.
In an interview in Guam, where Nauta was born and grew up, his aunt said he has conveyed to family that he was following directions when he moved the boxes at Mar-a-Lago.
"He told his mom there's nothing to worry about. He didn't do anything wrong. All he was instructed was to put the boxes where they were supposed to go," said Elly Nauta, who lives two doors down from Nauta's mother.
---