'We all belong': Indigenous Spokane residents celebrate first Two-Spirit Powwow for Pride month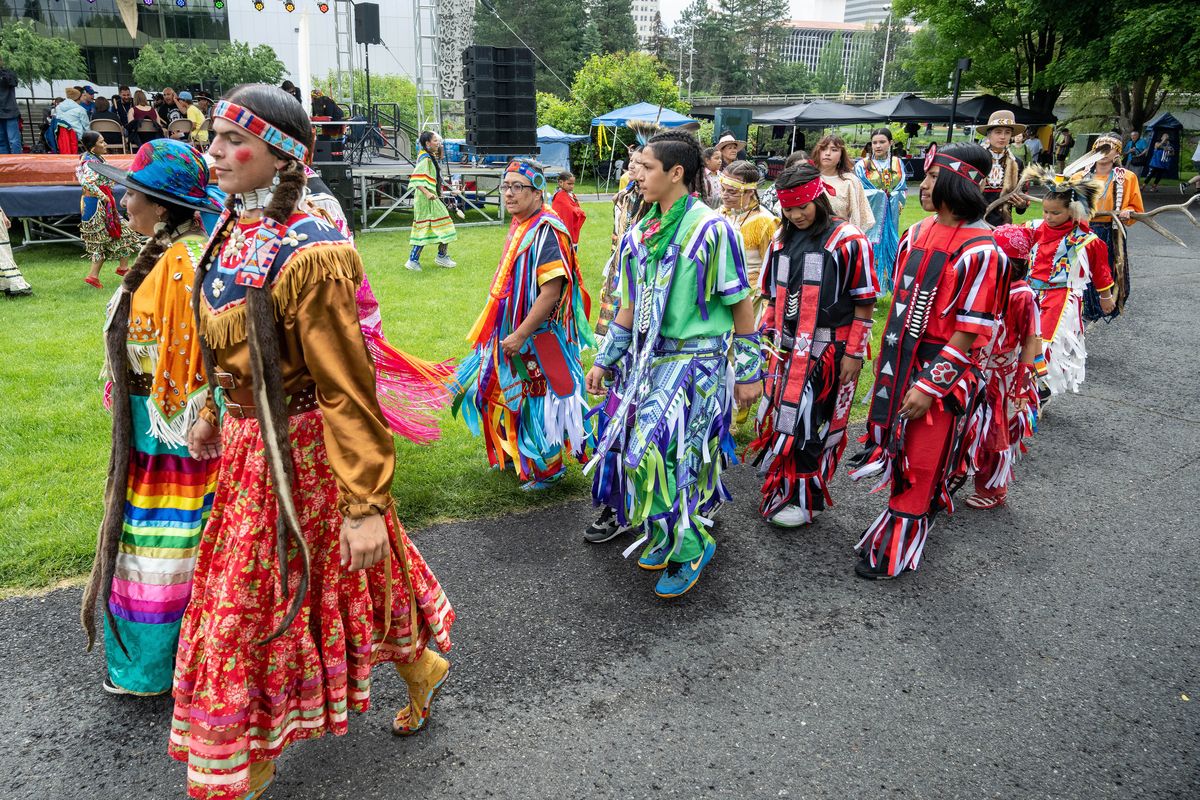 As part of Pride Month celebrations, Spokane had its first Two-Spirit Powwow Friday, bringing drums and dance to Riverfront Park.
Two-spirits are Native Americans who identify as queer or nonbinary. The concept stems from traditions by many tribes that honored people with male and female spirits.
Two-spirit dancers will lead the Pride parade through downtown Saturday.
The identity is at the intersection of race, gender and sexuality, said Roo Quallaq Ramos, executive director of the Spectrum Center Spokane, who is Iñupiaq and enrolled with the Traditional Village of Kiana.
"Two-spirit is a broad term created for the Indigenous community so we could be seen and known by non-Indigenous," they said.
The Spectrum Center organized the event in partnership with Spokane Pride as a way to celebrate those who are gender expansive and who want to challenge the gender binary. They intend to continue the Spokane Falls Two-Spirit Powwow every year.
Alexis G. Tonasket Hoyt, who is on the powwow planning committee, said it has been a chance to adapt the powwow format and make it their own. For example, this powwow didn't have a competition because they wanted everyone to feel comfortable.
"It has been really freeing," Tonasket Hoyt said. "I have been searching my whole life for this, so it feels like coming home."
The powwow began with a land acknowledgment led by emcee Drea Rose to recognize the traditional homeland of the Spokane Tribe and its four bands.
"Today we give thanks to the legacy of our original people and their descendants, and we pledge to honor the people and the land," Rose said.
In a grand entrance, a line of about 20 dancers dressed in bright, colorful regalia, forming a spiral in front of the Lilac Bowl amphitheater to the beat of the Eagle Stone drumming group.
"The drumbeat represents the heart of our people, the heart of our Mother Earth," co-emcee Dustina Abrahamson said.
Everyone danced with a joyful bounce in their step. They moved counterclockwise, the same direction as Earth turns.
"In that way, we are dancing with her," Abrahamson explained. "It is a beautiful representation of how we honor our Mother Earth."
Several drumming groups led both intertribal dances and specific styles.
Chanting, drumming and dancing extended into the afternoon, followed by dinner and a royalty pageant.
Jesse Guecha wore rainbow-colored regalia and performed a grass dance.
Guecha is Muisca, Indigenous of Colombia, and said two-spirit is inclusive of anyone with ancestry to North or South America and is anywhere on the LGBTQ2S+ spectrum.
"It's an English word," he said, "but I think it accurately describes who I am, because I am more than one gender."
Many tribes regarded two-spirits as especially sacred, Guecha said, because they could go between genders, as well as between this world and the spirit world. They could help resolve conflicts between different groups.
Being two-spirit is both an honor and a responsibility to past and future generations, Ramos said. "We take it very seriously."
Rosane Ann Abrahamson, an elder of the Lemhi-Shoshone tribe, moderated fun activities, encouraging everyone in the audience to participate.
She said the powwow brought a safe place for two-spirits to dance without judgment, the way things once were for Native people.
"Everyone loved all because our people believed that the Creator sent us down the way we are," she said. "We all belong."
---