WSU Board of Regents approves $1.4 million transfer to athletics to cover deficit, but acknowledges bigger questions remain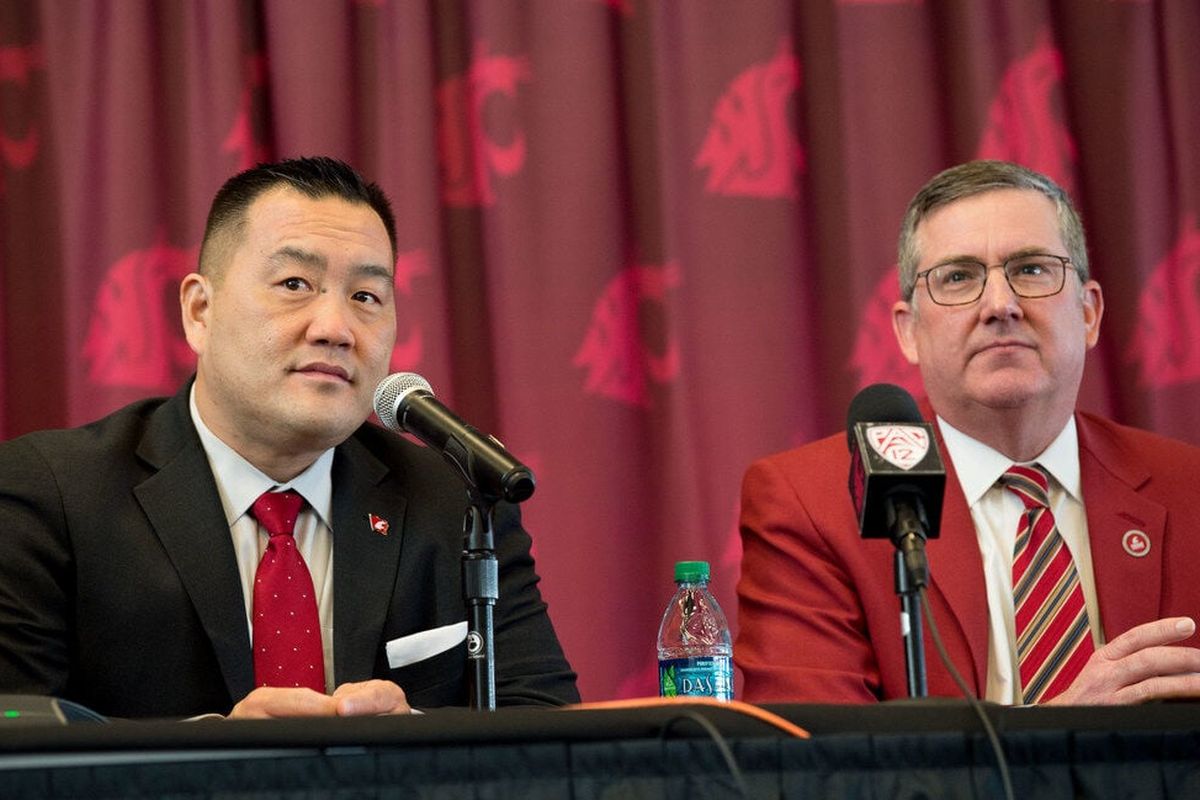 The Washington State University board of regents on Friday approved a transfer of $1.4 million to cover an athletics deficit caused by Pac-12 woes and failures to identify extra costs, while acknowledging that bigger questions about the future of sports on the Palouse remain.
The university's administration clarified to the 11-member board that transferred money would not come from tuition or state funds, but instead interest earnings that WSU had on hand.
"People can say, 'I don't like the decision,' " WSU President Kirk Schulz told the board, who asked pointed questions of him, athletics director Pat Chun and members of the university's Finance and Administration department at a meeting in Pullman on Friday morning. "But nobody's going to say that this isn't an appropriate use of the dollars."
In addition to shoring up this year's budget, the regents approved an $84.3 million athletics budget for 2024 and granted Schulz the authority to sign a new media rights agreement with the athletic conference, a much-anticipated deal the university president said he believed would be signed sometime in the next couple of weeks.
"I think it's imminent, it's been imminent for three months," Schulz said, and, when pressed, put his confidence at a 7 out of 10 that the deal would be done by the end of the month. Schulz said, based on the numbers he'd seen, the revenue deal would likely be "fairly flat" compared to the amount the university has received in the past, but he noted that WSU would also benefit financially from the expansion of the College Football Playoff to 12 teams in 2024 "to the tune, likely, of several million dollars per year, per school."
The presentation included an analysis of the ongoing financial woes of the Pac-12, which had to revise downward its media revenue-sharing after overpayments from a TV partner, reported to be Comcast, and what Chun suggested was insufficient budget planning. Chun was asked, specifically, what led to a $5.5 million overrun in athletics expenses during the university's fiscal year, which ends June 30.
"We don't have any coaches that were spending aggressively or intentionally over their budget," Chun said, adding that he couldn't go too far into "personnel matters." The university acknowledged earlier this month that Brent Meyer, the former chief financial officer of athletics who started at WSU in October, resigned in April.
The university has brought over Jon Haarlow, its assistant vice president for business and financial services, to its athletics department to serve as a finance manager until Meyer's permanent replacement is found. Haarlow presented to the regents Friday, saying his team had performed a "deep dive" on finances after hiring and nonessential travel were frozen earlier this spring amid concerns about cost overruns.
"This is not going to be a painless deal, but it's absolutely achievable," Haarlow said of balancing the budget in future years.
Chun also said it was unfortunate that the regents were discussing a budget shortfall after the university's student athletes "had one of the great years in school history."
Regents said they were approving the budget reconciliation for this year, which requires cash from the university's housing, parking and other accounts to zero out ongoing athletics debt, and approved an $83.4 million athletics budget for 2024. But they said major structural questions remained unanswered, including whether there should be an ongoing subsidy to support athletics and address debt carried over from previous years.
"We need to do what we need to do to keep the wheels on the bus and keep things moving forward," said John Schoettler, a member of the board. "But I think, from my perspective and in a more holistic view, this goes into conversations about who are we as a university."
The carried-over debt is expected to reach $65 million next year and continue to grow without ongoing contributions from donors. Those donations, Chun noted, have taken a hit as a result of name, image and likeness deals that sponsors can now make directly with athletes, rather than the university.
"The credibility is waning, if not tarnished, at this point," said board Chair Marty Dickinson, noting that just last year the department operated on a surplus, but now found itself in a multimillion-dollar hole.
Regent Judi McDonald, a professor in the department of mathematics and statistics at the university, went a step further, questioning why the university was approving athletics spending that exceeded revenues this year while looking for places to cut in all other departments.
"I, personally, am really struggling about where are we fitting athletics, relative to the other things the university is doing," McDonald said. She was the lone vote against the 2024 athletics budget, though she called her vote "symbolic to say that we've got to do better."
McDonald also pressed Schulz on whether the $1.4 million interest earnings that were being transferred to help cover the budget deficit had to be used for athletics.
"It feels to me like some of this money could have been used to support the academic enterprise," McDonald said. Schulz acknowledged that money could be used for academic, rather than athletic, programs.
McDonald said after the meeting that she would have liked to have seen a broader discussion of the athletic budget's ramifications on operations across the university.
"We need to be more deliberate about what we're doing," she said. "We need to make sure that we're looking across the whole system to make these decisions."
Schulz said after the meeting that it was important to be transparent about the financial woes of the athletics department, and pledged to regents to communicate with the campus and public about the financial ramifications of the actions to shore up 2023's budget and address a planned shortfall in the 2024 budget that is projected at about $400,000.
"To me, fiscal transparency is really important," he said. "That includes when things don't go well, not just when things are going great."
Contributor Alexandria Osborne reported from Pullman for this story.
---