100 years ago in Eastern Washington: State and local officials warned against the ills of 'driving while spooning'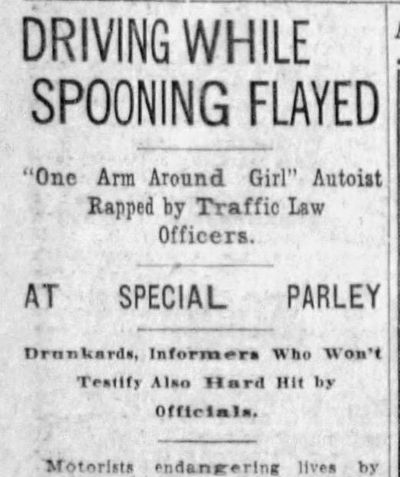 The state highway patrol vowed to crack down on drunken drivers and "careless driving while spooning."
Spooning?
By this, they meant driving with one arm around a girl and one on the steering wheel.
Frank Guilbert of the Spokane County Good Roads Association was fully in favor of a crackdown. He was disgusted by the "one-armed driver."
"He is, in reality, guilty of reckless driving," Guilbert told state highway officials.
The head of the state highway patrol said enforcement of all kinds of reckless driving was difficult.
"We have but 21 paid officers and I have deputized 100 others to aid in enforcing the law," he said.
From the movie beat: S.L. Warner discussed the current state of the movie business during a visit to Spokane.
He knew what he was talking about: He was one of the famous Warner Bros.
"We are trying to make the best pictures we can," said the legendary Hollywood mogul. "That is why we buy the best novels, widely read plays that are a success. We want to know we have the best to begin with. Now we feel we are doing the most important thing for pictures by having induced David Belasco to come into the fold."
Belasco was a successful Broadway impresario. Warner said they were obtaining rights to his plays, and also employing him as a movie producer.
Also on this day
(From onthisday.com)
1898: U.S. Marines land in Cuba during the Spanish-American War.
---