In the Kitchen: Bring the trend to a tortilla with Smash Tacos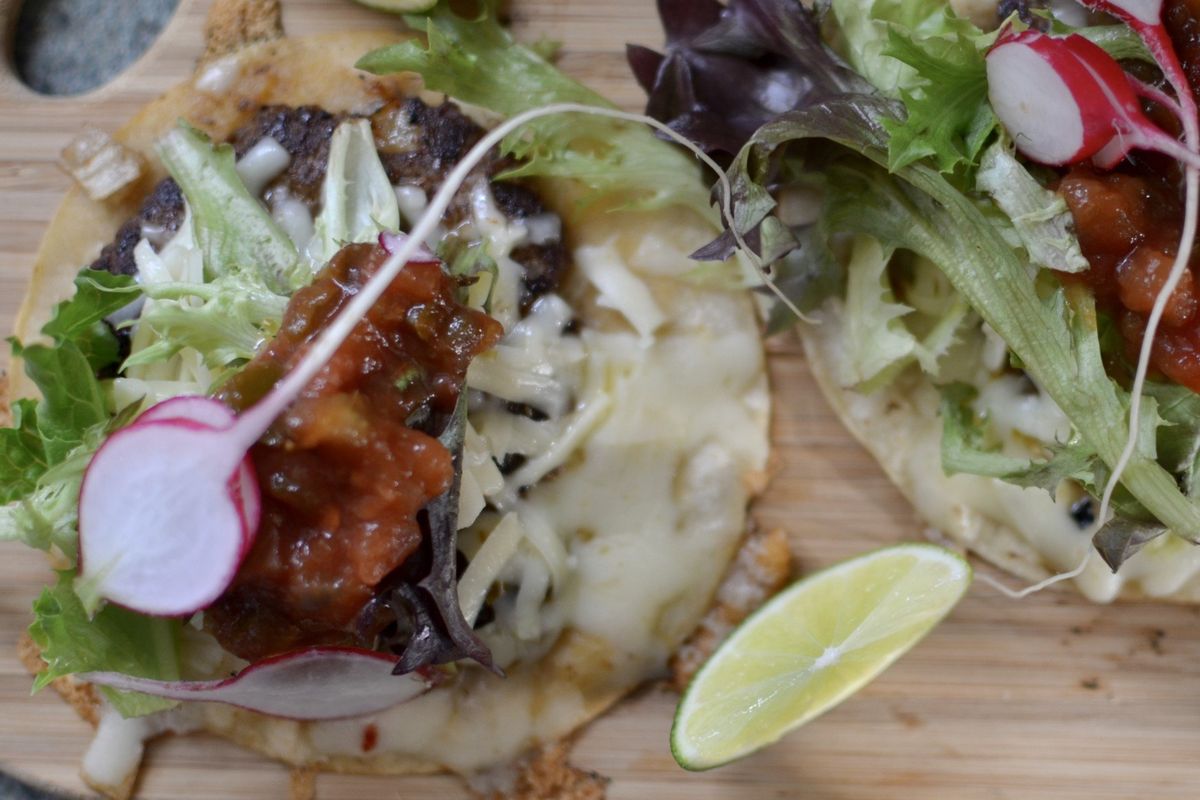 This week I'm bringing you a quick, easy and, most importantly, super trendy recipe for smash tacos. I usually don't get too, too excited about a fly-by-night social media food trends, but this one sounded and looked too good not to. If you've heard of the smash burger, this isn't much different.
For a smash burger, ground meat is smashed directly onto a hot and well-seasoned griddle. It's fully cooked and topped with cheese before being served up on a toasted bun slathered with condiments of your choice. The smashing of the ground meat results in a thin patty that cooks all the way through, quickly and evenly. It retains its juiciness and makes for a quick and delicious burger.
This concept is not much different. For a taco, where we would normally brown our ground meat with taco seasoning and crumble it, this is instead left whole and is flattened down with the tortilla before cooking. The result is a juicy and spiced patty atop a crisp and flavorful tortilla. The tortilla soaks up some of the oil and juices from the griddle and becomes a hybrid between a soft and crunchy taco.
That topped with your favorite toppings and you're in for a fun and easy taco night. Let the kids help smash them down, and then lay out all the different toppings for a fun and interactive meal with the family. I hope you and yours enjoy this twist on a family favorite.
Smash Tacos
1 pound ground meat
1 medium yellow onion, diced
1 packet of taco seasoning or homemade blend (see note)
1 teaspoon red pepper flake, optional
1 teaspoon garlic powder
10-12 4-inch tortillas (corn or flour)
2 teaspoons canola oil
4 ounces Monterey jack cheese, freshly grated
Toppings (choose one or choose them all):
Salsa or pico de gallo
Lime wedges
Lettuce, greens, or sliced cabbage
Fresh chopped cilantro, and or onion
Sliced radish
Sour cream or crema
Combine the ground meat with the onion and taco seasoning.
Divide meat into about 10-12 pieces and roll them each into a ball.
Preheat a heavy-bottomed pan to medium heat.
Using the tortilla, and atop a piece of oiled aluminum or wax paper, flatten each meatball into a half-inch patty, making sure it's positioned in the center of the tortilla.
Add oil to preheated pan or griddle and lay down the smashed tacos meat side down.
Cook for about 2-3 minutes or until browned and flip taco to meat side up.
Top each freshly flipped taco with a bit of grated cheese and let the tortilla side cook for at least a few minutes so that it has a chance to crisp up around the edges.
Repeat with remaining tacos, until they're all cooked.
Top with whatever topping of choice and serve.
Yield: 3-4 servings
Note: You can use commercial taco seasoning mix or make you own by combining 1 teaspoon smoked paprika, 2 teaspoons chile powder, 2 teaspoons cumin, 1 teaspoon kosher salt, 1 teaspoon black pepper, freshly ground and 1/2 teaspoon oregano.
---