Spokane City Council candidate Esteban Herevia accused of fostering inappropriate relationship with former Whitworth student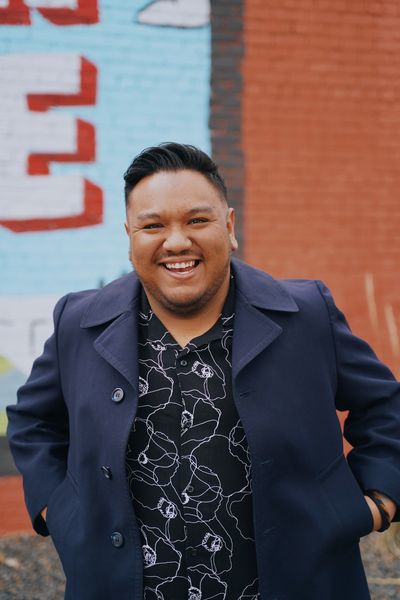 A former Whitworth University student has publicly accused Esteban Herevia, a leading candidate for Spokane City Council and former president of Spokane Pride, of fostering an inappropriate relationship with them while Herevia was employed by the school in a supervisory role to the student.
Chandler Wheeler, who uses they/them pronouns, has not alleged that anything explicitly sexual occurred between the two. But Wheeler claims that Herevia abused his role as a mentor of a young student facing housing and financial insecurity after coming out as trans to their family, fostered an increasingly close relationship with inappropriate physical contact and told Wheeler to lie to others about their relationship. While employed by the college, Herevia brought Wheeler to a downtown bar and bought them alcohol when he was 27 and they were 19. In an interview, Herevia admitted he purchased alcohol for Wheeler "with their consent."
Both Wheeler and Herevia say they felt that the other had romantic feelings for them. But both deny ever having those type of feelings for the other.
Herevia says he was blindsided by Wheeler's recent accusation, and while he believed in retrospect that he had made some mistakes, including inviting Wheeler to stay overnight on his couch, he had considered Wheeler like a younger sibling who needed support during a difficult time.
"Chandler was one of the first queer students I got the opportunity to mentor, and given their story and my story, I did want to support them," he said. "There was no sexual contact, there was never any physical contact, there was never any physical abuse."
Herevia said he never told Wheeler to lie about or hide the closeness of their relationship, and did not know why Wheeler felt the way they do about their prior relationship.
"I have no idea," Herevia said. "I wish I knew. I have no idea."
Wheeler was enrolled at Whitworth University from 2016 until graduating in 2020. As an 18-year-old freshman, Wheeler met Herevia through the school's Pride Club. As a young queer person with autism from rural North Idaho, Wheeler said they came to Spokane feeling naïve and vulnerable.
Herevia worked for Whitworth between 2016 and 2019 in roles including resident director, conference producer and assistant to the vice president, whose duties included serving as a Title IX investigator, according to his LinkedIn account.
Later during their freshman year, Wheeler said they became the president of the Pride Club, and Herevia became the club's adviser, so the two began spending more time together.
"Esteban was the first mentor I had who accepted & affirmed me for who I am, which was something I desperately needed coming from a challenging home life, so I thought very little of it when we traded numbers and began to talk more frequently," Wheeler wrote in a social media post.
Their relationship became increasingly close during Wheeler's sophomore year, they said, including Herevia taking Wheeler off campus to get ice cream, driving them to spend the day at the Northside Aquatics Center in Colbert and having dinner in a private residence.
Wheeler said Herevia told them multiple times not to disclose what they were doing together. Wheeler alleges Herevia stated that, if Wheeler talked about their activities off campus, they would no longer be able to hang out and that the Pride Club could be shut down.
Later that year, Herevia took Wheeler to a downtown bar and bought them alcohol when Wheeler was underage.
"I did purchase them a drink with their consent," Herevia said. "The reality is that I took them in like they were a sibling, I took them in like they were a cousin. I felt it was appropriate for me to show up in a more supportive way than what the institution would have done."
Wheeler came out as trans during the summer after their sophomore year and said their family was not supportive.
"My grandparents, I was supposed to go stay with them that summer, and they ended up telling me not to come home," Wheeler said. "So Esteban offered me to come stay on his couch at his apartment."
Wheeler said they were struggling financially during this time, and that Herevia often purchased them meals. Wheeler said they came to rely on Herevia and became worried about risking that support by upsetting him.
Several years later, Wheeler now works as an outreach manager with Odyssey Youth Movement, a Spokane organization that provides resources and support for LGBTQ+ youth and young adults.
As someone who frequently refers youth in similar financially insecure situations to resources, Wheeler said they now know that there were resources available.
"There are plenty of resources in Spokane that he could have connected to, could have connected me to, and instead he opted to kind of hold those things over me in order to control me," Wheeler said.
Herevia argued the housing services available at the time would not have been supportive for a young trans person.
"I felt like it was appropriate for me to offer," he said. "I recognize now that I should not have done that."
Wheeler claims that during their junior year, Herevia began to initiate physical contact, including prolonged hugs or placing his arm around their shoulder. During an event put on by the Pride Club, Wheeler said Herevia had his arm around their shoulder on a backstage couch, with Wheeler's head on Herevia's shoulder.
Wheeler asserts that, after this night, Herevia told them that a student had seen them and questioned Herevia about the nature of their relationship. Wheeler claims Herevia cut all contact with them shortly afterward.
Herevia asserts that the only significant hug between him and Wheeler was during Pride Week, which had been complicated by Whitworth administrators changing a lot of their programming.
"I felt that Chandler was the leader of the club and they were the one taking the brunt of the criticism … and I did hug Chandler," Herevia said. "But my intention was not for sexual contact, my intention truly was to show compassion in the moment."
Herevia claims he cut off contact with Wheeler because Wheeler professed their love for him.
"One of the difficult pieces, or one of the realities, is that Chandler was actually the one who violated the relationship and who actually – I needed to, because of my job, right, my professional relationship with them, and given the standards that we have as staff members … you have to put a stop to it," Herevia said.
Herevia provided The Spokesman-Review with a text exchange, not including a profession of love, but what Herevia claims followed.
In that text, Wheeler apologized profusely.
"I never meant to tell you that last night," Wheeler wrote. "I was just so overwhelmed and I should have kept my stupid mouth shut.
"I understand if you want space from me."
In response, Herevia said Wheeler had nothing to apologize for.
"I get it," Herevia wrote. "We've been in close proximity doing really intentional work. You're all good.
"We will need to address it later. It does have some professional implications going forward."
Herevia then switched topics to a work-related question, concluding by saying "I hella appreciate you."
In a follow-up interview, Wheeler was upset by this characterization, saying that they are aromantic, meaning they have little or no romantic attraction to others, and that there was no profession of love.
"When I was in that car that night with him, I told him I was feeling confused about our relationship," Wheeler said. "The way he was acting towards me, I thought he had feelings for me, and I had concerns about that and was confused because I did not share those feelings."
Wheeler claims Herevia had been upset by this conversation, and that the subsequent apology was a result of Wheeler being afraid of Herevia cutting them off.
"There was a long pattern of giving support and then revoking that support, ignoring me, giving me the silent treatment when he was talking to other students, whenever I did something he didn't like," Wheeler said.
"I apologized a lot for things that did not need an apology because I was scared."
During Wheeler's senior year, Herevia invited Wheeler to his going-away party commemorating his leaving Whitworth.
Wheeler stated that Herevia told them they could start hanging out again. Herevia said he doesn't recall if that conversation occurred at the party but acknowledged he had said they could resume a friendship now that he was no longer a staff member.
Herevia said he was shocked to recently read of Wheeler's accusations and said the two had talked since he left Whitworth, including several weeks before Wheeler posted about their experience on social media.
Wheeler acknowledged that the two had met since they graduated from Whitworth.
"It was kind of inevitable that if I wanted to work in the professional queer sphere here in Spokane, I would need to stay in touch with Esteban," Wheeler said. "I've been trying for years to just forget everything that happened to me and to push past it."
Wheeler said Herevia has significant social capital in Spokane, and they felt they couldn't publicly talk about their experience in the past. However, Wheeler said they felt compelled to speak out after seeing that Herevia was running for city council to represent the district where Wheeler lives.
"I didn't feel like it was OK for me to just keep quiet and not inform people of what had happened knowing that he is running for a position that has a great deal of influence in the community," Wheeler said.
Herevia said he does not have any plans to drop out of the race.
Herevia currently works at Washington State University Spokane as a strategist for the Elson S. Floyd College of Medicine.
While other state universities have in the past disclosed whether an employed politician was being investigated for misconduct, WSU declined to do so, instead directing The Spokesman-Review to file a records request. In response to a related records request, WSU's records staff estimated records would not be released until at least two days after the November election.
Herevia, however, acknowledged his conduct was being investigated by the university, though said he has not been placed on administrative leave.
Herevia faces Kitty Klitzke, Earleen Moore, Christopher Savage and Randy McGlenn in the Aug. 1 primary to represent northwest Spokane on the city council.
---