News > Spokane
Lisa Brown announces bid to become mayor of Spokane
March 1, 2023 Updated Thu., March 2, 2023 at 10:01 p.m.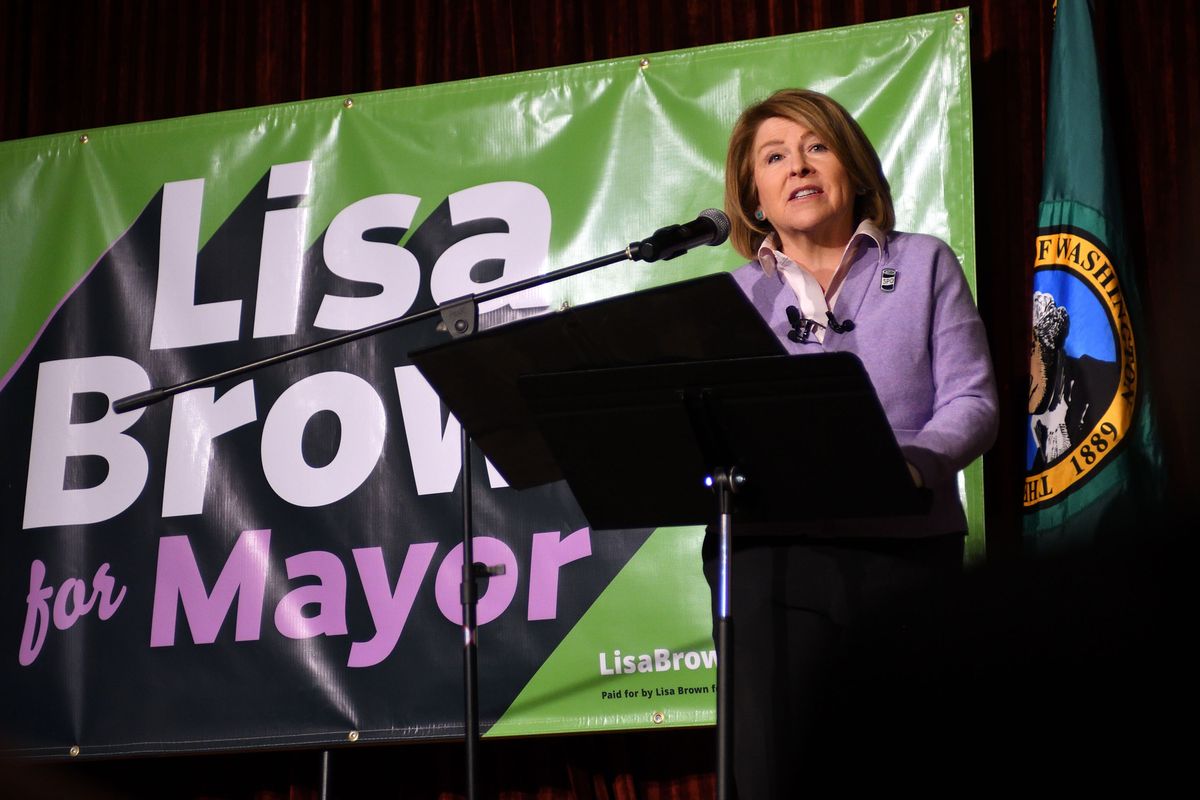 Lisa Brown announces bid for mayor of Spokane in a news conference on Thursday. (COLIN TIERNAN/The Spokesman-Review)Buy a print of this photo
The decision of former state Senate Majority Leader Lisa Brown to run for mayor promises to energize the race to lead Spokane.
Long rumored to be pursuing a campaign for mayor, Brown walked onto the stage at the Women's Club of Spokane at 1428 W. Ninth Ave. Thursday morning as a few bars of Ben Harper's "Better Way" played over the loudspeakers.
"I'm Lisa Brown, and I do believe in a better way," she told a crowd of supporters. "We can get this city, that is stuck in neutral, moving again."
Brown's campaign announcement largely focused on a message of collaboration and optimism for the future of Spokane.
"Despite the political polarization that we've all experienced, that's caused many people to feel discouraged or tune out, I believe there will always be more that unites us than divides us," she said.
Brown, who recently left a job as the director of the state Department of Commerce, enters the race with decades of experience in Spokane politics, including her 2018 run for Congress against Rep. Cathy McMorris Rodgers. She raised more than $5 million for her congressional bid.
Brown noted her long connection to Spokane, both as a longtime educator at Eastern Washington University and the chancellor of Washington State University Spokane, and local legislative victories during her time in Olympia.
She recalled marching in the city's first Pride Parade in 1992, helping to secure funding for the Crosswalk youth shelter, and championing tax breaks for those making movies in Washington. She told the audience about her work to save the Fox Theater in 2000, convincing Gov. Christine Gregoire and the Legislature to save the downtown landmark.
But Brown also took aim at the current leadership of Mayor Nadine Woodward.
"I'm running for mayor because the ineffective leadership coming out of the Mayor Woodward's office has been holding us back," she said.
Brown criticized "excessive turnover" within the administration and the rhetoric out of the mayor's office.
"There's too much conflict," she said. "Conflict with the council, conflict with the state, conflict with communities of color."
Brown said Woodward had failed to make progress on her primary campaign promises, addressing homelessness and crime downtown.
"But most people would tell you that we have made little genuine progress on those issues, and many would say that they feel worse," she said.
Specifically, Brown criticized the city's focus on the large congregant shelter on East Trent Avenue to address the homelessness crisis, arguing that there is a better way. When asked to clarify what she believed should be done with the facility, which the City Council has expressed interest in purchasing, Brown didn't provide specifics.
"It could very well be that Trent is a part of our system going forward, because perhaps we need a big emergency response space in case of an ice storm or another type of natural disaster," she said.
Brown, 66, was appointed by Gov. Jay Inslee to serve as director of the state Department of Commerce in February 2019. In that role, Brown has overseen the at-times controversial dispersal of funds to house homeless encampments on state rights of way, including Spokane's Camp Hope.
Woodward, who announced last July that she would be running for reelection, has clashed publicly with Brown over the encampment.
Both have alternatively criticized the other for the lack of progress in clearing the camp and getting those living there into more humane housing.
In February, the state Department of Commerce announced Brown would be stepping down from that position, though no reason was given at the time.
Brown previously represented the 3rd Legislative District in Spokane in the state House of Representatives from 1993 to 1996, and in the state Senate until 2013.
Brown served as chancellor of Washington State University Spokane from 2013 to 2017.
S-R reporter Laurel Demkovich contributed to this report.
Local journalism is essential.
Give directly to The Spokesman-Review's Northwest Passages community forums series -- which helps to offset the costs of several reporter and editor positions at the newspaper -- by using the easy options below. Gifts processed in this system are not tax deductible, but are predominately used to help meet the local financial requirements needed to receive national matching-grant funds.
Subscribe now to get breaking news alerts in your email inbox
Get breaking news delivered to your inbox as it happens.
---