Sports > High school sports
State 4A/3A boys: No. 1 Mt. Spokane blows out 10th-seeded Bellevue in physical game; Gonzaga Prep falls to Olympia
March 2, 2023 Updated Tue., March 7, 2023 at 5:11 p.m.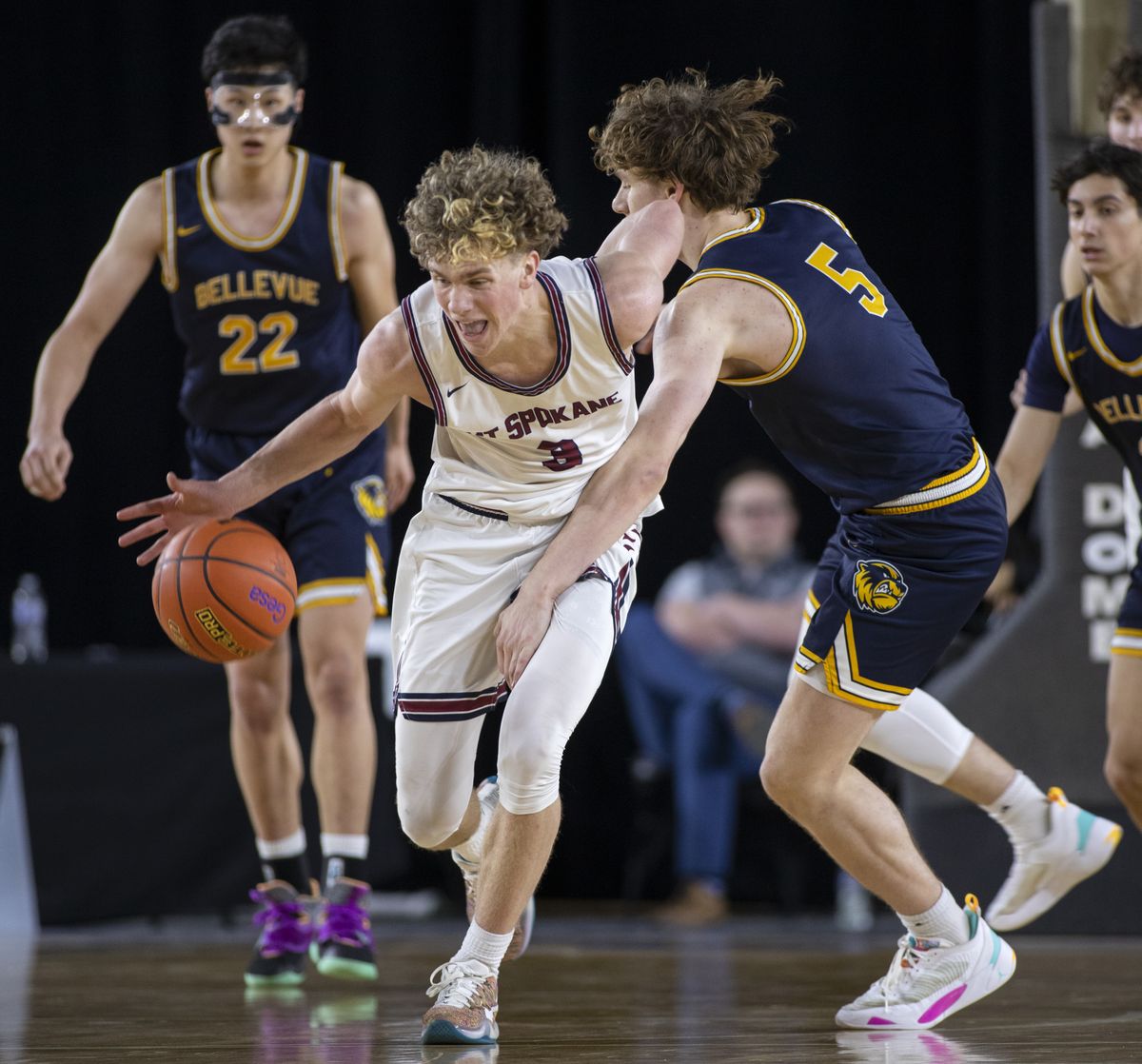 Mt. Spokane's Ryan Lafferty draws a foul from Bellevue's Andrew Gooding on Thursday in the State 3A basketball tournament in Tacoma. (Patrick Hagerty)
TACOMA — When the Mt. Spokane boys team stepped on the floor at the Tacoma Dome last season, it was as a No. 7 seed. Those Wildcats reached a State 3A semifinal before falling to Rainier Beach and Seattle Prep on back-to-back nights to finish fifth.
This season, it's a different story.
Ryan Lafferty scored 21 points, hitting 9 of 12 from the line, and Maverick Sanders added 18 points and eight boards and Mt. Spokane routed Bellevue 72-43 on Thursday.
Mt. Spokane (24-1) advanced to a semifinal against fifth-seeded O'Dea at 7:15 p.m. Friday. Bellevue dropped into the fourth-place bracket against No. 6 Mountlake Terrace.
Mt. Spokane dispatched Rainier Beach on Saturday in a protected first-round game. The Wildcats took the court Thursday for their semifinal as the undisputed top seed in the highly contested tournament.
That distinction was earned, not given. Mt. Spokane's only loss this season was to 4A No. 1 seed Curtis, a 76-55 decision at the Vikings Holiday Tournament in December. Curtis reached the semifinals of the 4A bracket earlier in the day.
Mt. Spokane's opponent, the 10th-seeded Wolverines, went undefeated in the KingCo League and won 12 in a row to end the regular season. But they ran into O'Dea and Garfield at district and had to knock off Auburn Mountainview 64-35 in the loser-out opening round to qualify.
Once in Tacoma, Bellevue upset No. 7 Timberline 52-49 in overtime in the round-of-12 on Wednesday to reach its date with the Wildcats.
It was a blowout early and Bellevue (23-5) extended its misery with a needless string of fouls late in the game.
The Wildcats went 30 of 40 at the line and shot 22 free throws in the fourth quarter, many coming after the lead had reached 25 points.
"I'm not entirely certain what the tactic was there to just foul at the end," Mt. Spokane coach David Wagenblast said. "I'm just thankful that none of our kids got hurt. But I was really proud of our guys for holding their cool and playing basketball until the end of the game."
"We're hungry this year," Lafferty said of the effort. "You know, we've been here before, we know what it's like losing that semifinal. So, we're gonna come out with a lot of energy and with everything we got and hopefully get the (win) tomorrow."
It was physical from the start. There were more turnovers than makes in the first quarter, which ended with Mt. Spokane ahead 11-6.
Sanders scored on a couple of floaters early in the second quarter as the Wildcats completed a 10-0 run. The Wildcats held Bellevue to two baskets in the second quarter and Mt. Spokane led 26-12 at the half.
Bellevue went 5 of 24 (21%) in the first half.
"It was our half-court defense," Lafferty said. "Our press wasn't doing great. So we just got back in half court and stayed solid. Everyone was doing their job. And we were boxing out, and getting rebounds was big for us."
Sanders' second 3 early in the third quarter stretched the lead to 21. He had eight points in the quarter and the Wildcats led 46-26 entering the fourth. Lafferty scored seven in the fourth.
"We're pretty fortunate to have a whole bunch of guys who are really good basketball players," Wagenblast said. "They trust each other, and they're willing to play and set up each other. And that's why, I think, that's why we're in the semifinals."
4A
(3) Olympia 51, (5) Gonzaga Prep 47: Washington State commit Parker Gerrits and 6-foot-7 post Andreas Engholm scored 14 points apiece and the Bears (24-5) withstood a fourth-quarter rally to edge the Bullpups (22-5) in a quarterfinal.
Olympia advances to a semifinal on Friday at 5:30 p.m. Gonzaga Prep falls into the fourth-place bracket against eighth-seeded Richland at 10:30 a.m.
Jamil Miller and Henry Sandberg led G-Prep with 14 points apiece. The Bullpups trailed by as many as 14 in the second half and entered the fourth quarter down by nine.
"Our kids deserve a ton of credit," Gonzaga Prep coach Matty McIntyre said. "They played their hearts out. A lot of teams might have folded being down double digits in second half. We just kept grinding. Kids made big shots, big defensive possessions, and it just came down to a possession."
Gerrits hit from NBA range late in the third and Oly took a 37-28 lead into the fourth quarter.
Miller scored twice inside, and Sandburg buried a 3 with 3 1/2 minutes to go to get it to six. Jayce Swanson made a 3, Sandberg hit both ends of a 1-and-1 and it was a two-point game with 1:50 left.
But Miller missed three consecutive free throws then Sandberg missed a long 3 with 20 seconds to go. Olympia tacked on a pair of late free throws to ice it.
"There's a lot of teams would love to still be playing basketball at this point in the season," McIntyre said. "So, we'll come back tomorrow, and we'll try to take advantage of the opportunity given to us."
The Bullpups went scoreless over the final 3 minutes of the first quarter and first 2 minutes of the second and trailed 22-11.
Miller picked up this third foul of the half, his second on the offensive end, with 4 1/2 minutes left in the second and went to the bench. Olympia led 28-18 at the half, with the Bullpups shooting 28% (6 of 21).
"We just did not shoot the ball very well," McIntyre said. "We were having trouble getting in any sort of flow but credit to Olympia. Their defense is very stout."
Local journalism is essential.
Give directly to The Spokesman-Review's Northwest Passages community forums series -- which helps to offset the costs of several reporter and editor positions at the newspaper -- by using the easy options below. Gifts processed in this system are not tax deductible, but are predominately used to help meet the local financial requirements needed to receive national matching-grant funds.
Subscribe to the sports newsletter
Get the day's top sports headlines and breaking news delivered to your inbox by subscribing here.
---