News > Washington
Sausage brings the small community of Uniontown together every year, even as some aspects of its annual feed change
Fri., March 3, 2023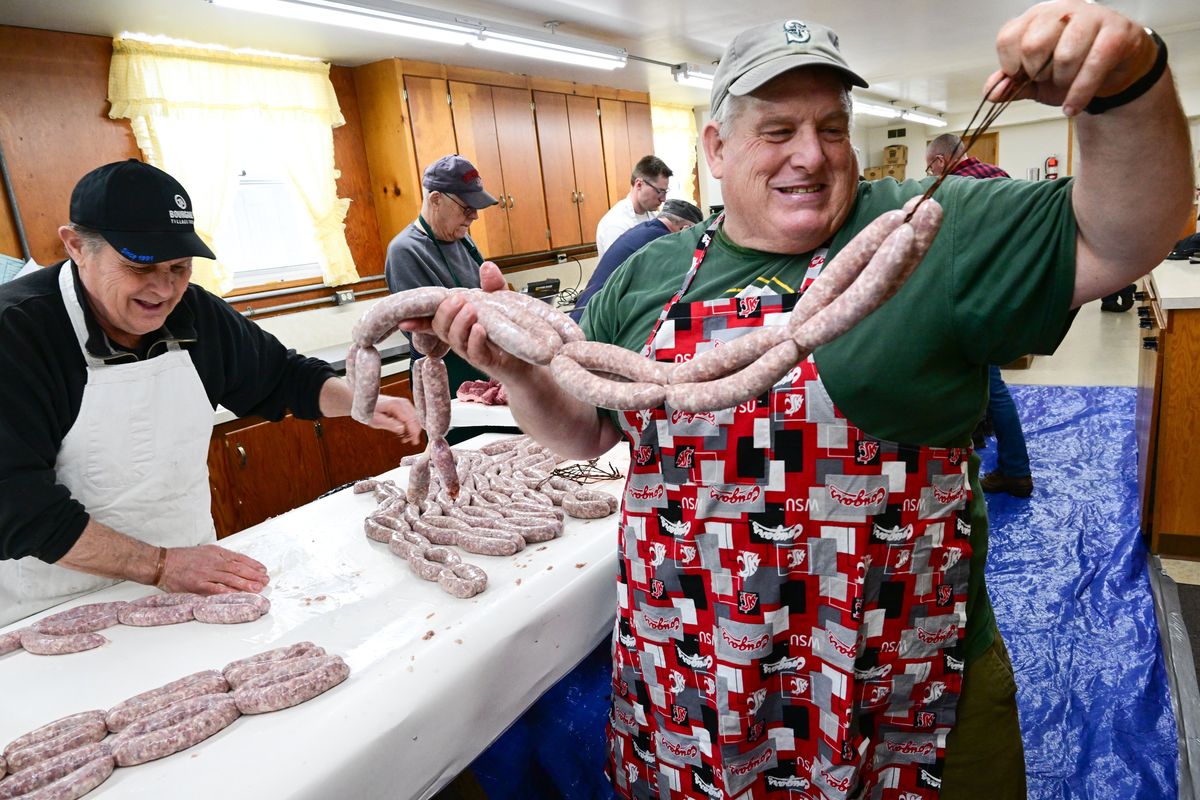 Ed Wolf, left, laughs as Tom Becker, right, hoists fresh sausage links from a preperation table to a storage box as the pair work with other volunteers on Thursday, March 2, 2023, to convert thousands of pounds of meat into sausage for Uniontown's Sausage Feed to be held Sunday, March 5, from 10 am to 5 pm at the Uniontown Community Building in Uniontown, Wash. (Tyler Tjomsland/The Spokesman-Review)Buy a print of this photo
UNIONTOWN, Wash. – A dozen volunteers were hard at work in the basement kitchen of the Uniontown Community Building on Thursday morning preparing a ton of sausage links for the town's 70th Annual Sausage Feed this weekend.
But due to a shortage of volunteers, the event will be held as a drive-thru, again.
"What we are finding is, I think it is going to be hard to go back to in-house," said Todd Heitstuman, one of the organizers.
The Whitman County town has fewer than 400 people, yet organizers expect to serve up to 1,600 meals on Sunday. The fundraiser supports operating costs for the town's community building, a gathering place that can be rented for meetings, weddings and funerals.
Usually held the first weekend of March, the sausage feed barely made it through as normal before everything shut down in 2020. It continued as a drive-thru for the last two years because of the COVID-19 pandemic.
Organizers realized the drive-thru required fewer volunteers.
"There is just so much more involvement, and we were able to cut that down with the drive-thru," said Heitstuman, who remembers busing tables for the event as a child.
At this point, it may be difficult to re-recruit volunteers.
When the sausage feed started as a celebration of the town's German heritage in 1954, families were larger with more children to help out. Now, many volunteers are relatives from out of town.
Heitstuman expects to have about 100 volunteers working in shifts on Sunday.
"It has been a slow decline of volunteers," he said.
Organizers had hoped to return to an in-person, sit-down, all-you-can-eat dinner this year. Traditionally, the sausage feed is a time for community members to socialize. In past years, the line of people waiting for sausage would lead out of the basement dining area, upstairs, circle around inside the gym and head back outside.
Nevertheless, the drive-thru worked surprisingly well the last couple of years, and some prefer it.
"A lot of people really liked the drive-thru because they don't have to stand in line," said Julie Hartwig, another organizer.
The line of cars moves fast, and it's more convenient for out-of-towners.
It's also an easier job for the volunteers with less cleanup.
But the prep work remains the same. An assembly line of volunteers joked around as they diced up more than 2,000 pounds of pork shoulder, seasoned the chunks, fed the meat into a grinder, then pulled the links through a sausage stuffer. The sausages were taken to a smokehouse Thursday afternoon.
"This is just something we do," Nick Wolf said of the town tradition as he cheerfully sliced through a pile of meat. His father was one of the event's founders.
On Sunday, $15 buys three smoked sausages served with mashed potatoes, sauerkraut, green beans, applesauce, a roll and a choice of pie.
"It's just a good value for the dinner you're getting," Wolf said.
Local journalism is essential.
Give directly to The Spokesman-Review's Northwest Passages community forums series -- which helps to offset the costs of several reporter and editor positions at the newspaper -- by using the easy options below. Gifts processed in this system are not tax deductible, but are predominately used to help meet the local financial requirements needed to receive national matching-grant funds.
Subscribe now to get breaking news alerts in your email inbox
Get breaking news delivered to your inbox as it happens.
---