Sports > High school sports
State 4A/3A girls: Teryn Gardner's 25 points not enough, Mead falls to No. 1 Garfield in 3A semifinal; Gonzaga Prep knocked out by 4A No. 1 Woodinville
March 3, 2023 Updated Fri., March 3, 2023 at 7:53 p.m.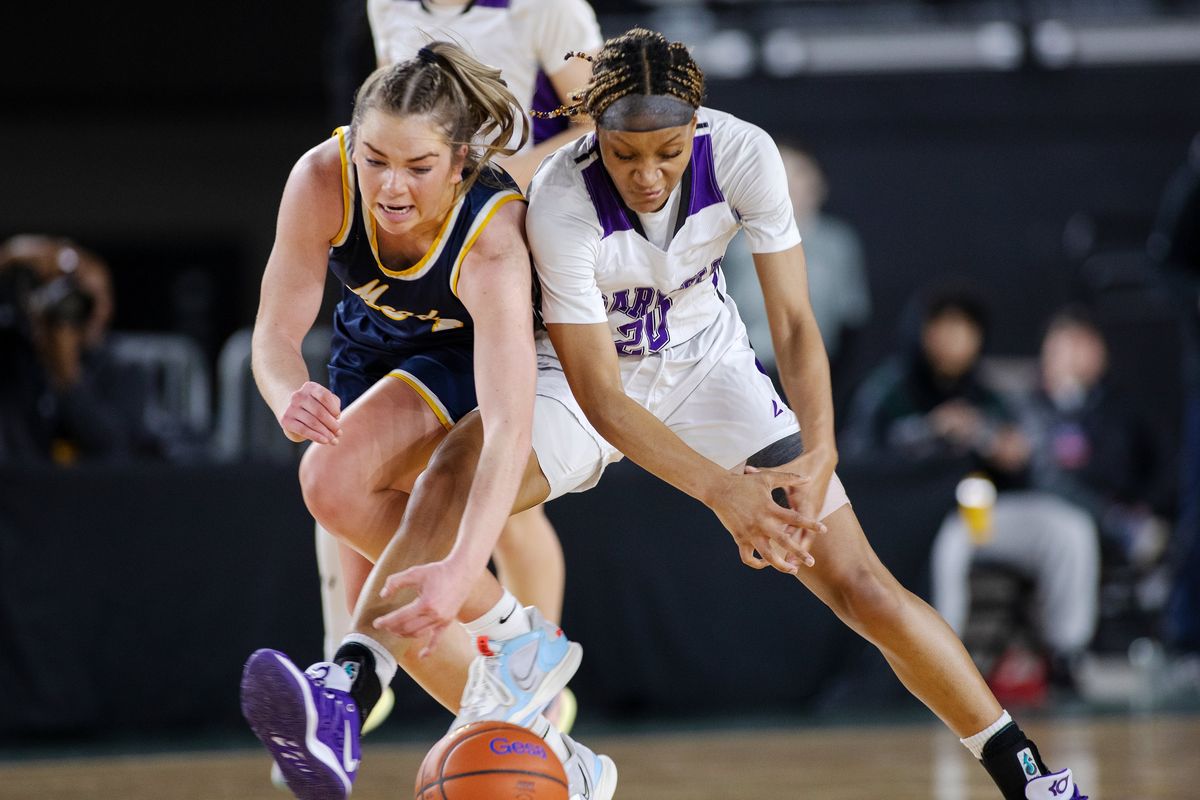 Mead's Teryn Gardner, left, steals the ball from Garfield's Rakiyah Jackson during action in the semi-finals of the 3A Girls State Basketball Tournament in Tacoma, Wash., on Friday, March 3, 2023. Mead lost the contest 63-54. They'll play for 3rd place on Saturday. (Patrick Hagerty/FOR THE SPOKESMAN-REVIEW)Buy a print of this photo
TACOMA – If Mead was intimidated by Garfield's size or reputation coming into its State 3A semifinal matchup at the Tacoma Dome on Friday, it didn't show.
The Panthers' calling card all season was pressure defense and tons of Teryn Gardner. That didn't change, either.
What started with an even, frenetic scoring pace ended up as a defensive slugfest, and the No. 1 seed handled it better in the second half, led by their nationally ranked prospect.
Katie Fiso, a top-40 recruit in the class of 2024, scored 26 points, including 20 in the second half, and added 10 rebounds as top-seeded Garfield downed the fourth-seeded Panthers 63-54.
Garfield moves into the title game against Lake Washington. Mead will play Arlington for third place at 11:15 a.m.
Gardner led the Panthers with 25 points but had just five after halftime until a 3-pointer at the horn. Fiso drew the defensive assignment on Gardner after halftime.
"We had too many turnovers in the second half. She's long, Fiso," Mead coach Quantae Anderson said. "Just super long.
"But we had a lot of turnovers and we passed up some good shots that we should have taken. We talk about believing in each other and believing in ourselves and to be able to take some big shots and sometimes we just didn't take them."
The score was tied at halftime, but Mead managed just six points in the third quarter as Garfield opened up a 10-point lead.
"You know, I'm super proud of them," Anderson said. "We played as hard as we can for as long as we can. We'll walk out of here with our heads held high and we have a chance tomorrow to finish higher than we did last year."
Gardner went right at Garfield's 6-foot-3 forwards Imbie Jones and Sarah Lessig in the first quarter. She scored 12 points in the quarter, shooting 6 of 6 at the free-throw line, and the score was tied at 20 after one quarter.
The scoring pace slowed dramatically in the second quarter – the teams combined for five points in the first 4 minutes.
Fiso picked up a basket, then hit 3 of 4 at the line. Gardner scored on a breakaway, then Natalie Braun converted a three-point play. Garfield's Jayda Lewis scored on a putback at the horn to tie it at 28.
The Bulldogs found their offense in the third quarter. With 2 minutes left, Fiso drove for a layup and converted the free throw, then full-court pressure created a turnover and basket as Garfield opened an eight-point lead.
Fiso added another short jumper and had nine in the quarter as Garfield opened up a 44-34 lead entering the fourth quarter. Garfield completely shut down the Panthers in the paint.
"We did a really good job of that in the first half," Anderson said, "and then I think that length just started to bother them a little around the hoop."
Jones hit a 3-pointer to open the fourth. Fiso added one moments later, and the lead grew to 13.
Late in the fourth quarter, with Mead called for its ninth foul of the half against three on Garfield, Mead was assessed a bench technical and Fiso sank both free throws for the exclamation point
.
4A
(1) Woodinville 47, (12) Gonzaga Prep 35: Jacey Eggers totaled 12 points and 12 rebounds, and the Falcons (25-2) eliminated the Bullpups (19-7) in a fourth-place bracket game.
Woodinville faces eighth-seeded Emerald Ridge in the fourth-place game Saturday at 9:30 a.m.
G-Prep trailed by one point entering the fourth quarter but was held to five points as the tournament's top seed pulled away.
"No one expected us to be here and we kind of took that as a challenge to prove people wrong," senior Lucy Lynn said. "So, we did a great job."
Senior Taliah Lee led G-Prep with 11 points and seven rebounds. Lynn, a Greater Spokane League first-team selection, was held to six points.
Olivia McIntyre hit a 3-pointer late in the first quarter, the Bullpups' only basket of the quarter, and G-Prep trailed 10-7 .
The Bullpups started the second quarter on a 10-1 run and led by nine, but Woodinville responded in the latter stages and the score was tied at 22 at halftime. Neither team broke double digits in the third quarter and Woodinville led by one entering the fourth quarter.
G-Prep failed to score the first 2½ minutes of the fourth quarter and fell behind by nine.
"We just wanted to battle one last time together," Lynn said. "I love these girls. They're my best friends."
Local journalism is essential.
Give directly to The Spokesman-Review's Northwest Passages community forums series -- which helps to offset the costs of several reporter and editor positions at the newspaper -- by using the easy options below. Gifts processed in this system are not tax deductible, but are predominately used to help meet the local financial requirements needed to receive national matching-grant funds.
Subscribe to the sports newsletter
Get the day's top sports headlines and breaking news delivered to your inbox by subscribing here.
---