News > Crime/Public Safety
Dose of prevention in Clark County's fentanyl fight
Sun., March 5, 2023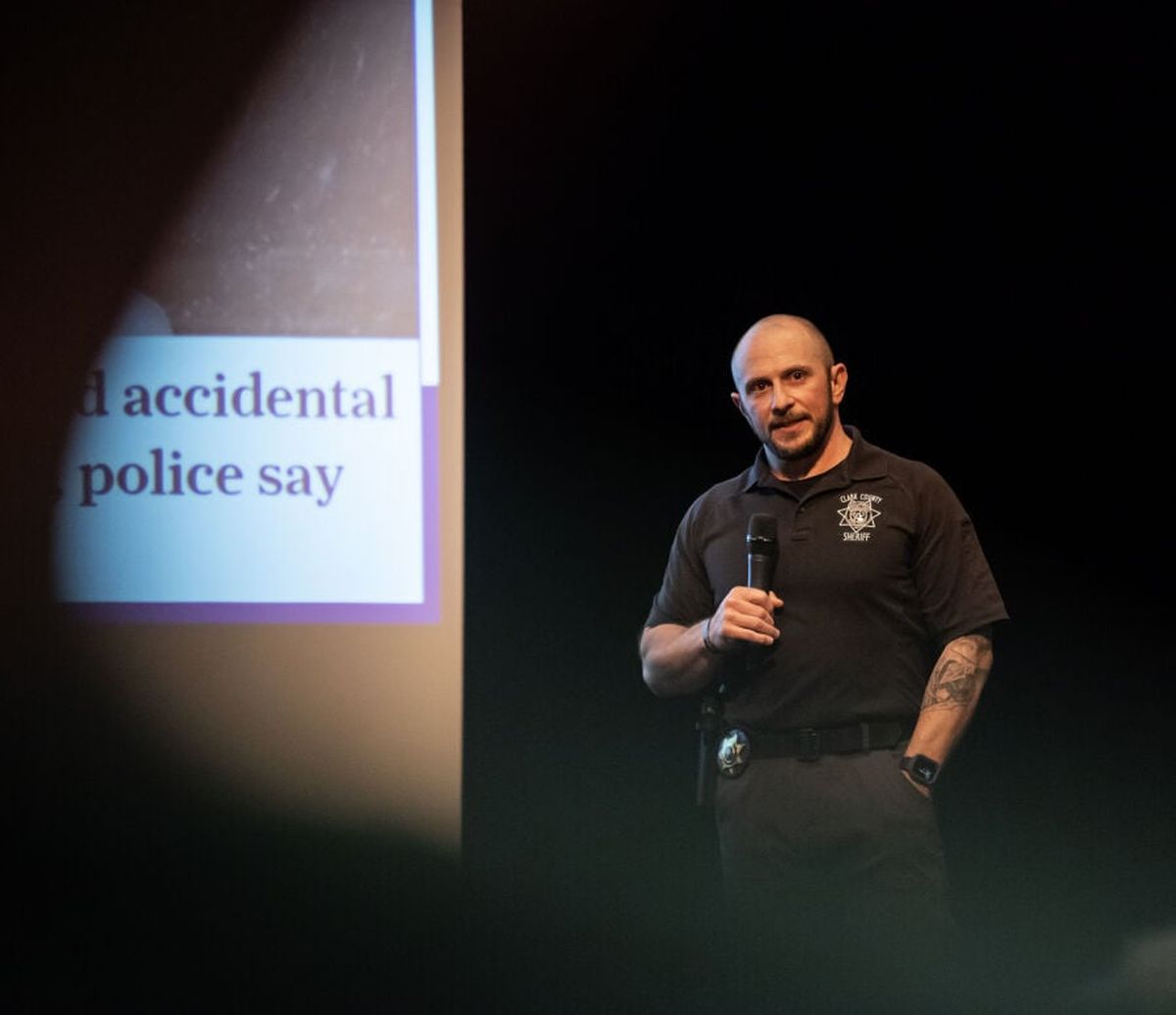 Clark County Sheriff's Office Sgt. Bill Sofianos said he became involved in leading presentations on the dangers of fentanyl after a Hudson's Bay High School student died of an overdose in a school restroom last year. (Elayna Yussen/For the Columbian)
VANCOUVER, Wash. – The tasks of teaching about the dangers of fentanyl and how to save someone suffering from an overdose are being spearheaded by a Vancouver Girl Scout and a Clark County sheriff's sergeant.
Katie Thornton, a junior at Henrietta Lacks Health and Bioscience High School, has been working with a public health nurse to offer overdose response and training sessions for students and faculty at a number of schools.
Bill Sofianos, a Clark County sheriff's sergeant, has held evening information sessions in several school districts around the county.
Both said they were motivated by last year's death of a Hudson's Bay High School student from a fentanyl overdose in one of the school's restrooms.
Neither can do it alone. But for now, they are.
While law enforcement, school and public health experts all agree students need to learn more about the dangers of fentanyl, the information has been shared to a limited number of mostly adults – with little information and virtually no hands-on training for how to help save someone suffering from an overdose.
Signs of an overdose and how to respond
Signs of an opioid overdose include falling asleep or losing consciousness; constricted pupils; slow, weak or no breathing; choking or gurgling sounds; cold or clammy skin; and discolored skin, according to the Centers for Disease Control and Prevention.
If you think someone is showing signs of an overdose, call 911 immediately. Washington's Good Samaritan Overdose Law protects you and the person you are helping from drug-possession charges.
Here are some tips on how to respond to an opioid overdose, according to stopoverdose.org: First, try waking the person up. If they are unresponsive, immediately call 911 and stay with them until help arrives. If you have naloxone, also known as Narcan, administer one dose and practice rescue breathing. If the person does not wake up after 2 to 3 minutes, give them another dose.
For more information and access to naloxone trainings, visit clark.wa.gov/public-health/overdose-prevention-and-response and stopoverdose.org.
"I don't know anyone else who's doing this (for students) in our community," said Brandy Benedict, the public health nurse with Clark County Public Health's Harm Reduction Program who aided in Thornton's presentations. "This is a trailblazing project, I was honored to be asked to support her work. But it's especially meaningful because she's part of the population she's advocating for."
Student-to-student learning
Illicit fentanyl is a cheap and extremely potent opioid that is being sold on its own or laced into other drugs. Its rapid introduction into Clark County has caused fentanyl-related deaths by overdose to soar from 10 in 2017 to 51 in 2021, according to Clark County Public Health data. That number will likely be even higher for 2022, Sofianos said.
The remedy for a fentanyl overdose is to call 911 and administer naloxone, also referred to as Narcan – a brand name for a naloxone-delivery device – at the slightest chance the person is experiencing an opioid overdose, according to Benedict.
"If you think there is any possibility that this person is overdosing, you can give Narcan," Benedict said. "If you're wrong, you gave medication to somebody that didn't need it that won't have any effect, you got them help coming because you called 911, and you saved their brain because you breathed for them. So you could save a life."
That message was key to a recent standing-room-only lunch break session in a Spanish classroom at Heritage High School put on by Thornton and Benedict.
In a 15-minute training, Benedict demonstrated how to use the Narcan nasal spray on a dummy, and then showed the audience how to practice basic CPR. At the end of the training, she handed out flyers connecting people with community resources, including where to access naloxone for free.
Thornton decided to bring naloxone trainings to her peers at high schools throughout Clark County after hearing about dangers of fentanyl.
"Deaths shouldn't be happening from something like this because it's so preventable, and we have the resources to tackle it," Thornton said.
Sergeant on a mission
Much like a classroom during lunchtime, the auditorium at Evergreen High School isn't often filled with people on an average Thursday evening. On the Feb. 9 agenda was the topic of fentanyl and its rapid introduction to Southwest Washington, led by Sofianos.
Since the start of the 2022-2023 school year, Sofianos has given presentations about how his agency has worked to track the spread of fentanyl and identify major drug dealers. His presence in schools underscores perhaps his largest point about the drug – that he believes it's being marketed to children.
"The goal is to educate students," Sofianos said. "When I started the presentation, it was made specifically to get information out to that age group to educate them on what the drug is, why it's so dangerous and do more to establish 'buy-in' to treat them like the intelligent kids they are so that they can make good decisions."
However – with the exception of a small handful of students, including Thornton herself – the vast majority of Sofianos' audience at recent Evergreen and Vancouver school district presentations were parents and adults. He said that trend has been consistent across all the districts he's visited.
Following the showcasing of data on fentanyl's unpredictable lethality and increased presence in Clark County, outspoken meeting attendees agreed that the presentation needs to be given in the classroom as opposed to an optional after-school setting.
"My preference is that the kids get this information somehow," Sofianos said. "It doesn't have to be through me."
Telling the whole story
Lessons emphasizing the dangers of fentanyl and why kids need to steer clear are important, but Benedict says there is a need for more attention given to how students and parents can respond to overdoses or treat long-term addiction issues.
"I think fentanyl gets a lot of headlines, but it needs to be a two-part message," Benedict said. "To my mind, if you're going to provide information about risk, the next piece needs to be 'so what?' I value having an actionable option for people."
For his part, Sofianos said lessons on how to use Narcan and where to seek help shouldn't be his responsibility.
"Obviously, (recovery) is extremely important and people should know it, but I can only talk for so long and hold people's attention for so long," he said. "Narcan training should be provided, but CCSO aren't at the level of leading such trainings. For me to expand and teach people how to use Narcan isn't in the cards, but if another agency wants to do so, then they should."
Sofianos said that he created the presentation with a sense of urgency following an increase in fentanyl-related overdose deaths, including a student in May 2022 at Hudson's Bay High School.
"I don't want to wait around a month or week or year to put out the information that needs to be put out," he said. "I'm not up to speed on all the resources available for addiction. Maybe I should be, maybe I should look into it. I haven't reached out to other entities … nobody's reached out to me. So if these other groups aren't doing enough, then that's up to them. I have my lane, all that other stuff needs to be someone else's ballpark."
Where to get Naloxone
Naloxone is available throughout Clark County and can be obtained and administered by any community member, according to the Washington state Department of Health. If you think there is any possibility you may be around someone experiencing an opioid overdose, public health officials recommend carrying at least one dose of naloxone, though it may take a few doses to work.
Naloxone can be ordered directly from a local pharmacy, with no prescription needed. There are also three free naloxone vending machines around Clark County, located at Xchange Church & Recovery Center, 21810 N.E. 37th Ave., Ridgefield; Lifeline Connections Recovery Resource Center, 9317 N.E. Highway 99, Suite M, Vancouver; and Recovery Café, 3312 E. Fourth Plain Blvd., Suite 100, Vancouver.
Naloxone can also be ordered online and delivered to your home for free at phra.org/mail-order-naloxone. To find Naloxone near you, visit stopoverdose.org/find-naloxone-near-me-washington-state.
Schools are responding
State law requires each school district to stock naloxone in each high school. In the last year or so, school districts have taken a step further to stock every school building with Narcan to help respond in cases of opioid overdoses.
Some districts, such as Ridgefield School District, have installed easy-to-access, labeled wall-mounted doses much like an AED; Battle Ground Public Schools is also adding 12 of the same such kits in the coming months.
For the most part, these resources are purchased using funds from districts' general funds or community donations.
Though each district's approach to adding equipment and support isn't identical and is still being implemented, a primary goal has been to get all nurses and security staff trained to use Narcan. Such trainings and staff positions are typically provided through levy funding, as state funding does not adequately support enough nurses or security staff members in larger districts.
"Narcan is typically stored in the nurse's station and there are a number of staff trained to use it in each school," said Vancouver Public Schools spokesperson Jessica Roberts. "We keep logs of who has been trained in each school and have a plan to replenish doses in the unfortunate event that we may need to use one."
Battle Ground Public Schools is working to provide such training to its security staff members this spring. Evergreen Public Schools, the region's largest school district, said it is distributing doses of Narcan to be placed on every school bus – paired with training for bus drivers and other support staff.
Implementation questions
Some teachers and school employees expressed concern at the Feb. 9 Evergreen presentation that they've yet to receive the dose, and they said the training for staff members amounts to no more than watching a YouTube video. Such a level of preparation, they said, didn't match the sense of urgency that the sheriff's office showcased in the presentation.
"A video is a component that people could use as a summary or as a first glance. But anything that's going to be a hands-on activity where you're entering someone's personal space needs to have a hands-on component," said Benedict.
In addition to concerns about training, attendees asked how many doses of naloxone would be carried by each staff member or placed in each location; more than a single dose is often required to counteract fentanyl. In response, Evergreen and other school districts said they would stock each school building and location with "multiple doses."
Though state law allows for anyone to carry and administer naloxone in the event of an overdose, schools require that all Narcan is stored in supervised locations and administered only by nurses, security staff and personnel who have gone through adequate training. By training students and allowing them to also carry the counteragent, schools may open themselves up to a larger pool of resources, Benedict said.
Recovery resources
Organizations across Clark County are working together to treat people with substance-use disorder. Find an extensive list of resources at doh.wa.gov/sites/default/files/2022-02/606019-BHADirectory.pdf. Here are some addiction and recovery resources around the county:
Columbia River Mental Health Services
4601 N.E. 77th Ave., Suite 180, Vancouver. For information about services offered, visit crmhs.org or call 360-993-3000.
Lifeline Connections Recovery Center
1601 E. Fourth Plain Blvd., Vancouver. For information about services offered, visit lifelineconnections.org/locations/vancouver-office or call 360-397-8246.
Recovery Café of Clark County
3312 E. Fourth Plain Blvd., Suite 100, Vancouver. For information about services offered, visit recoverycafecc.org or call 360-984-6163.
XChange Church & Recovery Center
21810 N.E. 37th Ave., Ridgefield. For information about services offered, visit driveoutaddiction.com or call 360-831-4440.
"If a student had a dose right away on campus, that could be potentially life-saving," Benedict said. "I think the more we can make (she and Thornton's presentation) a standard approach, the more we can show students how valued they are as community members. It doesn't have to be a complicated presentation, 10-15 minutes and then showing them where to go to get Narcan."
Future training sessions
By the end of March, Thornton and Benedict will have given overdose prevention and response trainings in seven different schools around Clark County, including a session in March at Prairie High School where they have permission to distribute naloxone, according to Thornton.
Though the trainings are applauded, they remain optional, meaning thousands of students will not get information on how to prevent and respond to an overdose. Thornton, Benedict and Sofianos agree that it is important that students are educated on the risks and how to respond in the case of an overdose.
Thornton is building a website that will provide information about how to recognize signs of an overdose, how to respond and where to access Narcan. She has more high school trainings planned at Columbia River High School on Tuesday and Prairie High School on March 28.
"I really do hope that schools will continue to do these trainings," Thornton said.
Students themselves have expressed a clear desire for more trainings, according to Benedict, based on the trainings she has already done in schools.
"The more that we can give (students) the information in collaboration with the tools to get Narcan, I really think that would be in their best interest," Benedict said. "It empowers students … and you never know who they are going to share this information with."
Local journalism is essential.
Give directly to The Spokesman-Review's Northwest Passages community forums series -- which helps to offset the costs of several reporter and editor positions at the newspaper -- by using the easy options below. Gifts processed in this system are not tax deductible, but are predominately used to help meet the local financial requirements needed to receive national matching-grant funds.
Subscribe now to get breaking news alerts in your email inbox
Get breaking news delivered to your inbox as it happens.
---