News > Spokane
Getting There: T.J. Meenach Drive to close next week for Cochran Basin project
Mon., March 6, 2023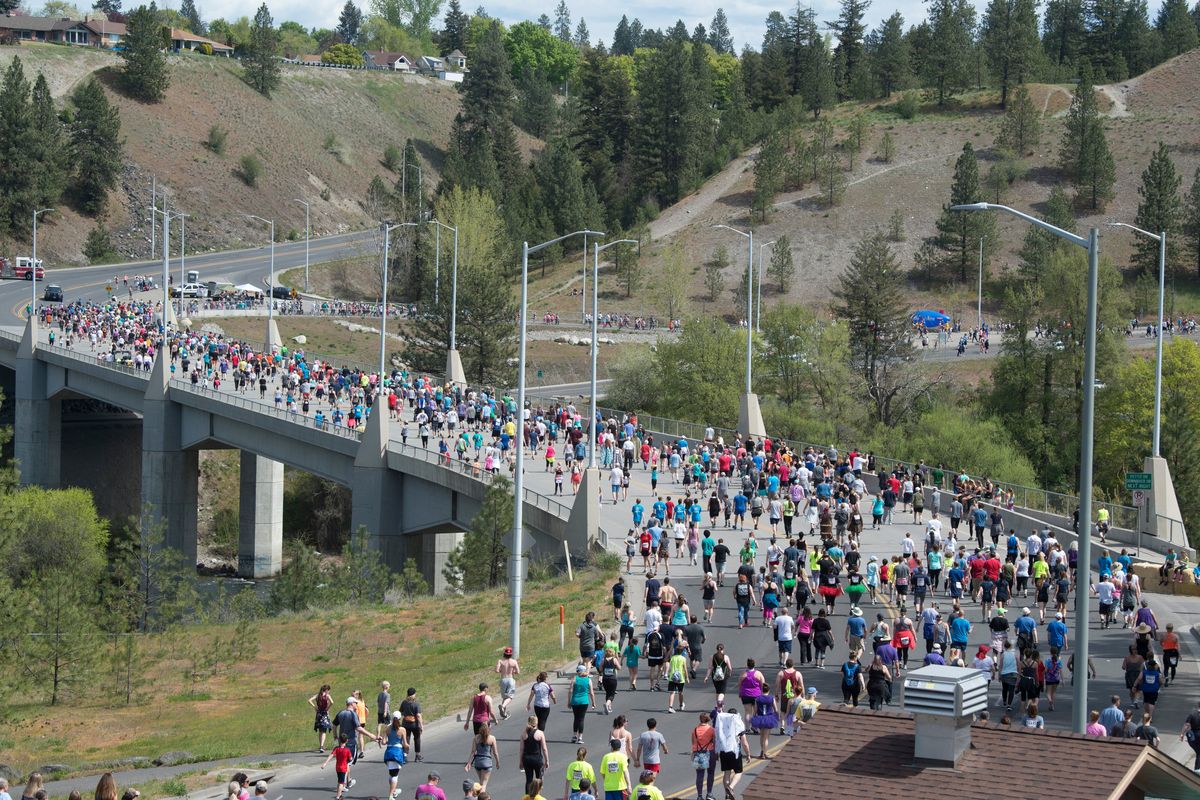 The Bloomsday throng makes its way down to the T.J. Meenach Bridge over the Spokane River in 2019 before turning up Pettet Drive, also known as Doomsday Hill. T.J. Meenach Drive on the north side of the river will close March 13 and is expected to remain closed through August for work on the Cochran Basin stormwater project. (By Jesse Tinsley/THE SPOKESMAN-REVIEW)Buy a print of this photo
A section of T.J. Meenach Drive will close next March 13 until the end of August as part of the final phase of the Cochran Basin stormwater project. The closure will disrupt North Side commuters to Spokane Falls Community College and Government Way.
T.J. Meenach Drive will close from Northwest Boulevard to Pettet Drive, but the T.J. Meenach Bridge will remain open.
The closure will allow crews to connect a pipe for the Cochran Basin project and build swales to treat runoff before it reaches the Spokane River. The road, which was in need of resurfacing, will then be repaired.
The road was supposed to close Monday, but the project was delayed a week due to weather, said Kirstin Davis, a city spokeswoman.
The detour route will have northbound motorists follow Pettet Drive to Maple Street. Southbound motorists will take Northwest Boulevard to Ash Street to Pettet Drive. Access to the T.J. Meenach Bridge and Whistalks Way will stay open at the Pettet Drive interchange.
The Downriver boat launch area will be closed for the duration of the project.
The Cochran Basin in northwest Spokane is the largest collection point for stormwater runoff in the city.
The project will connect sewer and stormwater systems to treatment facilities to prevent pollutants from reaching the Spokane River.
The project also involves improvements to the Downriver Disc Golf Course and river access.
State grants are paying for the $7 million project. Halme Construction is the lead contractor on the project.
Work to watch for
Cleveland Avenue will have intermittent lane closures from C Street to T.J. Meenach Drive as part of the Cochran Basin stormwater work.
Indian Trail Road and Lowell Avenue will have shoulder closures on Tuesday and Wednesday to install a pedestrian beacon for the crosswalk.
Replacement of the Euclid Road Bridge over BNSF tracks has begun in Spokane County. The $3.6 million bridge replacement is expected to be complete in September. The bridge will be closed with detours in place until then.
Traffic on Lyons Road between Newkirk and Euclid roads will be reduced to one way with flaggers on Monday through April 6.
The northbound lane of Abbott Road from Garden Springs to Windsor roads will be closed Wednesday for pole work.
S-R reporter Emry Dinman contributed to this report.
Local journalism is essential.
Give directly to The Spokesman-Review's Northwest Passages community forums series -- which helps to offset the costs of several reporter and editor positions at the newspaper -- by using the easy options below. Gifts processed in this system are not tax deductible, but are predominately used to help meet the local financial requirements needed to receive national matching-grant funds.
Subscribe now to get breaking news alerts in your email inbox
Get breaking news delivered to your inbox as it happens.
---