Sports
A Grip on Sports: You want to know what really stresses your fitness? Trying to watch Gonzaga win two more WCC titles
Tue., March 7, 2023 A GRIP ON SPORTS • You can learn a lot watching basketball for a week or so at a college conference tournament. We have.
•••••••
• First lesson? We've aged out of the ability to watch four games day after day. Not that we were under the mistaken impression we could. It's just confirming a hypothesis. But sitting in an arena for more than eight hours is not on our able-to-accomplish list anymore. No matter how scintillating the action is in front of us.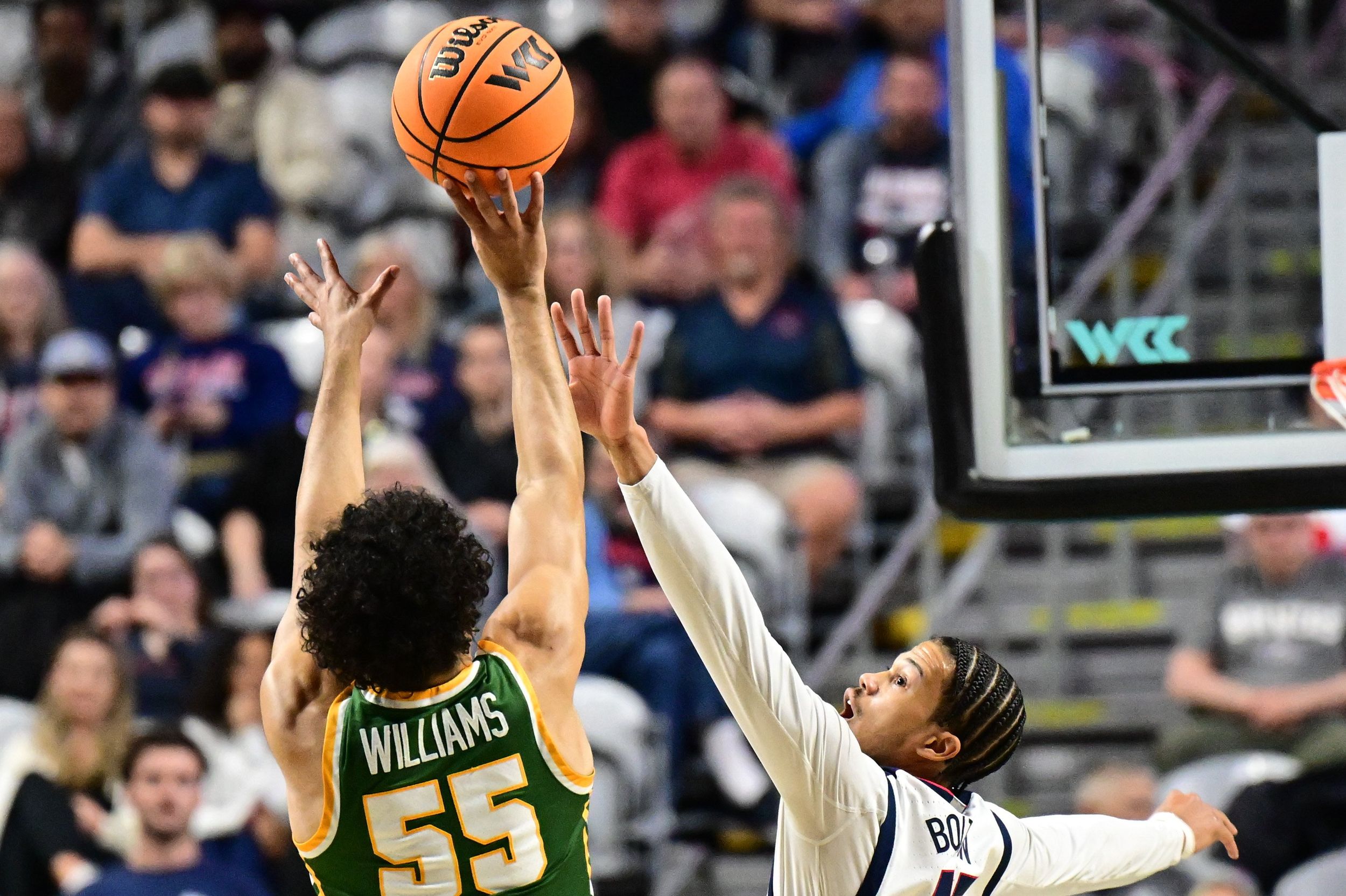 Pick and choose. That has to be the motto. It would look good on T-shirt, actually. It's also what USF did to Gonzaga's men for most of the last of the four games in the West Coast Conference tournament Monday.
(And yes, we had to unlock our phone and check the calendar to ensure we had, you know, the right day in the paragraph above.)
The Dons spent all 40 minutes trying to pick apart the Gonzaga defense. Trying to choose which of their three pin-point outside shooters – Tyrell Roberts, Marcus Williams and most importantly, Khalil Shabazz – would knock down the 3-pointer. It worked much of the game. Until crunch time.
And that's why the Zags will face Saint Mary's in tonight's title game.
It's the right two teams. The ninth-ranked Bulldogs vs. the 16th-ranked Gaels. In Las Vegas. In front of a pro-GU crowd. With another WCC title on the line. Hopefully, we have enough energy to be a part of it.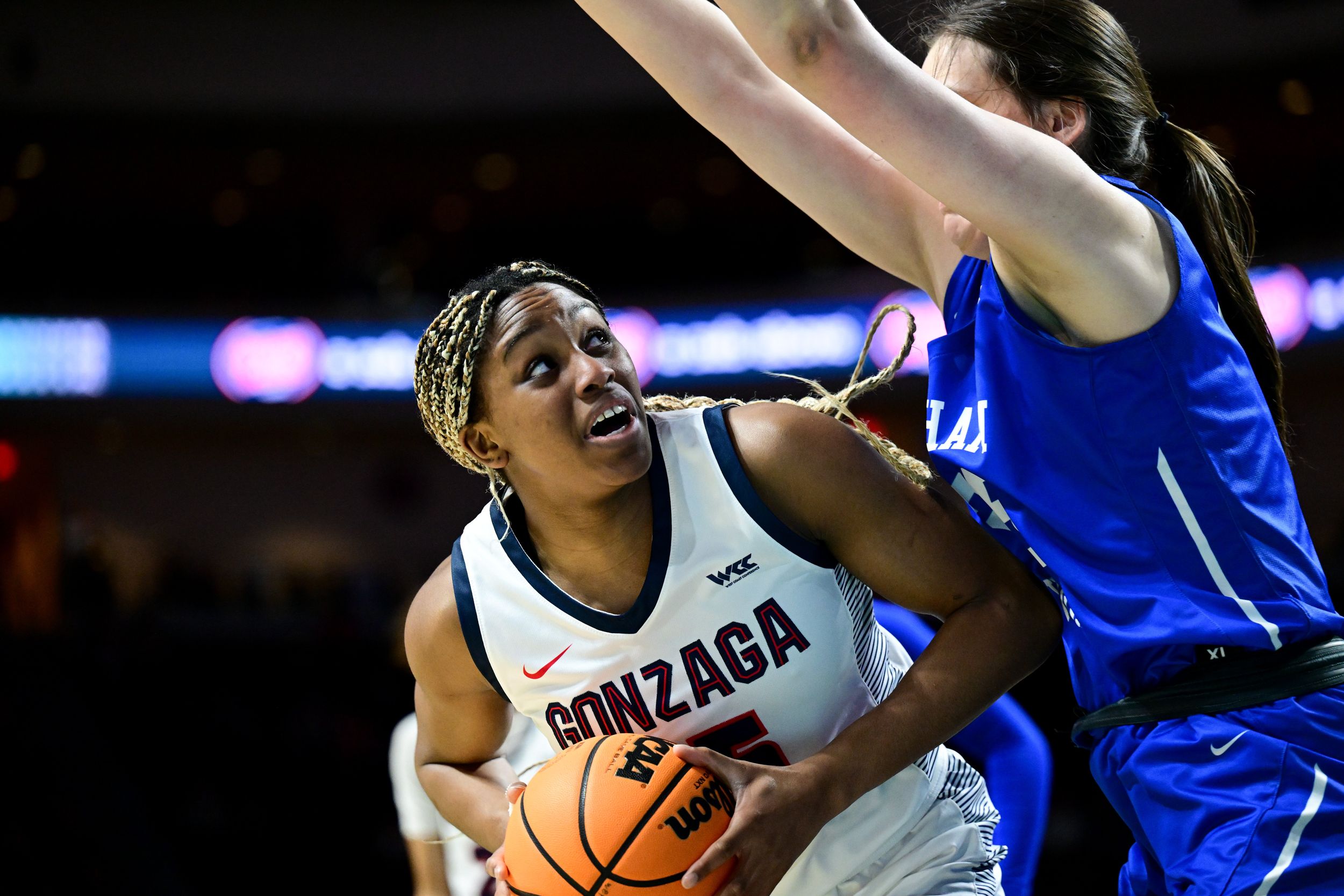 • The earlier game Monday with a Gonzaga team participating wasn't as tight. At least not after the 16th-ranked Zag women put together a 27-10 third quarter. That made the final 10 minutes relatively moot and ensured BYU would no longer be around anymore to challenge for conference supremacy. Not just today, when the top-seeded Bulldogs face second-seed Portland for the NCAA berth. But forever.
All the machinations of the past few years of conference realignment, propelled by football and the media money it attracts, have led to this.
A basketball-first conference is losing one of its top schools. Oh, don't act surprised. We all knew this was coming someday. Even back in 2012, when the Cougars left the Mountain West, sending their football team off into the oblivion of "independence" and every other sport into the WCC.
Back then, the fans of BYU's basketball program figured it was a good way to win a few titles, take home some hardware and secure a few NCAA bids. That delusion was actually somewhat realized by the women. They quickly and consistently became Gonzaga's top foil.
Of course, the men floundered around, mainly near the top of the conference standings but never getting to the pinnacle. No regular season titles. No tournament titles. A few huge upsets, sure. But that's it.
Certainly not what the school's faithful had in mind.
• No, we're not staying in Vegas to take in Washington State's now-mandated run in the upcoming Pac-12 tournament. If you are wondering why, see the paragraph above about our lack of stamina. But we certainly will be watching with interest to see if Kyle Smith's team can keep up with their female compatriots.
It won't be easy. Anything less than a title would make the answer "no."
We're still a little bit in awe of what Kamie Ethridge's squad did here. The Pac-12 is one of the better women's basketball conferences in the nation. Sure, there is no South Carolina at the top but no one besides the SEC has that either.
Stanford, Utah, Arizona, UCLA and Oregon all entered the season with respected rosters. All, along with Colorado and USC, are in the top echelon among the metrics that rule NCAA-tournament-selection thinking. And yet it's the Cougars who took home the tournament title trophy. And earned an automatic berth.
Can Smith's team duplicate those accomplishments? It's possible. Since getting pretty much healthy – due to season-ending injuries this as close as the Cougars will come – they have won six consecutive games. Part of that is the competition. But only part.
WSU is playing well. Defending, executing offensively, competing each possession. The Cougars know who they are and what they have to do to be successful. That may just be enough.
•••
WSU: If the men are to make a run in the tournament, guard T.J. Bamba will have to step up. Colton Clark has this story on his emergence in the late stages of the season. … The women's run to their first Pac-12 title lifted them into the national rankings. The Associated Press poll recognized them with a 22nd ranking. … Jon Wilner doesn't think the men will duplicate the women's feat, as he picks every game in the S-R. … Elsewhere in the Pac-12 and college basketball, Colorado will need everyone to contribute. … UCLA will probably have to win the conference tournament to earn a No. 1 seed. … Arizona has the conference best freshman. … In football news, it's the final run for a Washington linebacker. … We can pass along another Oregon State spring position preview. And a story on the quarterbacks. … Oregon has fewer tight ends on the roster. … Colorado is young but talented at cornerback. … A former Oregon defender is now at Arizona. … Finally, is the Pac-12 broken? Is the lack of a media deal a sign of its demise?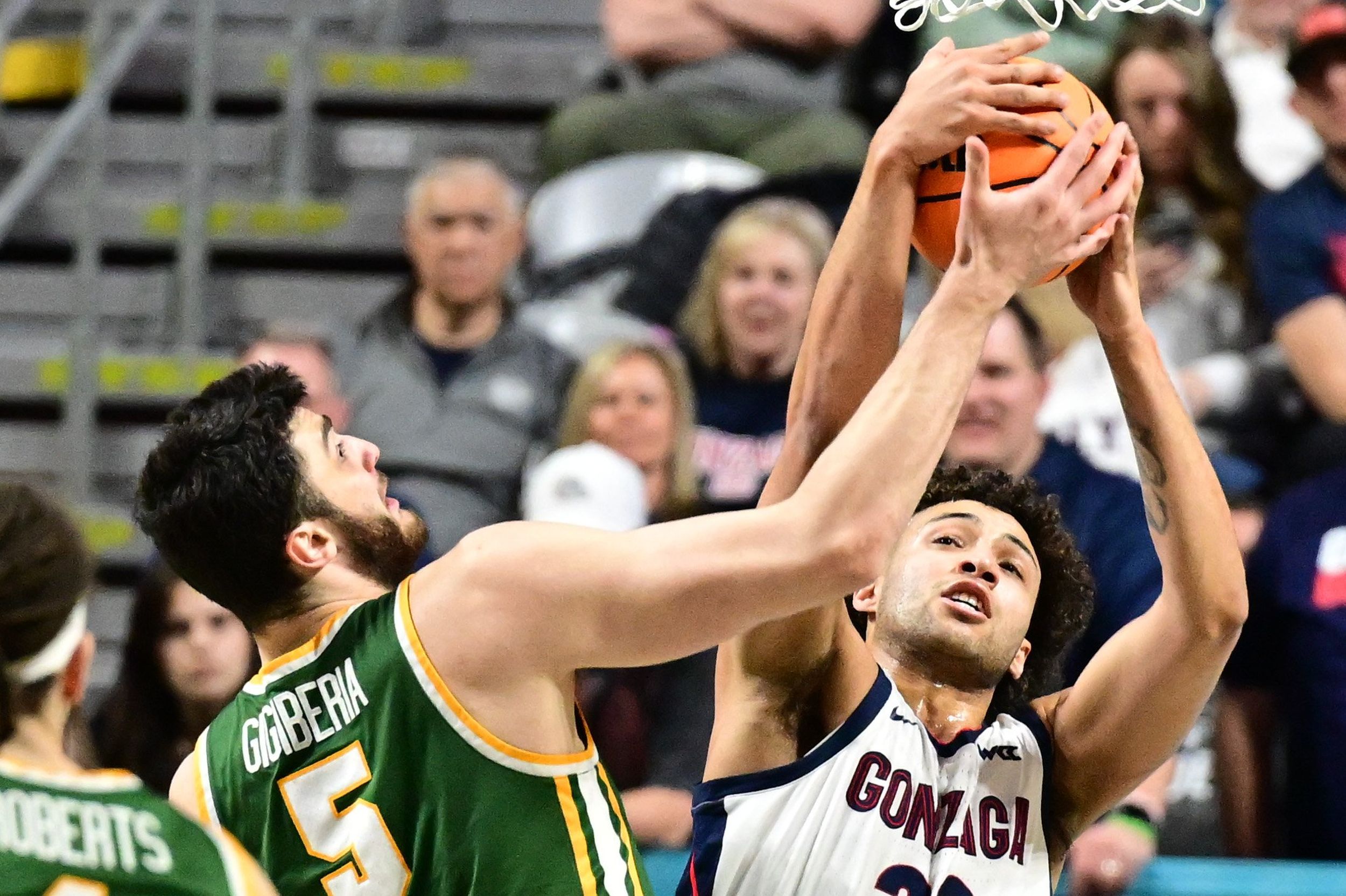 Gonzaga: The sheer number of stories we can pass along here is finger-numbing. As in our fingers will be numb by the time we set up all the links. Let's start with Jim Meehan's game coverage of the 84-73 victory over USF. … Next up is Theo Lawson's difference makers and his story on Ben Gregg's performance off the bench. The Dons' sagged off GU's bigs and Anton Watson and Gregg made them pay. … Dave Boling has a column about Watson. … Tyler Tjomsland was on the baseline and has this photo gallery. … The folks in the office put together a recap with highlights. … Jim also has a story on the rankings. … OK, there is nearly a mirror image of stories for the women, with Jim Allen doing the most, with his game story from GU's 79-64 win over BYU as well as a story on Yvonne Ejim's exceptional game. … We have this column on the end of a rivalry and Tyler has this photo gallery. … Elsewhere in the WCC, the conference introduced Stu Jackson as its new commissioner. Theo handled that aspect of the day's WCC coverage with this story and a Q&A with the new person in charge. … Yes, we're staying at the Orleans. And, yes, we're not happy about this news, covered by Thomas Clouse. And, yes, we've taken showers since we got here, though that is now stopping. … Jim Meehan also covered Saint Mary's 76-69 win over BYU in the other men's semifinal. … We have this story of Portland's victory over a game Pacific squad in the women's semifinal. … We can also pass along a USF-oriented story and a couple more on Saint Mary's win. Of course, there is plenty from BYU on both the men and women.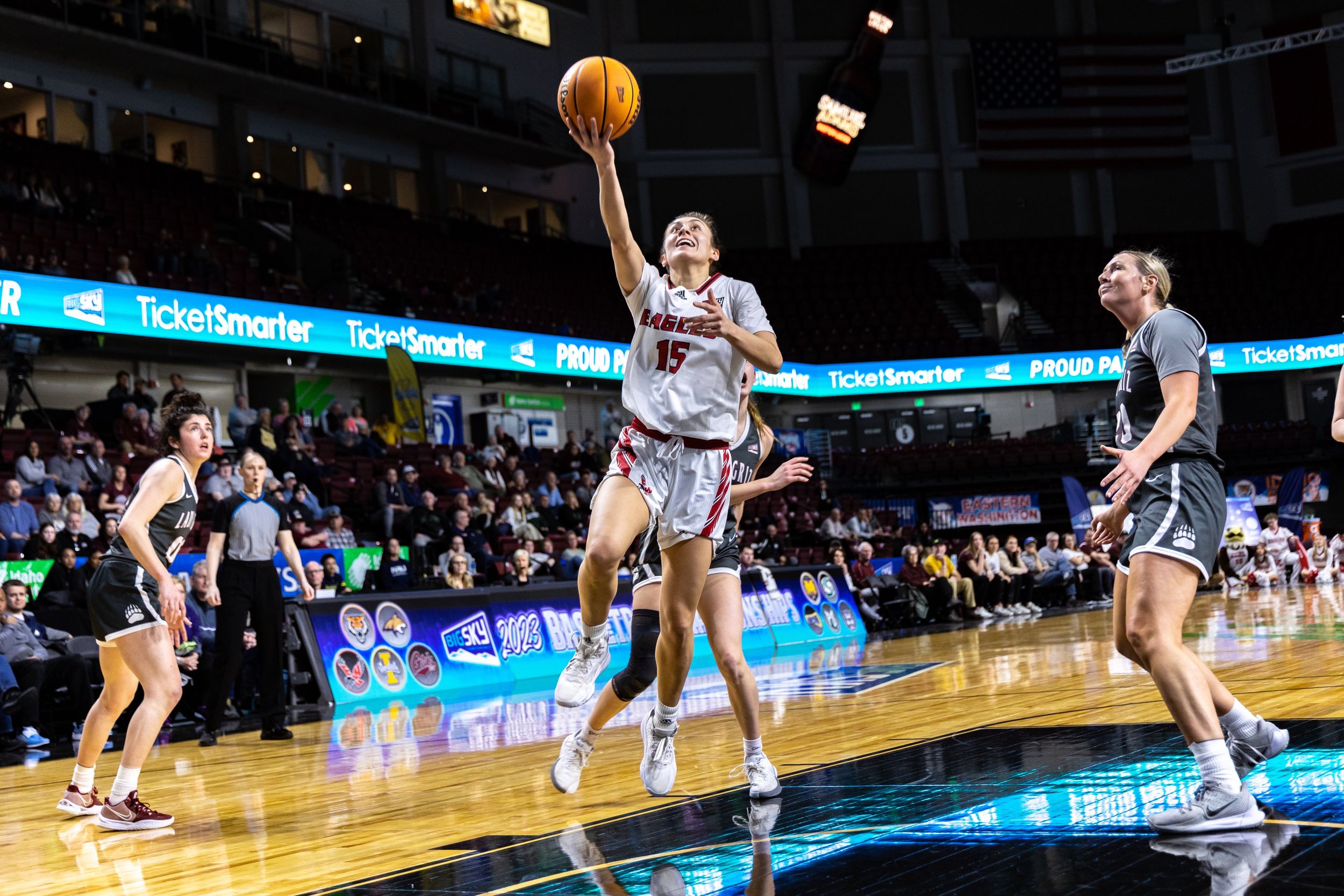 EWU: The Eastern women may only be the fourth seed in the Big Sky tournament in Boise but they have the talent to win it all. They showed that Monday with a 72-64 win over Montana. John Blanchette was there and has this story. … Elsewhere at the Big Sky tournament, the Montana men finished Idaho State's season with an 83-74 triumph. … Weber State got past Sacramento State 70-64.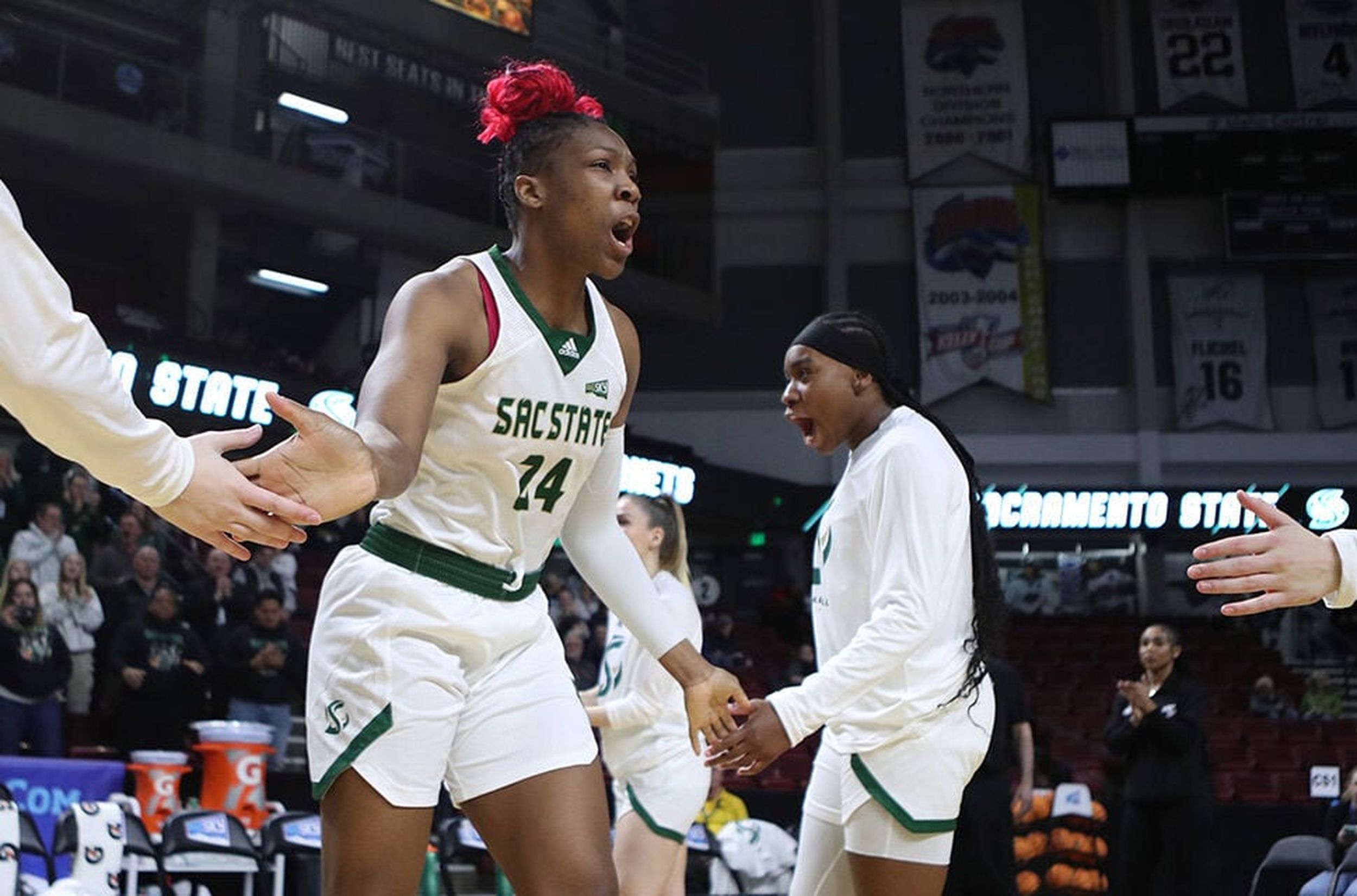 Idaho: John also has this coverage of the Vandal women's 73-58 loss to third-seed Sacramento State. … Being a college coach can be tough.
Preps: Gonzaga Prep grad Bud Hare may have competed more than 60 years ago, but he was inducted into the Columbia Basin College Hall of Fame last week. That news leads of the S-R's latest local briefs column.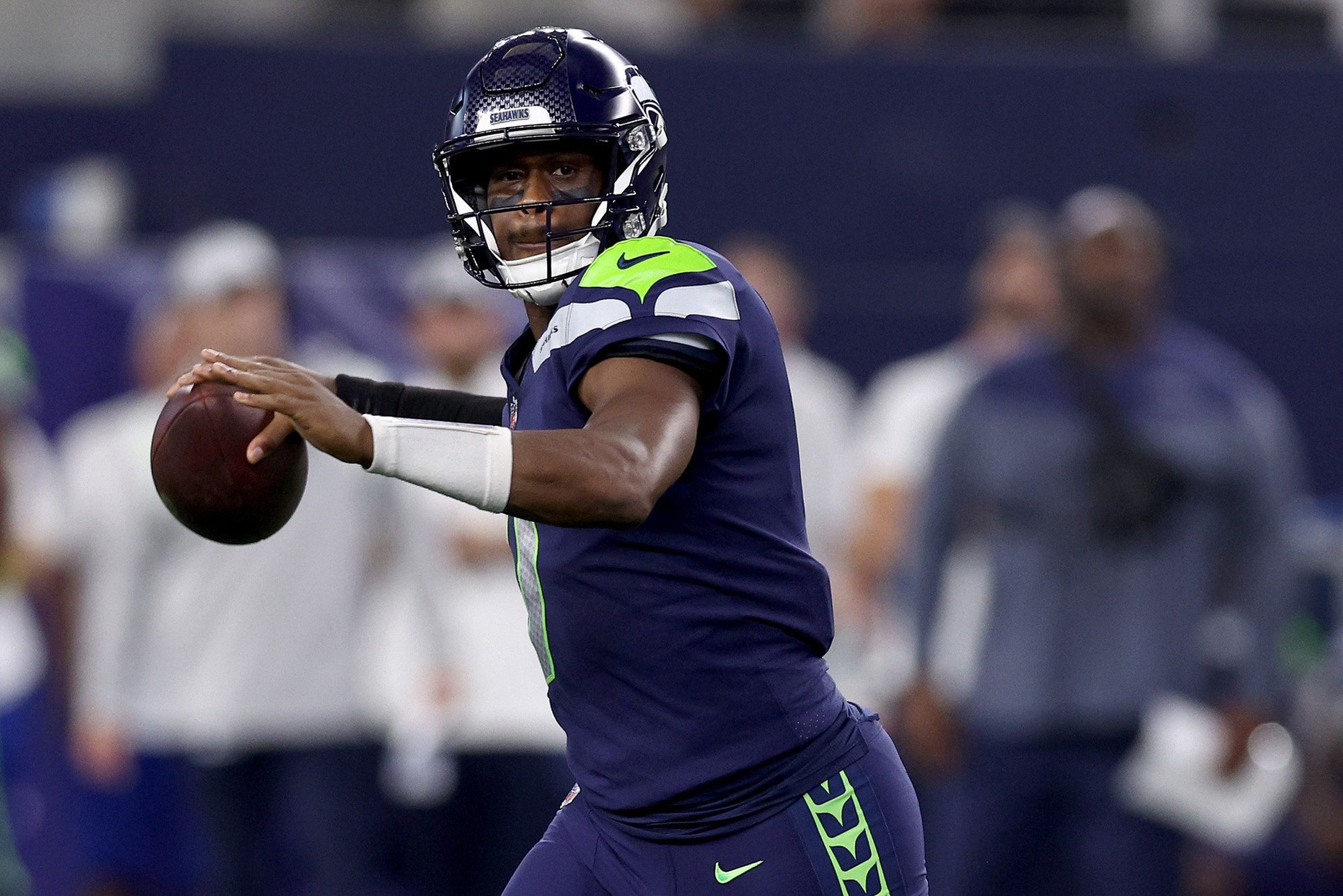 Seahawks: Pretty much any other day we would lead with this news. The Hawks have reached agreement with Geno Smith on a three-year contract. The key number? Smith will receive around $50 million the first year. You will have to decide if it is fiscally prudent. … We do have more combine news.
Mariners: The M's lost yesterday. … Diego Castillo is reaching back into his bag of tricks, resurrecting his changeup as a third pitch.
Kraken: Seattle added to its roster by recalling a player from the AHL.
•••       
• We're tired. At least our fingers are. We need breakfast, coffee and a nap. Probably not in that order. If it was not for Kim's good friend, Mary Jo, this week would have been even tougher. Darn near impossible. Thanks. Until later …
Local journalism is essential.
Give directly to The Spokesman-Review's Northwest Passages community forums series -- which helps to offset the costs of several reporter and editor positions at the newspaper -- by using the easy options below. Gifts processed in this system are not tax deductible, but are predominately used to help meet the local financial requirements needed to receive national matching-grant funds.
Subscribe to the sports newsletter
Get the day's top sports headlines and breaking news delivered to your inbox by subscribing here.
---