News > Spokane
A watershed moment: Spokane County buying water right for more than $300,000
Tue., March 7, 2023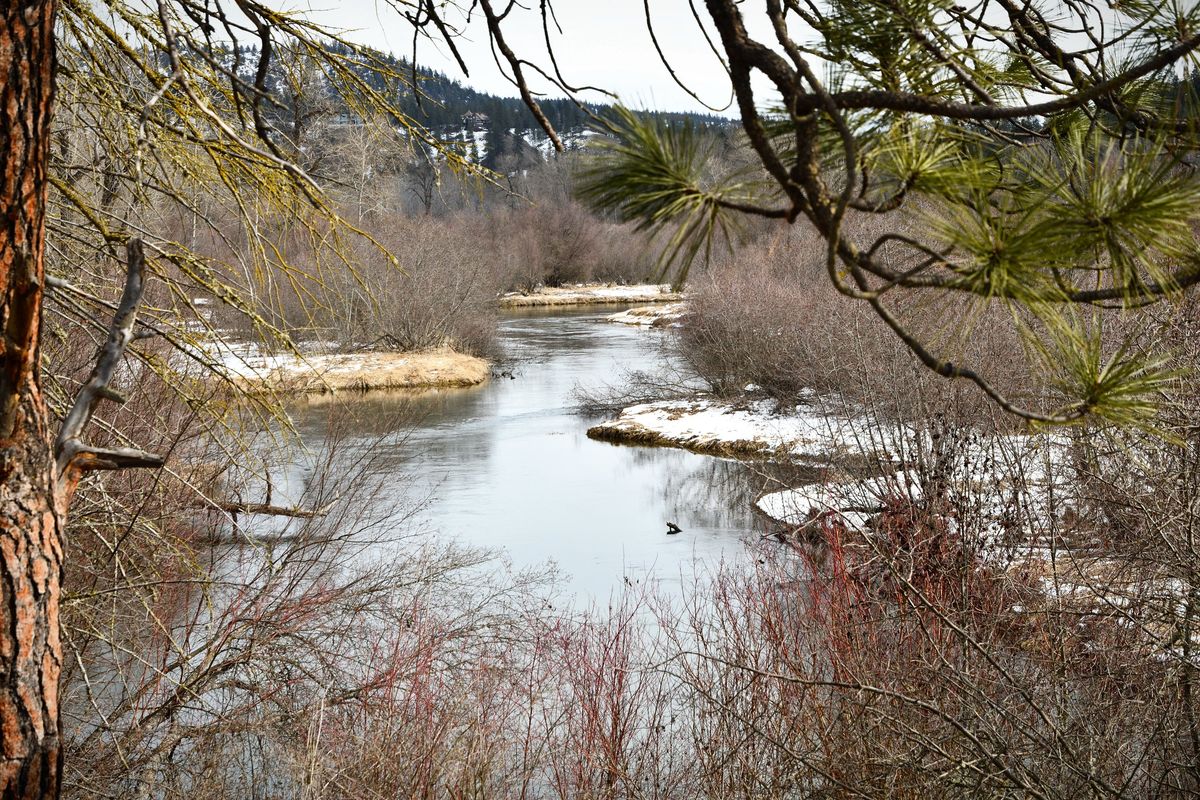 The Little Spokane River lazily makes its way toward Nine Mile Falls on Friday, a few miles northwest of Whitworth University. Spokane County is buying a water right within the river's basin to offset future residential water use.  (Colin Tiernan/The Spokesman-Review)
The Little Spokane River basin has had a big water shortage for a long time.
Water scarcity poses a challenge for local governments, including Spokane County. If the county wants to see new development within the Little Spokane watershed, it has to plan to ensure enough water's available for future homes.
The key to its plan is buying lots of water.
The Spokane County Commission on Feb. 28 unanimously voted to accept a $366,000 grant from the state Department of Ecology for the acquisition of a 110 acre-feet per year water right near Deer Park. An acre foot is about 326,000 gallons, or half an Olympic swimming pool.
"The whole idea behind this is to keep water in the Little Spokane River," said Rob Lindsay, the county's environmental services director. "We're going to buy that water right and then put it in a trust. We're not going to use it."
The Department of Ecology hasn't issued new water rights in the Little Spokane River watershed since 1976, when it adopted a new policy that established a minimum allowable flow in the Little Spokane River. Ecology uses instream flow rules to ensure rivers have enough water for the plants and wildlife that rely on them.
"It's the way that the state was kind of able to create a water right for nature," said Jaime Short, Ecology's eastern region water resources section manager.
Ecology's policy had a loophole, though. People could still drill wells for their homes.
A state Supreme Court ruling in 2016 closed the loophole. The court said counties couldn't issue building permits for new homes that relied on domestic wells unless water was legally available.
The ruling shut down permits for new homes in the Little Spokane watershed for more than a year, but the Legislature in 2018 passed a law that allowed counties to issue permits so long as they agreed to certain restrictions.
Under the 2018 law, counties can allow the construction of new homes with domestic wells if they work with stakeholders to write watershed plans.
Watershed plans have to accomplish two main goals: Estimate the number of homes that will be built in a watershed between 2018 and 2038, and identify strategies for offsetting the impacts of those homes.
"They had to calculate growth for 20 years, and then … mitigate for those new uses," Short said. "So identify the need, and then plug the hole."
Spokane, Pend Oreille and Stevens counties projected that developers will build more than 2,700 homes in the Little Spokane watershed by 2038. The counties expect those homes to require about 2,300 acre feet of water every year.
With the plan in place, Spokane County had to find more than 2,000 acre feet of water.
The county has a few different ideas. For instance, damming Eloika Lake and releasing some of its water in August, when the Little Spokane River is lowest, could be effective. Diverting water when it isn't needed and using it to recharge the Little Spokane River Aquifer could work, too.
Both of those ideas would be expensive, however. Lindsay said he believes buying water rights is the best option.
Most of the water rights will probably come from farmers who use them to irrigate their crops. The county will buy the water rights and set them aside. The property owner will stop irrigating the land.
"We're talking families, typically older generation folks, who either don't have family to pass the farm on to, or their family just doesn't have interest to continue to operate the farm," Lindsay said.
Spokane County hasn't acquired many water rights yet. The 110 acre-feet purchase will be the first that's connected to the Little Spokane watershed plan, although the county has a few hundred acre feet of water rights in trust already.
Buying hundreds of acre feet of water rights will be complex and time consuming, but Short said she believes it's feasible and critically important.
"This is not something to be casual about," she said. "We have a responsibility to treat the resources with some respect. They're not infinite."
Local journalism is essential.
Give directly to The Spokesman-Review's Northwest Passages community forums series -- which helps to offset the costs of several reporter and editor positions at the newspaper -- by using the easy options below. Gifts processed in this system are not tax deductible, but are predominately used to help meet the local financial requirements needed to receive national matching-grant funds.
Subscribe now to get breaking news alerts in your email inbox
Get breaking news delivered to your inbox as it happens.
---