News > Crime/Public Safety
One dead after accident at Spokane Tribe Casino construction site
March 7, 2023 Updated Tue., March 7, 2023 at 9:13 p.m.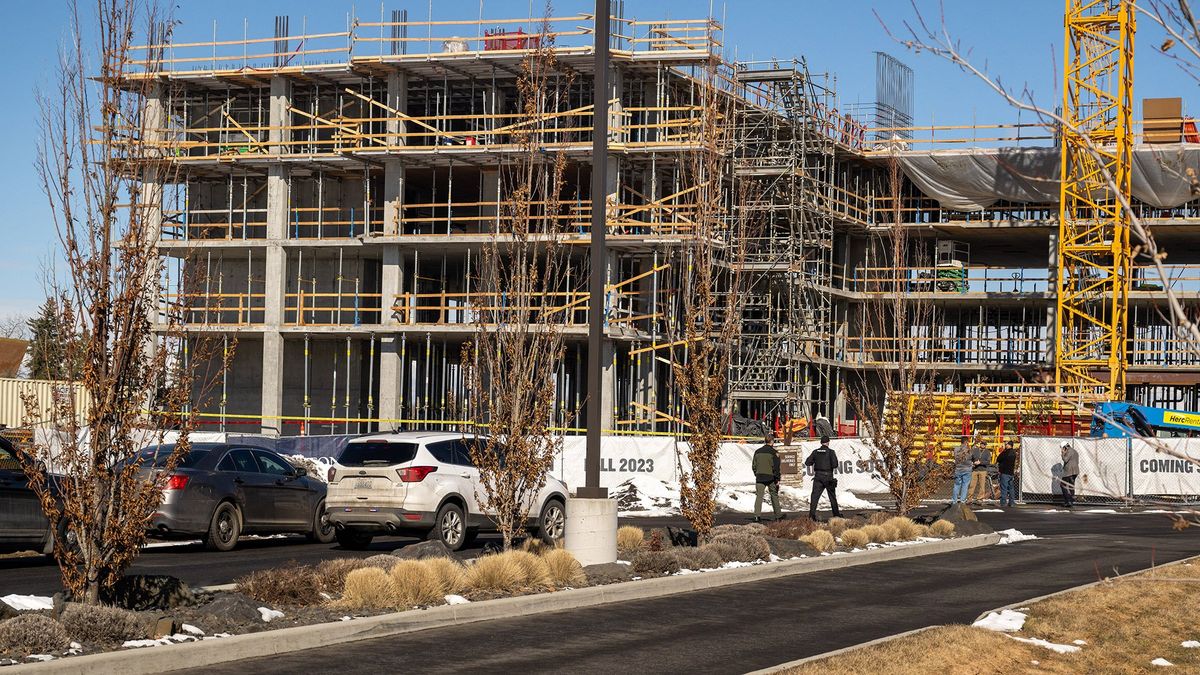 An industrial accident occurred Tuesday morning at a construction site next to the Spokane Tribe Casino in Airway Heights. (COLIN MULVANY/THE SPOKESMAN-REVIEW)
One person is dead following an accident at a construction site at the Spokane Tribe Casino.
Chaplains and health and services workers from the tribe were on-site to provide support and help to workers and staff of the casino and Swinerton Construction, according to a news release from the casino.
The accident happened at about 9:30 a.m. Tuesday, at what will eventually be a hotel next to the casino. An investigation has been started in cooperation with the Spokane Tribe, tribal police and various local, state and tribal agencies.
"This morning we received a call of an accident on our construction sight," Javier De La Rosa, Spokane Tribe Casino general manager, said at a brief news conference. "We are very sad to report that we had a deceased construction worker on-site."
De La Rosa declined to share any details about the accident, including if anyone else was injured, citing the ongoing investigation.
Swinerton, the construction company building the hotel, said formwork collapsed resulting in the death of a subcontractor, according to a statement on their website. No one else was injured in the incident, Swinerton said.
"The family and work crew on site are at the forefront of our thought and prayers," De La Rosa, wrote in a news release. "We will continue to release information to the public as we learn more from the different agencies involved."
Most fire and ambulance crews left the scene around 10:10 a.m., but Airway Heights police remained and Spokane County Sheriff's chaplains arrived. By mid-morning, the Spokane County Medical Examiner's Office was also on scene.
Airway Heights Police Chief Brad Richmond joined De La Rosa at the news conference.
"The circumstances of this situation are unclear at this time and it is too early to speculate on what may have been the cause of this incident. Safety is our number one priority, when something like this happens it is our responsibility to find out why," Swinerton wrote in a statement. "Our Management and Safety teams are onsite and currently working together with investigating authorities to find out the exact cause."
The company is cooperating with local law enforcement and OSHA as they investigate the situation. The project site will be closed at least until Thursday.
Rick Bennett said he was walking into the front door of the casino after finishing a job in Airway Heights around 9:30 a.m. for his biohazard removal company, Biogone, when he heard a loud noise.
"It sounded like an explosion," Bennett said. "It shook the ground."
After a meeting with casino staff, Bennett said he walked outside and saw a large piece of construction material on the ground on the west side of the construction site. Construction workers were peering over the upper levels onto the ground, he said.
"I remember thinking to myself, that's the loudest thing I've ever heard," he said.
Not many people were at the casino that early in the morning.
Local journalism is essential.
Give directly to The Spokesman-Review's Northwest Passages community forums series -- which helps to offset the costs of several reporter and editor positions at the newspaper -- by using the easy options below. Gifts processed in this system are not tax deductible, but are predominately used to help meet the local financial requirements needed to receive national matching-grant funds.
Subscribe now to get breaking news alerts in your email inbox
Get breaking news delivered to your inbox as it happens.
---