Sports > Gonzaga basketball
Gonzaga rewind: Mark Few applauds Bulldogs for playing 'full 40' in blowout WCC title win over Saint Mary's
March 8, 2023 Updated Wed., March 8, 2023 at 9:54 p.m.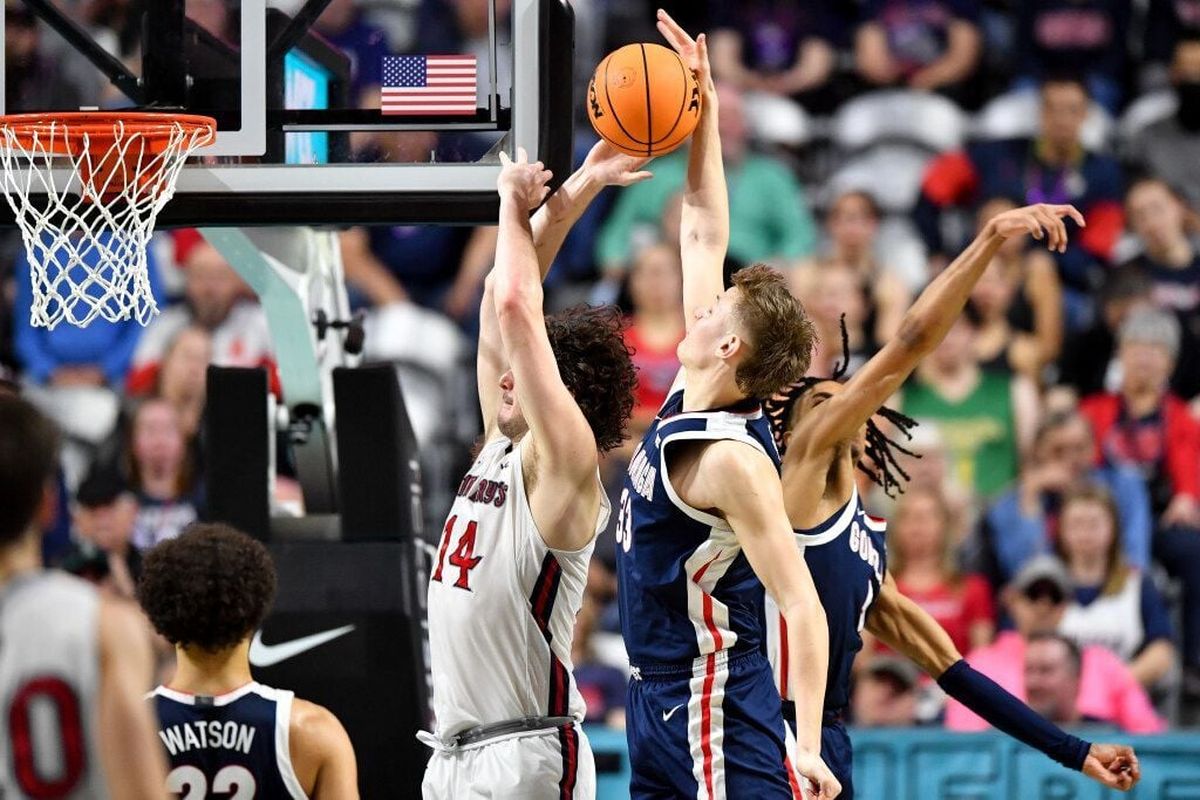 Gonzaga forward Ben Gregg blocks Saint Mary's forward Kyle Bowen during Tuesday's WCC Tournament title game. (Tyler Tjomsland / The Spokesman-Review)Buy a print of this photo
LAS VEGAS – Megan Timme left Las Vegas Wednesday morning with one more carry-on item than she arrived with.
Approximately 11 hours after Gonzaga coach Mark Few presented Drew Timme with a commemorative basketball, with "All Time Career Points Leader" written in Sharpie, the All-American forward's mother had the keepsake tucked between one arm and a carry-on bag in the opposite hand as she walked through a terminal at Harry Reid International Airport.
In a CBS Sports profile on the Gonzaga forward earlier this week, the author detailed Timme's locker at the Kennel, describing an untidy, unorganized space that consists of worn and unworn clothing items, multiple pairs of headphones and All-American plaques.
Megan Timme wasn't willing to take any chances that the custom basketball celebrating her son's latest individual accolade would end up in the same pile.
So the Timme family returned to Texas with a new piece of memorabilia and the Zags returned to Spokane with precious cargo of their own, steamrolling No. 1 seed Saint Mary's 77-51 at the Orleans Arena for their 21st West Coast Conference Tournament championship and the program's 10th trophy in 11 years.
The nature of how the game played out was more surprising than the result itself. We cover that and break down another splendid outing from the Bulldogs' defense in a Vegas edition of the Gonzaga rewind.
Finishing act
Gonzaga's penchant for close games this season, particularly against WCC opponents that are familiar with the Bulldogs, suggested Tuesday's championship would provide some quality theater, perhaps all the way until the final buzzer.
Nine of Gonzaga's WCC games were decided by single digits, including both regular-season meetings with Saint Mary's. The Bulldogs didn't play in one such game the two seasons prior and only played in three in 2019-20.
"Hopefully for all the Zags fans, it felt like a normal Gonzaga game," junior wing Julian Strawther said. "I felt like they've been begging for that all year and I'm happy we could deliver, but it feels great for us. That's a top-15 team and I feel like we showed a lot of people what we're made of."
Despite going into the conference tournament as the No. 2 seed, Gonzaga was favored to win by 2½ points on Tuesday and led by at least two possessions for almost 35 minutes.
The Bulldogs and Gaels played a handful of tense minutes in the regular season, but Gonzaga controlled the score the majority of the time, only trailing for a brief stretch during an overtime loss in Moraga, California, on Feb. 4.
When all was said and done, the Zags led for 109 minutes, 29 seconds and the Gaels just 5 minutes, 34 seconds.
"I think we just came in knowing we were the underdog and playing with a chip on our shoulder. We never really had that," senior forward Anton Watson said. "All the championships I've played here, we've always been the (No. 1) seed. We really just came in with a chip on our shoulder and we showed that from the start."
The margin of victory (26 points) was Gonzaga's largest in a WCC title game since 1999, when the Bulldogs cruised past Santa Clara 91-62. GU's 37-point lead late in the second half was the program's largest advantage in a championship game since at least 2004. Box scores from the program's first seven title games, from 1998-2004, are unavailable.
Though both had identical records, Gonzaga earned the No. 2 seed in Vegas as a result of its NET ranking, which was two spots lower than Saint Mary's. The Bulldogs finally surpassed the Gaels Wednesday, climbing three spots to No. 6 while Saint Mary's dropped two spots to No. 10.
'Full 40'
When Gonzaga and Saint Mary's met in Spokane less than two weeks ago, the Bulldogs found success with a three-quarter-court press to disrupt the Gaels' offense, particularly talented freshman guard Aidan Mahaney.
On Tuesday, the Zags used the press sparingly but still managed to manufacture their best defensive outing of the season while limiting Mahaney (2-of-8 shooting from the floor) to seven points, one shy of his WCC low.
Gonzaga's defense was spotty early in the year. Even as the Bulldogs began to improve on that end, it often wasn't sustainable for more than two or three games in a row.
Within games themselves, GU's defensive attention and intensity has waned. The Bulldogs have been capable of playing 10-15 minutes of quality defense, but a letdown was usually imminent.
On Tuesday, the letdown didn't come until the Zags were leading by 37 points and starters were on the bench.
"I think for that, I think it's the best we've played for a full 40," Few said. "We've had stretches, a half or two-thirds of a game, but this time we really, really put it on a really, really good team for the full 40."
The 19 points the Bulldogs allowed in the first half were a season low against a Division I opponent (23 previously). Tuesday marked the first time Gonzaga held a DI team under 60 points.
"I think we just took it personal," Watson said. "They really were disrespecting us, saying how bad our defense was and to do that against Saint Mary's, one of the best defenses and supposedly the best team in this conference, it really showed a lot and it was a statement game for us."
The heartbeat of Gonzaga's defense most of the season, Watson didn't have to go at it alone on Tuesday. The Gonzaga Prep product had just one of the team's seven blocks, which matched a season high (Michigan State), while Strawther and Ben Gregg had two apiece.
Gregg produced one of the game's highlights when he came from behind to pry the ball out of Kyle Bowen's hands as the Saint Mary's center was going up for a lay-in. On another occasion, the sophomore forward spiked the ball out of Mahaney's hands as the Saint Mary's guard was attempting a scoop shot.
Rival's respect
Gonzaga's no stranger to high praise and admiration from opposing coaches, but compliments usually mean a little more coming from Randy Bennett.
Tuesday's title game was the 59th time a Gonzaga team coached by Few clashed with a Saint Mary's team coached by Bennett.
The longtime Gaels coach has game-planned for the best teams in school history – usually two or three times per season – and designed scouting reports for most of Few's greatest players.
That includes Timme, who had 18 points and broke Gonzaga's career scoring record in his 11th meeting with Bennett and the Gaels. Barring An all-WCC matchup in the NCAA Tournament, the Saint Mary's coach likely won't have to get ready for a 12th meeting with Gonzaga's All-American forward.
"Just let me know where I've got to go to send him off on his Senior Night," Bennett laughed. "He's a great player."
Bennett was complimentary of the growth he's seen from Gonzaga since the Gaels edged the Bulldogs in the Bay Area early last month.
"I do want to say this, though. They're good, they're good," Bennett said. "They've improved through the year. We played them the first time about four, five weeks ago and if you look at their schedule and who they lost to, it's pretty impressive. I felt like tonight, this is the best we've seen Gonzaga."
Local journalism is essential.
Give directly to The Spokesman-Review's Northwest Passages community forums series -- which helps to offset the costs of several reporter and editor positions at the newspaper -- by using the easy options below. Gifts processed in this system are not tax deductible, but are predominately used to help meet the local financial requirements needed to receive national matching-grant funds.
Follow along with the Zags
Subscribe to our Gonzaga Basketball newsletter to stay up with the latest news.
---