A&E > Food
Investment from Techstars helps Hegsted, Peak expand reach of Share Farm
March 8, 2023 Updated Wed., March 8, 2023 at 3:18 p.m.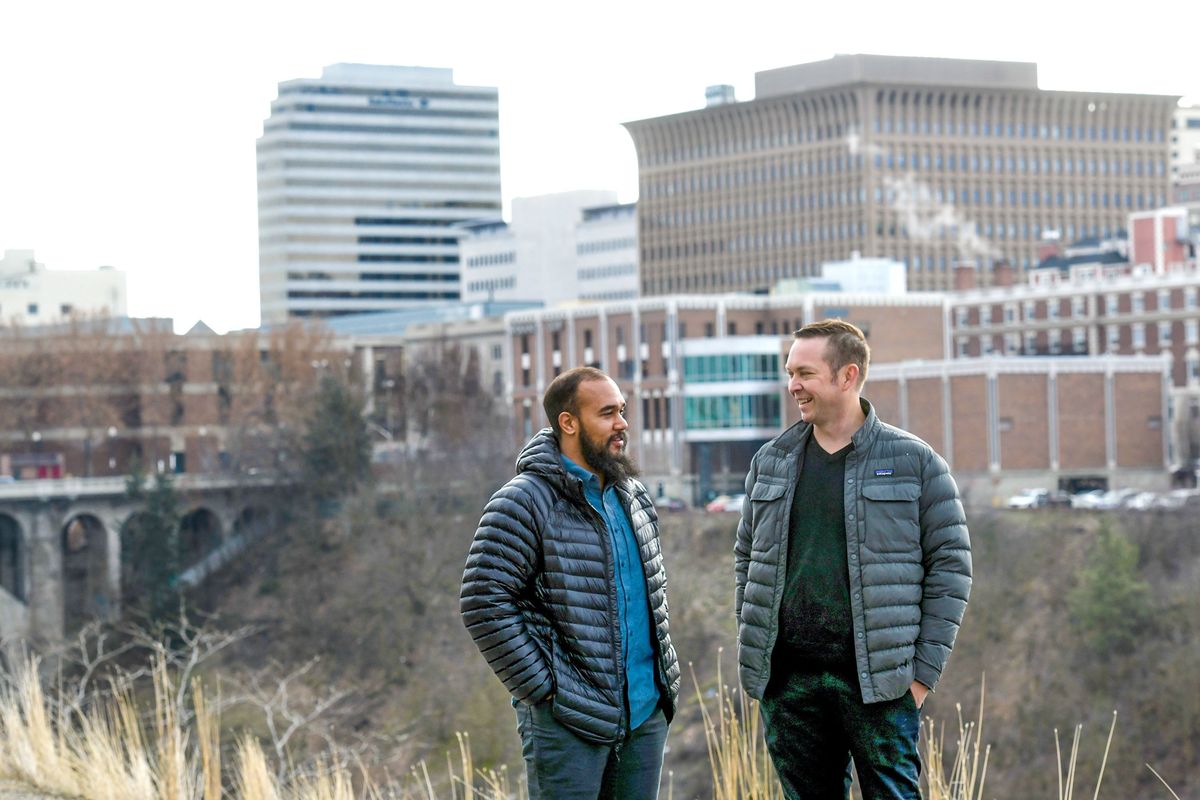 Vince Peak, left, and Adam Hegsted of Share Farm are photographed in Spokane on Wednesday, Feb. 15, 2023. They have been accepted into Techstars and are the first from Spokane. Techstars is an accelerator program with a worldwide network for early-stage entrepreneurs. (Kathy Plonka/The Spokesman-Review)
A new venture aims to help minority-owned small farms reach beyond seasonal farmer's markets and into the big world of corporate and retail sales.
Share Farm has gone through several iterations since chef/entrepreneur Adam Hegsted and his business partner Vince Peak launched it in 2016. From a map for consumers connecting them to area farms, to locally grown fresh produce deliveries to homes and restaurants, to supplying institutional companies with local products for their cafeterias, Share Farm has continued to innovate farm-to-fork ideas.
"We are always trying to connect people to food," Peak said.
During the pandemic, the company received national attention when it initiated in-person delivery of emergency food boxes through a USDA contract.
"Everyone else was having people come pick them up," Hegsted said.
Peak described the uniqueness of their boxes. In addition to food, he said they partnered with a local company, Spiceology for seasonings.
"Adam put together recipes based on the ingredients in the box," he said. "Now, that's standard practice. That's when we knew the ideas we had were innovative. Every time we started something new it became a standard."
Now, Share Farm is poised to simplify the local food sourcing and distribution chain by connecting minority-owned farms to a larger market. The project received a huge boost in January, thanks to an investment by Techstars.
Techstars is a global investment business that provides access to capital, one-on-one mentorship, a worldwide network and customized programming for early-stage entrepreneurs.
"Out of thousands of applicants, Share Farm was one of 10 chosen," said Hegsted. "We're the first startup company in Spokane to be accepted."
Using an inclusive, digital supply chain and existing distribution infrastructure, Share Farm is creating a dynamic digital marketplace that empowers local growers.
Small farms face several challenges in getting their products to larger markets. They often don't have enough products to sell to institutional buyers and they may not have correct food safety standardizations or product specifications to be able to do this.
"We help break down those barriers by teaching food safety and by aggregating similar products from other producers so that we create scale large enough for those buyers," Hegsted said.
Additionally, offering a centralized hub minimizes the need for additional warehouse touchpoints between the farm and the table.
Share Farm also wants to extend small farms' traditional marketplace by offering to buy products outside of their normal window.
"For example, we might buy all a farmer's zucchini and tomatoes, and then let them know we're looking for Brussels sprouts or winter kale," he said. "Our idea is to help farmers make more money off the land they are already growing on and to hopefully help them be much more profitable year after year."
Why the emphasis on minority-owned farms?
"Food service institutions are looking to buy more minority products," said Hegsted. "We are trying to get the word out to women-owned, veteran-owned, people of color-owned farms and producers so we can help them sell their products. Share Farm is creating a brand built of minority producers and showing the point of origin where buyers can see where their food is from, what's in it, how it was grown and how those growing practices impacted the planet."
In addition to funding, Techstars connected Hegsted and Peak with mentors who are offering support as they expand their knowledge of technology to grow the business.
Peak said the timing with Techstars is ideal because the pandemic changed the way many farmers did business.
"Previously farmers didn't have to use technology," he said. "But they had to figure out Zoom and Door Dash, etc. It's easier to reach them now."
Indeed, from November 2020 to June 2022, the pilot program distributed 14,423,714 pounds of food from small farms to institutional buyers.
"Techstars funded us because they believe what we have is a world-changing idea," Hegsted said.
Reach Cindy Hval via email at dchval@juno.com.
Local journalism is essential.
Give directly to The Spokesman-Review's Northwest Passages community forums series -- which helps to offset the costs of several reporter and editor positions at the newspaper -- by using the easy options below. Gifts processed in this system are not tax deductible, but are predominately used to help meet the local financial requirements needed to receive national matching-grant funds.
Subscribe to the Spokane7 email newsletter
Get the day's top entertainment headlines delivered to your inbox every morning.
---