Sports > WSU basketball
Washington State cruises past Cal 69-52 in first round of Pac-12 tournament
March 8, 2023 Updated Thu., March 9, 2023 at 10:41 a.m.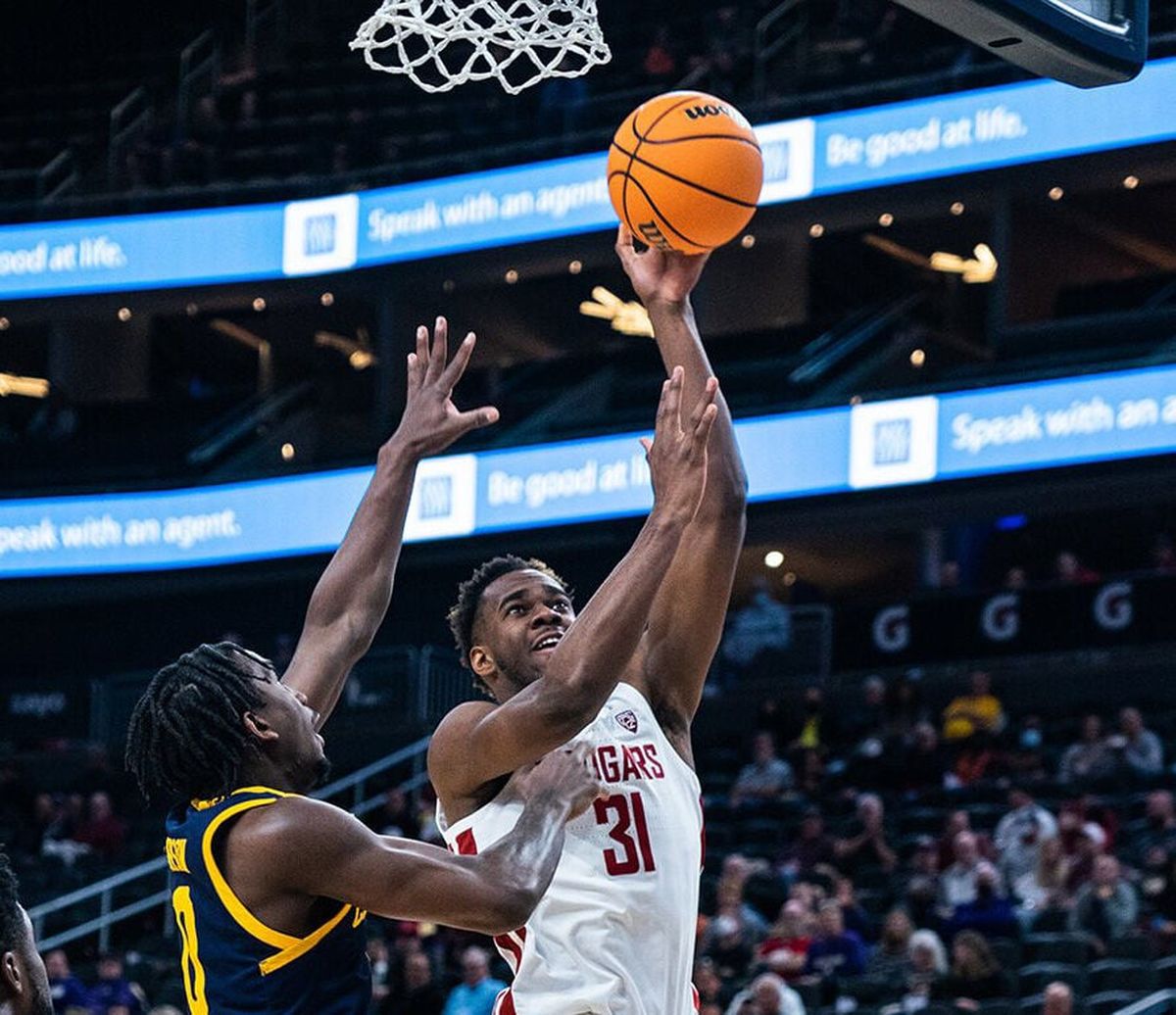 Washington State guard Kymany Houinsou goes up for a shot against California guard Marsalis Roberson during a Pac-12 Tournament game at T-Mobile Arena in Las Vegas on Wednesday. (Courtesy of Pac-12 Conference)
LAS VEGAS – Powered by its defense, Washington State created an early advantage. Fueled by its veteran scorers, the Cougars cruised to the finish.
Fifth-seeded WSU preserved a double-digit lead against 12th-seeded California for the final 29 minutes of a first-round matchup at the Pac-12 tournament. The Cougars extended their winning streak to seven games, prevailing 69-52 on Wednesday at T-Mobile Arena.
The Cougars (17-15) advance to face fourth-seeded Oregon (18-13) in the quarterfinal round at 2:30 p.m. Thursday.
Only twice in program history has WSU won seven straight games against Pac-12 opponents. It's been 40 years since the Cougars put together such a streak.
"I knew we had this in us," WSU forward DJ Rodman said. "It's about time we showed it, and the best time is right now. We're hoping to get (the streak) to eight tomorrow."
The Cougars locked up Cal's shooters and raced to a double-digit lead after 11 minutes. WSU allowed 21 points in the first half – matching the lowest scoring output the Cougars have surrendered in a half this season.
WSU's lead grew to 21 points midway through the second half before Cal's 10-0 run trimmed the deficit to 11 points with 6:03 remaining. The Cougars responded quickly.
"The game tightened up just a smidge, got to 11 there, and our veterans made good plays and kept that thing at a distance," WSU coach Kyle Smith said.
WSU junior forward Andrej Jakimovski hit a 3 out of a timeout and sophomore post Mouhamed Gueye followed with a difficult layup through contact. Junior guard TJ Bamba closed the door, scoring nine points in the final 3 minutes.
"Great response," Smith said. "Handling success is sometimes as hard as handling adversity. There was plenty of time left and anything can happen. But we tightened up and made shots."
Bamba, the Cougars' top scorer this season, finished with a team-high 17 points to lead a balanced showing from WSU's offense, which put five players in double figures.
WSU guard Jabe Mullins had 11 points, shooting 3 of 4 from 3-point range. Gueye totaled 10 points, five rebounds and three assists. Rodman scored all 10 of his points in the first half and added 11 rebounds – five on the offensive end. He also drew five fouls.
Jakimovski lost a front tooth late in the first half after going up for a rebound and taking an elbow to the face, but toughed it out and finished with 10 points.
"We want to win all four (at the tournament), so we're locked in and we're trying to win, no matter what it takes, no matter how hurt you get," Rodman said. "Andrej lost his tooth and kept playing. As long as we can physically play, we're going to try to make it all four."
The Cougars shot 41.7% from the field and 9 of 23 (39.1%) from beyond the arc. Cal hit 35.8% of its attempts from the floor and went 3 of 14 (21.4%) from deep.
The Bears (3-29) finished with 19 field goals – tied for the fewest WSU has allowed against Pac-12 teams this season. The Cougars also controlled the glass,outrebounded Cal 43-29.
Forward Monty Bowser paced Cal with 19 points. Center Lars Thiemann chipped in 10 points. Bamba and true freshman guard Dylan Darling teamed to hold senior Cal guard Joel Brown to seven points on 2-of-6 shooting.
"Dylan, guarding a fifth-year senior – our bench can hold their own out there," Rodman said. "It's a great sign for the next three days. We're hoping to play four and we need our bench to play well and help us out."
Cal failed to score in a 6-minute stretch in the middle of the first half. WSU started slowly on offense but leaned on its defense and went on a 9-0 run during the Bears' cold spell to go up by 12 points at the 7:44 mark.
Mullins made back-to-back 3s late in the half to push the Cougars' lead to 35-21 at intermission halftime.
Jakimovski and guard Justin Powell drilled 3s early in the second half to make it an 18-point lead. Cal pulled to within 13 after 5 minutes in the second half, but Gueye responded with a posterizing dunk and WSU's lead gradually ballooned to 21 points with 8:48 remaining.
The Cougars and Ducks split the series this season. WSU lost 74-60 on Dec. 1 in Eugene and won 68-65 on Feb. 19 in Pullman.
Oregon opened as a 2½-point favorite.
Drawing motivation from their WSU counterparts
The WSU women's team completed a historic run through the Pac-12 tournament last week, winning the title as a No. 7 seed. After Wednesday's game, members of the Cougars' men's team said the women's accomplishment can serve as a motivational tool.
"I told our guys, 'We finished at about the same place in league,' " Smith said. "Why not us? … It's very inspirational and hopefully we can get some of that juju."
"We're really proud of them and we hope to carry the momentum and win the thing, too," Gueye added.
Local journalism is essential.
Give directly to The Spokesman-Review's Northwest Passages community forums series -- which helps to offset the costs of several reporter and editor positions at the newspaper -- by using the easy options below. Gifts processed in this system are not tax deductible, but are predominately used to help meet the local financial requirements needed to receive national matching-grant funds.
Subscribe to the sports newsletter
Get the day's top sports headlines and breaking news delivered to your inbox by subscribing here.
---