News > Crime/Public Safety
'A rising star': Carpenter Ana Vetter remembered as passionate and hardworking, days after her death at Spokane Tribe Casino construction site
March 9, 2023 Updated Fri., March 10, 2023 at 2:49 p.m.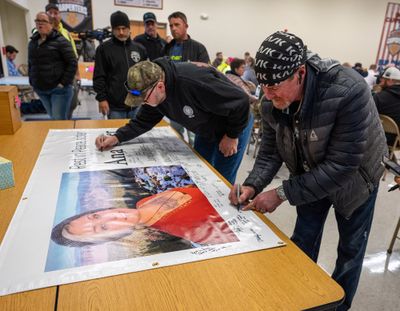 Ana Vetter found the job that "just made her come alive," her mother told a room full of tradespeople Thursday evening, just days after Vetter died building a new hotel at the Spokane Tribe Casino.
The Southwest Carpenters' Local 59 union hall was packed for a vigil Thursday night to "Give a true nod to Ana's awesomeness," said Antonio Acosta, president of the chapter.
Just days before her death, Vetter was officially sworn in at Local 59, Acosta said. She was so proud, he said.
Then without missing a beat, Vetter rattled off all the committees she wanted to join, Acosta said with a chuckle.
She wanted to help, whether it was volunteering to paint the union hall, like she did earlier this month, or helping build tiny houses for those in need, like she did as an apprentice when living in Western Washington.
Shortly after moving to Spokane, Vetter began attending meetings of the Spokane Tradeswoman, a group that advocates for and supports underrepresented people in the trades, Sloan Duncan, co-chair of the group recalled. She led by example, always the first to volunteer or help a fellow carpenter, Duncan said.
Duncan first met Vetter when she was starting her apprenticeship.
"She knew she wanted to be a carpenter," Duncan said. "She knew this was her trade."
Vetter was the first to volunteer when an opportunity came up and always advocated for the trades wherever she could, even testifying before the state legislature.
"She was so proud," Duncan said. "She loved being a carpenter more than everything."
Vetter recently completed her apprenticeship and was beginning to teach others her craft, a step that came with pride and nerves, Duncan said.
"It's hard to lose a good teacher and a good mentor, a union member, friend and a sister," Duncan said.
Not only was she forging ahead in her career, but in her personal life too. Vetter recently married Michael Martin, and the newlyweds bought a home that they shared with their pack of puppies.
As union members got up to share about Vetter, Martin sat in the front row, smiling at times, crying at others.
A death at a construction site is rare, especially in Eastern Washington, Duncan said.
Brady Devens was working near Vetter when the platform she was standing on collapsed.
"Midsentence, she was taken away from us in a second," he said. "She didn't deserve this."
The casino project was physically and mentally demanding, with the biting wind and cold of the West Plains, he said.
Vetter was always smiling and laughing while still working harder that most people on the crew, Devens said.
Sheldon Bennett, Vetter's union representative, wasn't allowed on scene to help with the investigation Tuesday and still has little information from law enforcement.
A veteran carpenter, Bennett said he just can't understand how the platform Vetter was working on could have collapsed.
"In my opinion, that shouldn't have happened," he said.
Vetter was "a rising star" in the industry, always advocating for those around her, he said.
Toward the end of the vigil, Vetter's mother, Sandi Vetter, stood up and the room stilled.
As a mother, she always knew how special Ana was, she said. But it was heartwarming to know that everyone else saw it too.
The job "just made her come alive."
Editor's Note: This story has been updated to correct the spelling of Brady Devens' name.
Local journalism is essential.
Give directly to The Spokesman-Review's Northwest Passages community forums series -- which helps to offset the costs of several reporter and editor positions at the newspaper -- by using the easy options below. Gifts processed in this system are not tax deductible, but are predominately used to help meet the local financial requirements needed to receive national matching-grant funds.
Subscribe now to get breaking news alerts in your email inbox
Get breaking news delivered to your inbox as it happens.
---