A&E > Entertainment
It's a new era for Max Cavalera's Soulfly
March 9, 2023 Updated Thu., March 9, 2023 at 3:09 p.m.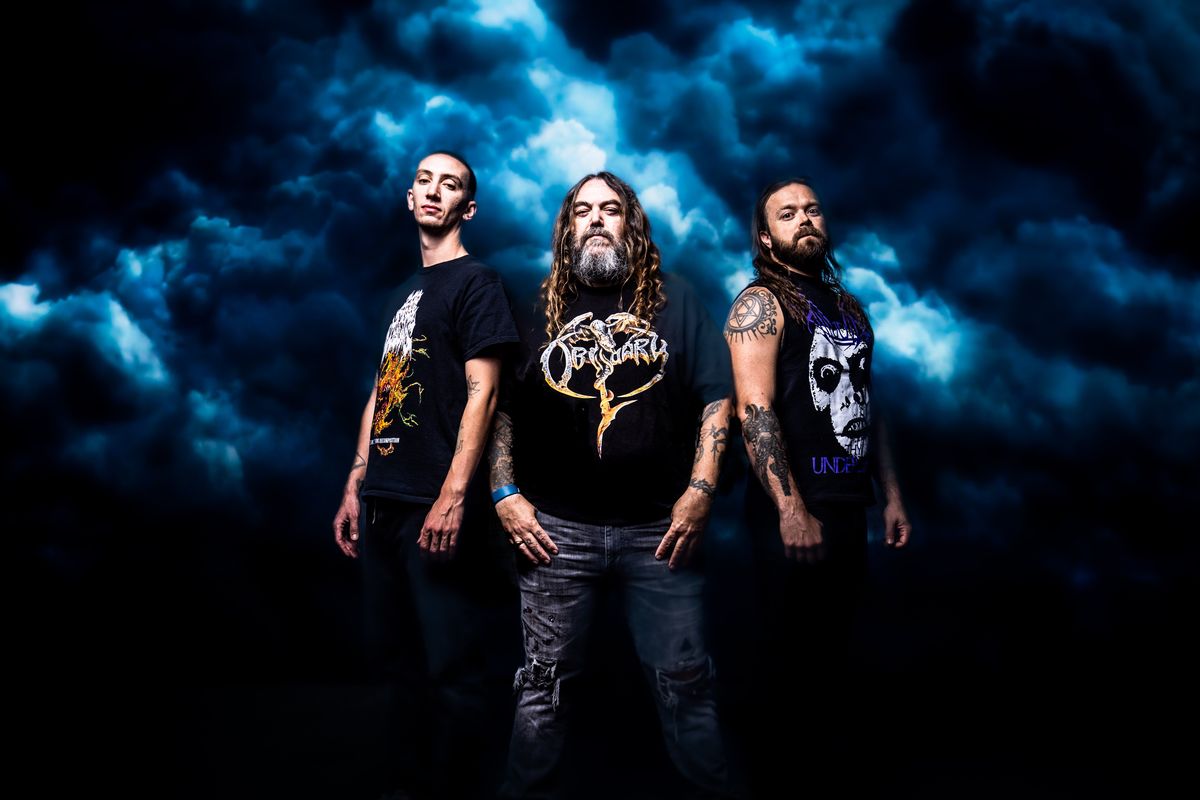 Soulfly's Max Cavalera, center, has enjoyed making music with his son Zyon, left, and new guitarist Arthur Rizk, right. The band returns to Spokane on Wednesday. (Courtesy photo)
Music has always been a family affair for Max Cavalera.
The leader of the thrash-metal band Soulfly, which performs at the Knitting Factory in Spokane on Wednesday, formed the legendary metal act Sepultura with his brother, drummer Igor Cavalera, in 1984. His son Igor has played bass with Soulfly. Igor's brother Zyon is Soulfly's drummer.
"There's something about family and music that works so well," Cavalera said while calling from Clifton, New Jersey. "There's a connection that you see throughout the history of rock. There is definitely something to it. I love working with Zyon. I just create better with him."
The foundation of Soulfly's latest album, the raw, menacing and cathartic "Totem," is Max Cavalera, 53 and his 30-year old son Zyon Cavalera.
"Making this album was an amazing experience since I was just jamming with Zyon for hours," Cavalera said. "It was just me and him. It took me back to when I was starting out with my brother in Sepultura. It was just the two of us making music. There's something cool about two people going at it and creating an entire record. It was a trip with Zyon since he's so much younger than me. His energy and curiosity drove me. Zyon doesn't look like a metal guy with his short hair, but he rocks hard when he plays. Zyon has been so inspirational. He wanted to know how I came up with songs earlier in my career and that inspired some of the material on this album."
"Totem" is one of the heaviest releases in the Soulfly canon, which is 12-albums deep. "I took a journey with this album," Cavalera said. "I connected with nature as a higher force. There's a lot of mystery in nature. I'm fascinating by it."
Cavalera's songwriting was impacted by his native Brazil and Arizona, where he lives. "Your environment can't help but have an effect on you when you're a musician," Cavalera said.
"Superstition," which is one of the most intense songs from "Totem," was inspired by Arizona's Superstition Mountains.
"They're these massive, mysterious mountains where people die all of the time," Cavalera said. "It's wild. There is all of this weird folklore behind it. I was doing some research and I came across the word totem and I read what it meant. It was like I was hit in the gut. I was like, 'Wow.' For many Native Americans, a totem is a symbol of strength and it's a connection to the ancient world and ancestors. I made the connection with the metal world. Our totems are our band T-shirts. Those shirts start conversations with other metal people."
Change also had an effect on Soulfly. Longtime guitarist Marc Rizzo left the band in 2020 and was replaced by the dynamic Arthur Rizk of Eternal Champion fame, who also produced "Totem."
"It was time to move on from Marc and connecting with Arthur was huge for Soulfly," Cavalera said. "Arthur is a producer, but he's also an amazing musician. We would sit around with guitars and come up with riffs and we would talk about song structures and then Arthur would blow me away with an intense solo. Arthur has inspired me. With all what I've experienced while working on this album it's the start of a new era of Soulfly."
Cavalera's tenure with Soulfly, which formed in 1996, has been more than double the time he was with Sepultura, which launched in 1984.
"I wouldn't be the musician I am without what we accomplished with Sepultura," Cavalera said. "But it was time for me to try different things. I moved on with Soulfly and it's just worked out so much better for me. If that weren't so I would have moved on to something else."
Sepultura still exists but don't count on a reunion with Cavalera. "I'm very happy working on music with Soulfly and touring," Cavalera said. "I have some great memories with Sepultura. There was nothing like playing festivals back in the day."
Cavalera is happy to reminisce and also enjoys chatting about his favorite metal bands. Even though Cavalera has been crafting music for 40 years he comes across as a kid while discussing metal.
"I think that's because I've never lost touch with being a fan," Cavalera said. "I don't know if everyone my age who has been doing this as long as I have can say the same. I live and breathe metal. When I make records and go on tour, it's a total commitment. Metal is my life and it's my passion and you can see that when I perform. The people in Spokane get it. Every time we play there, they're into as we are."
Local journalism is essential.
Give directly to The Spokesman-Review's Northwest Passages community forums series -- which helps to offset the costs of several reporter and editor positions at the newspaper -- by using the easy options below. Gifts processed in this system are not tax deductible, but are predominately used to help meet the local financial requirements needed to receive national matching-grant funds.
Subscribe to the Spokane7 email newsletter
Get the day's top entertainment headlines delivered to your inbox every morning.
---